Ah July, you have really been a treat, and I'm a bit sad to see you go. July is the definition of Summer, don't you think? You've got warm weather, a fun holiday that is all about the outdoors with the 4th of July (for us Americans), and it's the month of vacations! And this month's blogging roundup certainly highlights crazy good food and awesome content, if I do say so myself.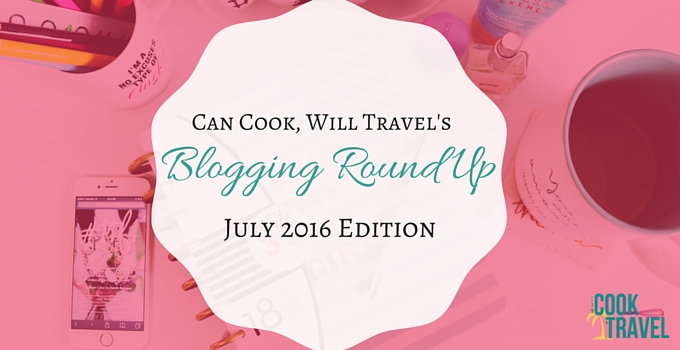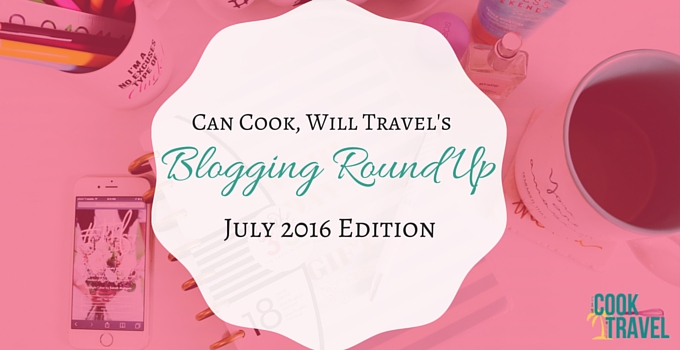 When it came to cooking this month, the only thing I had on my mind was healthy cooking. I was getting ready for a trip to Miami and wanted to feel my best. And what is pretty amazing is that the common thread through this month's recipes is they all involved meat. I'm absolutely a carnivore, but I certainly don't feel the need to eat meat every day. And with a cooking arsenal full of healthy dishes that are full of flavor but guilt-free, you're going to be looking fabulous and feeling great all Summer.
When it comes to July's posts of what I'm crushing on each week, it was all about making sure that you were efficient, well fed, and had a well stocked kitchen. After all, the Summer months are the time to get out and enjoy the weather, the day ahead of you, and spend as much time with friends and family as you can.
So let's dive into this month's Blogging Roundup right now, shall we?!
Recipes Blogging Roundup: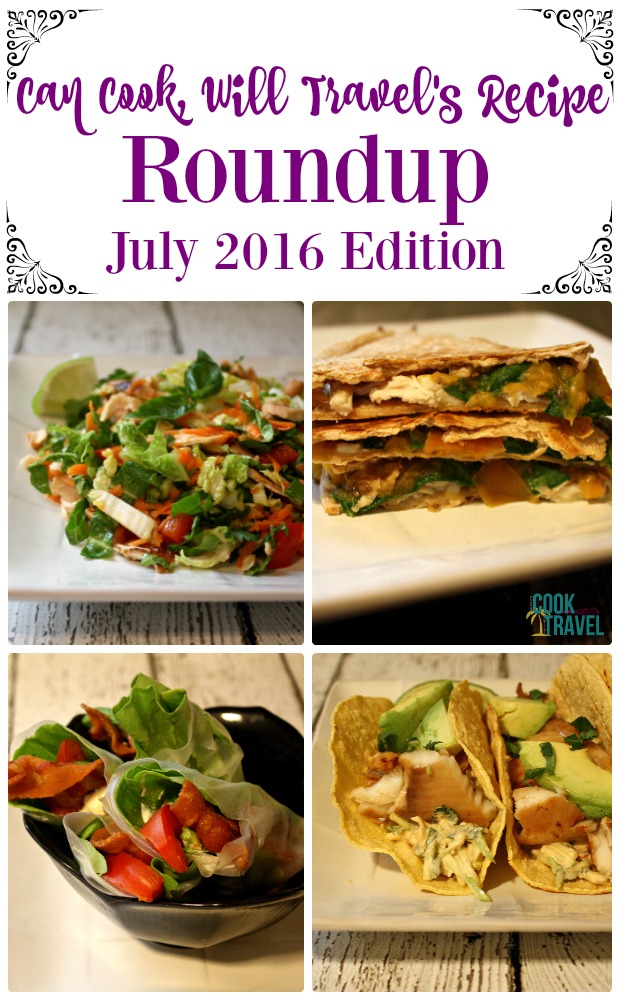 Fish:
When it comes to ordering tacos when I'm out and about, I will almost always get fish tacos. They just feel light and fresh and I love the flavors. I've made fish tacos once before on my blog, and just like that recipe, the star of the show is absolutely the sauce. In this case, this recipe for Fish Tacos with Sriracha Aioli will soon become a favorite of yours too. The Sriracha aioli really makes the dish adding a nice, subtle heat that takes the cole slaw to a whole new level. You're definitely going to love these!
Chicken:
I love a good quesadilla. They're perfect when you're in the mood for something light and simple. When I saw this recipe for Chicken Quesadillas it was really the chia jam that caught my eye. I've seen chia jams before and I've been wanting to try one, and I used nectarines and found that the jam was delicious and oh-so easy to whip up. And it added a bit of sweetness to the quesadilla that balanced well with the chicken and creamy brie and spinach. Plus it was ready in no time. So good!
Over the years I've found that I really love Thai flavors. I think it's the complexity of the flavors that are created with this type of cuisine that is so great. And while there is a TON of prep work chopping veggies for this Thai Chicken Salad, it's completely worth it in the end. You end up with a salad that is packed with good for you ingredients and a light ginger-lime dressing so that you know you're eating really well. No guilt here!
Bacon:
This recipe basically had me at B for bacon! It's true that I adore a good BLT, but I'm honestly not a huge sandwich person. Plus I'd been wanting to try my hand at spring rolls for years now, so I was insanely intrigued by the idea of BLT Avocado Spring Rolls. While it took a bit of practice to get the right technique for working with rice paper wrappers, it was totally worth it. The end result was a spring roll that had all of the flavors of a really good BLT and I didn't miss the bread at all. Considering how much I adore bread and carbs, that's a really good sign. Definitely worth making these!
Weekly Crush Blogging Roundup: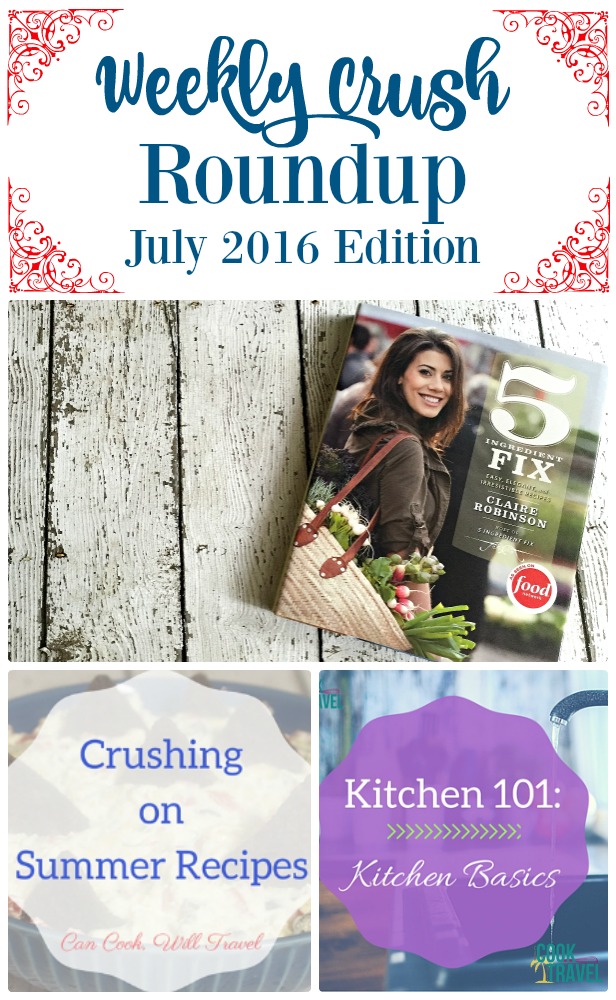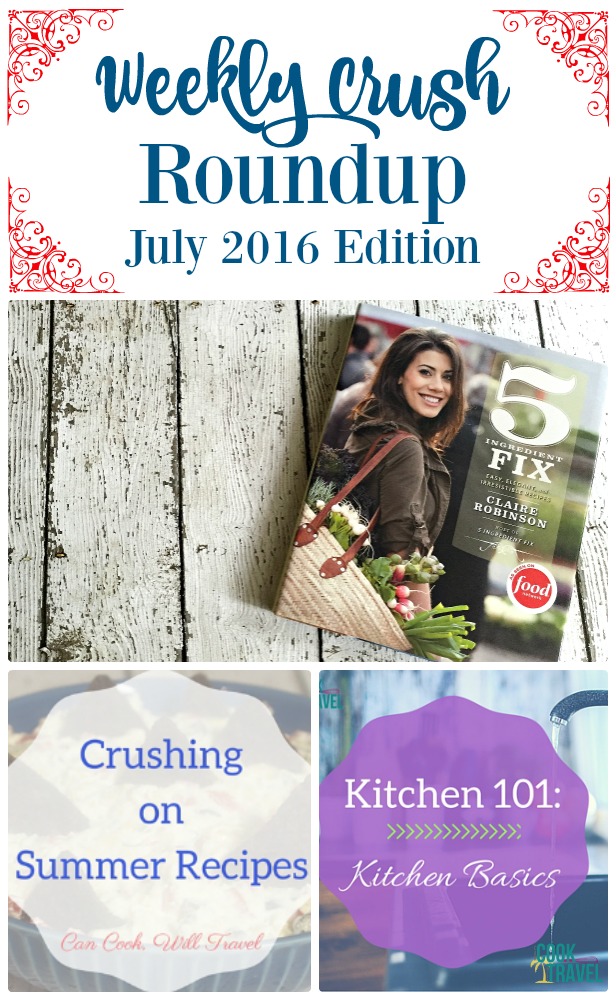 Without a doubt, I knew that Claire Robinson's 5 Ingredient Fix cookbook would be featured in my Cookbook Love series. It's a cookbook I've had for years and have cooked out of quite a bit. I love the philosophy Claire uses of cooking with 5 ingredients or fewer. She will use one ingredient in different ways and focuses on flavor to really get the best possible dish. Until you cook with her philosophy, you may doubt that the food will be that great, but I know you'll get hooked on this idea as much as I have. It's a win, win, win for all cooks!
This month I was naturally crushing on Summer Recipes. These are the recipes that you should definitely use when you have a picnic or get together that is perfect for warm weather. These recipes include crazy good dips that are cold, refreshing, and addictive. And I also share some appetizers that are lovely finger food options when you want to eat, walk, and chat all at once at a party. I have a feeling you're about to find some new favorite recipes here!
It can be difficult when you're starting out on your own to feel like you have the cooking stuff you need. It's easy to watch the Food Network or Cooking Channel and see these shows with immaculate kitchens and think that you need all of that to be a success. So I wanted this Kitchen 101 series post to feature the 10 Kitchen Basics that I believe you need to kick ass in the kitchen. From pots and pans to a few inexpensive, yet unconventional items, you're about to have everything you need to whip up dishes every day without feeling like you're missing something. You've got this!!

So kitchen rockstar, I hope you've enjoyed this post. I absolutely loved blogging this month. While I adore a great comfort food dish, it's more important for me and you to make eating healthy a priority. And when it's swimsuit weather, you're definitely feeling this a bit more. Don't worry, I've tested out all of these recipes first, so you can trust that they'll be delicious.
And I hope you enjoyed me sharing some of my favorite kitchen gear, Summer recipes, and a cookbook that never fails me with its imagination and flavors.
I can't wait to hear what you think of this month's blogging roundup! Comment below and let me know which recipe you're ready to try next and what you'd love to see more of on Can Cook, Will Travel! I'd love to hear from you!
Stay inspired & happy discovering!
~Kelli
0