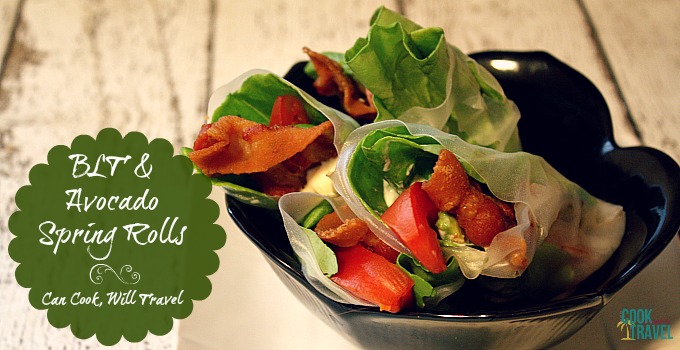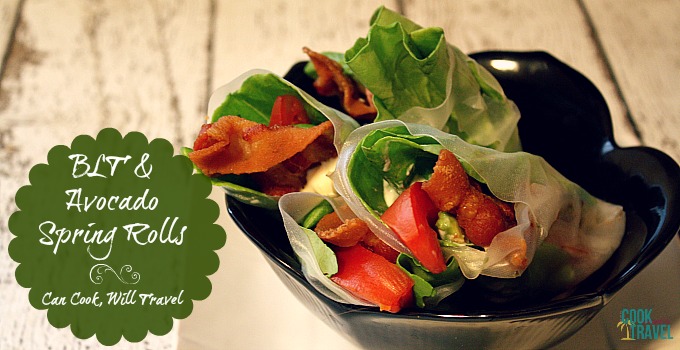 (This BLT Avocado Summer Rolls recipe can be found on the site Avocado Pesto here.)
Step by Step Instructions:

Get ready for a healthy, yummy meal with this BLT Avocado Summer Rolls recipe! Here's what you'll need: Bacon (yummmmm), Lettuce (either Butter or Bibb lettuce works so long as you have large, tender leaves), Mayo, 1 large tomato, 1 Avocado, and Spring Roll Wrappers (in the Asian section of the grocery store). Not pictured: Hot sauce which is optional.

Start off by cooking your bacon. Since I was only making half of a recipe just for myself, I cooked 4 slices instead of 8.

While the bacon cooks, wash your lettuce leaves and dry them. My Bibb lettuce leaves were smaller, so I used 2 per roll.

Here's the heaven. Whoops, I mean the bacon all cooked up!

With the tomato, you'll want to cut the tomato in half and scoop out the seeds. Then you'll slice them into strips.

Then cut your avocado in half. Slice it while it's in the shell, and then when you're ready, use a large spoon to scoop out the avocado. I'd use 1/4 of an avocado per roll, so half an avocado was all I used for 2 rolls.

Grab a large dish and fill it about half full of water. Then you'll put in 1 wrapper an let it soak for as long as the package says. You're looking for the wrapper to be pliable but not too soft to where it'll tear.

It's time to put these BLT Avocado Summer Rolls together. Place the wrapper on a large plate. (Remember I'm a newbie to this, so I let it soak too long and had a slight tear but it still worked great, and my next attempt was tons better.)

Then place 2 lettuce leaves on the wrapper so it goes across the center.

Spread some mayo on the leaves. You don't need a ton here. Maybe 1 teaspoon per leaf. If you'd like, you could mix in some hot sauce with your mayo and then spread it out. Or you can just sprinkle some bits of hot sauce over the mayo. I prefer jalapeño Tabasco sauce.

Then add a layer of tomatoes and avocado slices. I did 4-5 slices per roll.

Then top the veggies with 2 bacon strips. Then it's time to roll them up. It'll take a bit of practice, but you'll grab the end nearest to you and gently lift it up and over the filling. Try to roll the spring rolls as tightly as you can without ripping it. With these BLT Avocado Summer Rolls I left the ends open, which actually made them easier to roll, and the rolls are a bit larger and seem more filling this way. Cut each roll in half and eat them right away and enjoy! Happy wrapping!!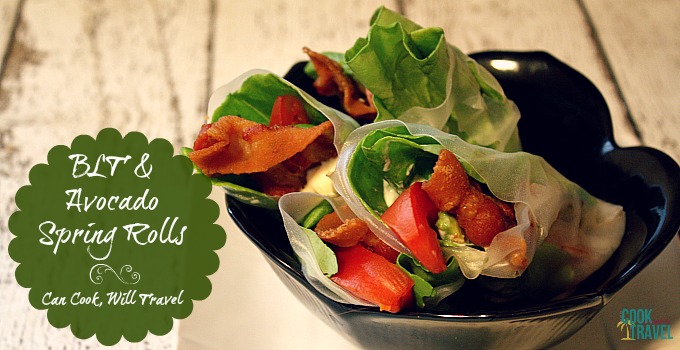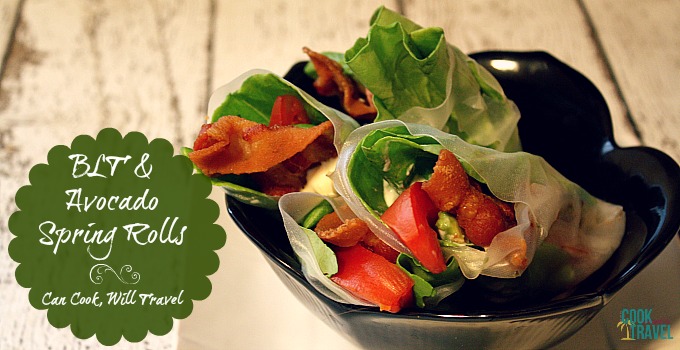 BLT Avocado Summer Rolls
Take your BLTs to the next level with this healthy alternative that will have you wondering why you haven't eaten them like this before!
Ingredients
8 slices Bacon
1 large Tomato, sliced
1 Avocado, sliced
4 Rice Paper Wrappers
4 large Butter or Bibb Lettuce Leaves (double if the leaves are smaller)
8 teaspoons Mayo
Hot Sauce, Optional
Preparation Instructions
Start off by cooking your bacon using your preferred method. I used my NuWave oven.
While the bacon cooks, wash your lettuce leaves (depending on your leaf sizes, you'll need 1-3 pieces of lettuce per roll. Then slice your tomato.
When your bacon is cooked, drain it on a plate lined with paper towels. And then you'll soak your rice paper wrappers according to the package instructions. I did mine for about 30 seconds per wrapper in a large dish filled about half full with water.
Transfer the wrapper to a plate. Layer the lettuce across the center of the roll. Then add the mayo. You can either mix in some hot sauce or sprinkle hot sauce over the mayo if you'd like a slight amount of heat. Finally add a layer of lettuce and avocado slices and top with 2 slices of bacon.
Gently pull the bottom of the wrapper over the filling and roll it as tightly as you can without ripping the wrapper. Once your rolls are wrapped, slice them in half with a sharp knife and eat them right away. Enjoy!
0