When I started up my Cookbook Love series a few months back, there was no doubt in my mind that I'd be featuring Claire Robinson's 5 Ingredient Fix at some point. I've had this cookbook in my collection for more years than I can remember, and it's one that I peruse quite a bit and often find recipes I just have to try out.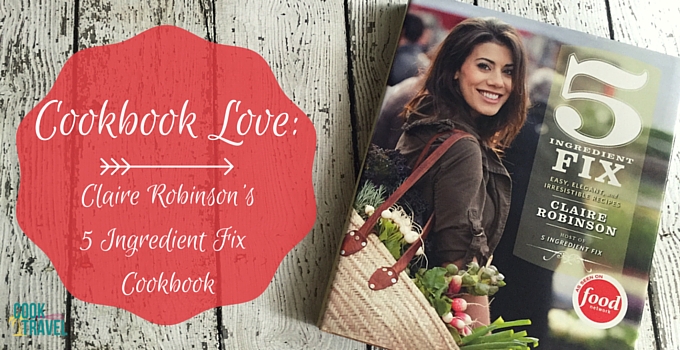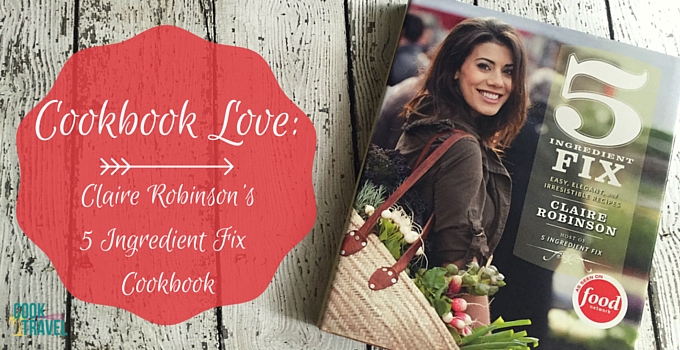 Here we are in the midst of Summer where the weather is gorgeous and no one wants to spend hours in the kitchen surrounded by a million ingredients. Instead you want fast, delicious recipes so you can spend your time in the sun with family and friends! There seemed to be no better time to feature this fabulous cookbook.
Why Claire Robinson?
I loved her 5 Ingredient Fix show on the Food Network. Something about how she is able to craft each recipe with minimal ingredients and maximum flavor completely fascinates me.
Her cooking style totally fits me. As a busy girl myself, I would much rather throw together a meal with just a few carefully chosen ingredients, than have a huge grocery list in hand when I go to the store. And I imagine I'm not alone in that desire!
She grew up in a home where her mom spent tons of time in the kitchen crafting amazing, from-scratch meals. That reminds me so much of my mom, and how she has a knack for whipping up amazing dishes right before your eyes in a way that seems like a bit of culinary magic. Everything was from scratch when my busy, working mom had the time.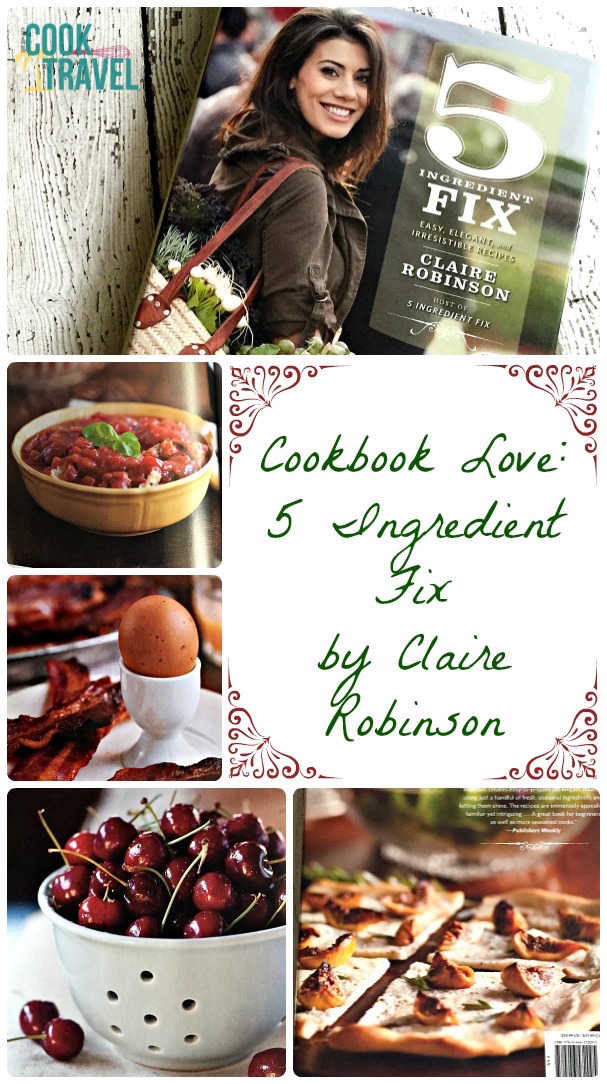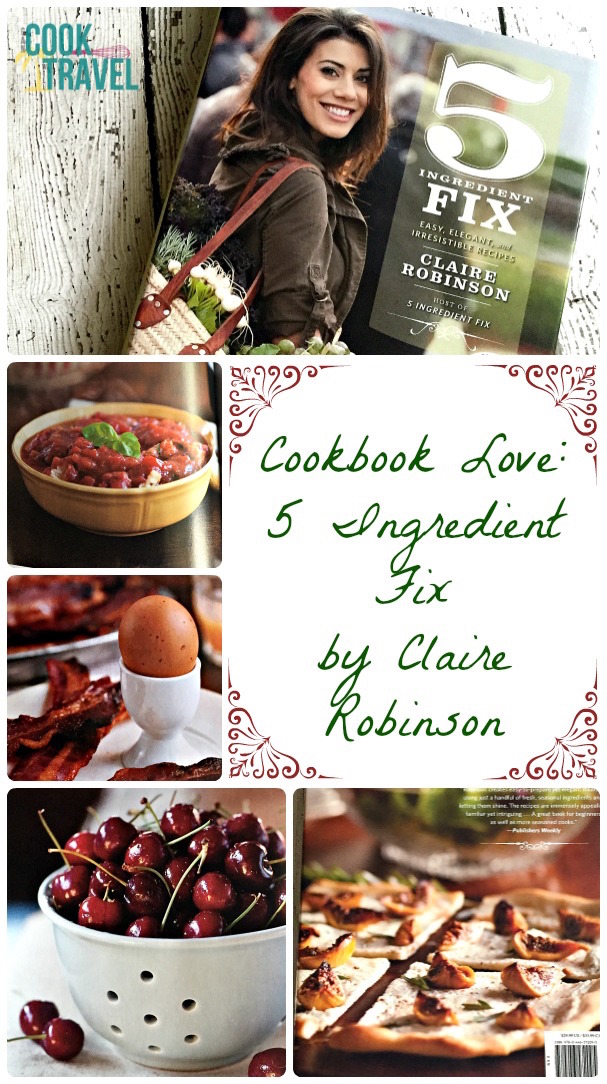 5 Ingredient Fix Organization
Having been inspired as a child from watching her grandmother create elaborate dining experiences, it makes sense that the organization of this cookbook would be very important to Claire. In a lot of ways, it's a really standard layout from front to back. But there are definitely some hidden gems you uncover as you work your way through the 5 Ingredient Fix Cookbook.
I've said it before, and I'll say it again: A good cookbook's intro should not be skipped over. This section always gives you a bit of insight into the author's soul, their cooking philosophy, and how they became the chef they are today. Claire was inspired by both her grandmother and mother in very different, but equally important, ways and it really explains how she honors flavors, ease, and presentation all at once.
The next 2 sections are pretty interesting and useful. First up is her 5 Ingredient Philosophy, where she explains how scallops in culinary school opened her eyes to the idea that less is more. And it also showed her how versatile food can be. After that she goes through the "basics that every kitchen warrior should own". This section highlights the cooking equipment, tools, appliances, supplies, basic pantry items, and "double-duty ingredients" that she doesn't go without.
Then we dive into the recipes. The book starts off with breakfast dishes followed by cocktails and small bites perfect for cocktail parties. Chapters for appetizers and then Soups and Salads are next up. Then you've got main dishes and a whole section of vegetable recipes.
One of my favorite sections is her "Comfort A La Carte" chapter which features recipes that could be sides or be a meal unto themselves (think pastas, potatoes and more here). Finally she ends the book with desserts, of course. And they all look fabulous.
One of the final sections of the book is her "Menu Ideas for Memorable Meals" chapter. Here she puts together the recipes that preceded this chapter into perfect little menus. It's a great section if you're needing to plan a dinner party, get together, or a meal for someone special and you're looking for inspiration of what would go well together. Kinda genius if you ask me!
And then there's the index. Can I mention more often how much I love a cookbook with an index?! Most cookbooks have them, so when you come across one that doesn't, it sticks out like a sore thumb. Fear not my fellow foodies, 5 Ingredient Fix is complete with a well-ordered index!

What's to Love About the 5 Ingredient Fix Cookbook?
5 Ingredients!! Can I get an amen?? Recipes that aren't filled with a million ingredients, but are instead using 5 very carefully chosen ingredients or less. That means shorter grocery lists and finding yourself using 1 ingredient multiple ways to maximize the flavors.
Gorgeous photos. This one is super important to me, and most cooks I know. First off, great photos can often help you decide to cook a specific recipe if it's making your mouth water just looking at it. Second, I find it really useful to know how a dish should look when it's finished. It really gives you a end goal when you cook so you know what you're working towards.
Flavor combos that make perfect sense. I've found myself finding unique and yummy flavor combinations that are different than what I grew up with, yet are ones I now crave. After making a few recipes, I trust that Claire won't steer me wrong in the flavor department.
This cookbook gets you out of your comfort zone. Several recipes I've made from this cookbook over the years are not something I've ever made before, seemed just crazy enough that I couldn't resist, yet are some of my more memorable dishes.
Great variety! From dishes you could see yourself making every day, to those that are perfect for a special occasion, you'll find yourself grabbing this cookbook on a regular basis.
Crave-worthy 5 Ingredient Fix Recipes:
What I've Made So Far:
Toasted Fruity Israeli Couscous – This is the first 5 Ingredient Fix (of many) that I've whipped up on my blog, and I love the combo of the couscous, pistachios, lemon flavors, and dried apricots. Delish!
Spanish Gazpacho – This dish is hearty and insanely flavorful for how few ingredients it uses. Gazpacho is such a perfect Summer dish!
Roasted Beets with Oranges and Goat Cheese – You knew when I was featuring beets one week that when I saw goat cheese was involved, I stopped looking and made this ASAP. And it's honestly such a unique, fun way to eat beets. I loved how gorgeous it looked when it was served, and how well all of the lemon, beat, cranberry and orange flavors worked together.
Mocha Meringue Bark – I'm not a meringue fan, yet something about this recipe told me I had to try it. And holy smokes, it converted me to a meringue eater, and it's a recipe that I often still think about 5 years later.
Lemon-Tarragon Chicken Soup – This gives chicken soup an interesting twist with the tarragon and is noodle free, so it's a bit healthier as it's carb free. And truly if you aren't feeling well, this soup will certainly help you get better faster!
What I Can't Wait to Try Next:
Baked Fresh Ricotta with Stewed Cherries – I've never had ricotta as a breakfast dish where it's baked before, but it looks like a fabulous alternative to cheesecake . . . for breakfast!
A Moscow Mule in Miami – This cocktail sounds like it's my kind of drink. It's simply made with lime, vodka and ginger beer, which means I'd likely love it!
Mushroom Carpaccio – Reading the instructions makes me think that this salad would be similar to one that I used to enjoy at a favorite fondue restaurant that they no longer serve. Perfect! I can make my own now!
Buttermilk Pecan Chicken – Because how could that not be delicious??
Fig and Blue Cheese Tart – With these ingredients on a bed of caramelized onions, what is not to drool over?
Hazelnut Adffogato Sundae – She had me at espresso gelatto. Seriously.
Well I'd say that I've given you a lot of food for thought, literally, with this Cookbook Love post! In case it isn't abundantly clear, 5 Ingredient Fix is a cookbook that is absolutely worth owning! For those of us who love simple meals, having a better understanding of flavors, aren't afraid to try something new and experiment, love cooking with fresh ingredients, and are prepared for a delicious cooking experience, then this cookbook is one you absolutely need!
Are you a fan of Claire's 5 Ingredient Fix show like me? Have you tried this cookbook or do I have you convinced to give it a shot? Comment below and let's chat! I know you'll fall in love with it like I certainly have!
Stay inspired & keep your cookbook collection growing!
~Kelli
0