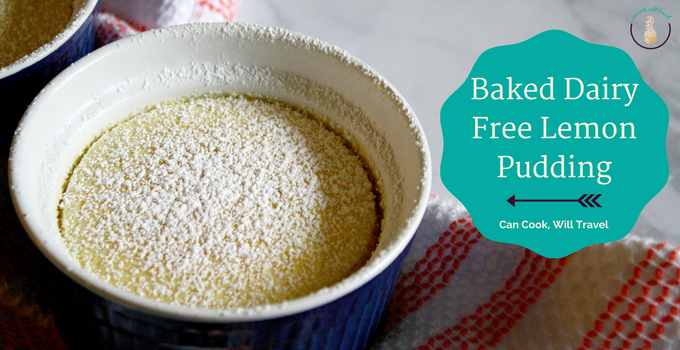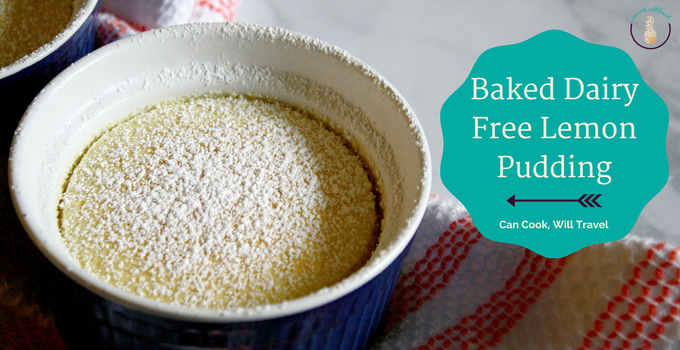 (This Baked Dairy Free Lemon Pudding is my dairy-free version inspired by Seasons & Suppers, so check that out here.)
Step by Step Instructions:

Your dessert game is about to be kicked up a TON with this Baked Dairy Free Lemon Pudding, so here's what you'll need: 1 cup of Sugar, 3 Eggs (separated), Almond Milk, 3-4 Lemons, 2 T. Vegan Butter, Vanilla Bean Paste, 1/4 cup of AP Flour, and Salt (not pictured).

Start off by buttering your ramekins, and I just let my Earth Balance "butter" soften for a few hours on the counter. Then I used a pastry brush to lightly brush each ramekin with the butter. Because I didn't know how many this recipe would make, I used 6 ramekins but only ended up needing 5.

Now measure a cup of sugar and then measure out 2 tablespoons of it and then transfer that to a separate dish.

Grab your trusty microplane grater, and then zest a lemon (wash it first) until you have a tablespoon. So that ends up being about half a lemon usually.

Now juice your lemons until you have about a 1/2 cup.

Then place the buttered ramekins in a dish with high sides, because we're going to water bath these gorgeous Baked Dairy Free Lemon Pudding treats.

And naturally for a water bath you need water, so bring a large pot of water to a simmer as you start making the pudding batter.

In a large bowl add the sugar (minus the 2 tablespoons you reserved) and 2 tablespoons of softened butter, and you can totally do this in your stand mixer bowl if you have one. But I didn't want to have transfer the batter to another bowl, and then wash it really well for the egg whites. So I used my hand mixer instead for this part.

Then mix the butter and sugar really well until it's fluffy but it 'll still be granular like you see here.

Next add one yolk, then mix it really well, add another yolk, and repeat until all 3 egg yolks are combined.

Once the yolks are added, then you'll have this gorgeous yellow colored batter and you'll add the lemon zest.

Once the zest is incorporated, then add 1/4 cup of flour and 1/4 teaspoon of salt and mix well.

Finally add the lemon juice from earlier plus a cup of milk and a teaspoon of vanilla bean paste (the sunk to the bottom), and then carefully mix. Note that I started with the mixer but ended up whisking it by hand, because it was way less messy that way.

Now your batter is all set, so move is to the side and let's focus on the egg whites.

Add the egg whites to a stand mixer (if you have one), because you want to mix on high for several minutes so this is way easier.

Turn the mixer on high and then walk away for 3-5 minutes until the egg whites for soft peaks.

Once you have soft peaks (dip the whisk into the whites and they should be thick but the end should droop over), then add the reserved sugar.

Mix on high again until stiff peaks form, so you're looking for the whites to totally hold their shape as you see here.

Now add the egg whites to the batter, grab a spatula, and then start folding them gently into the batter.

When you fold in the whites, it'll take time, so be patient. My preferred method is to take the spatula around the side and then straight down the middle towards me, lift the mixture up, turn the bowl and repeat. The idea is to not deflate the whites, because you want them to create this light, fluffy batter that is super airy.

Now use a ladle and then transfer the batter equally into the buttered ramekins. I used about 2 ladles full of batter per ramekin, so that's about a 1/2 cup per dish.

Finally (and carefully) pour the simmered water into the dish so it goes about halfway up the sides of the ramekins. Then (again carefully) transfer them to the oven to bake for 30-45 minutes depending upon the type of dish you use. I kept mine on this cookie sheet, because it made it really easy to transfer in and out of the oven.

I left my Baked Dairy Free Lemon Pudding in the oven about 34 minutes, and you're looking for the tops to be firm and just starting to get color on them.

Now oh-so-carefully move the ramekins to a wire cooking rack, and I ended up using pot holders to help me do that. One thing I also did was place waxed paper under my rack to make cleanup easier, because we're going to dust these with powdered sugar. Let the Baked Dairy Free Lemon Pudding cool for about 10 minutes.

Using a spoon and a fine mesh strainer, I then lightly dusted some powdered sugar (about a tablespoon total) over the baked puddings. Eat this Baked Dairy Free Lemon Pudding right away while it's still warm, and then enjoy and happy pudding making! If you have chocolate lovers in your life, then check out this yummy chocolate soufflé that is fab!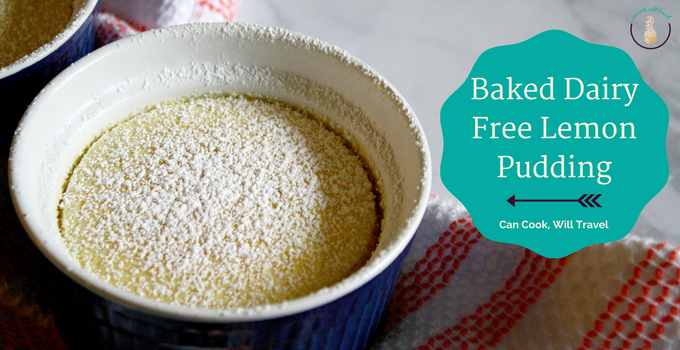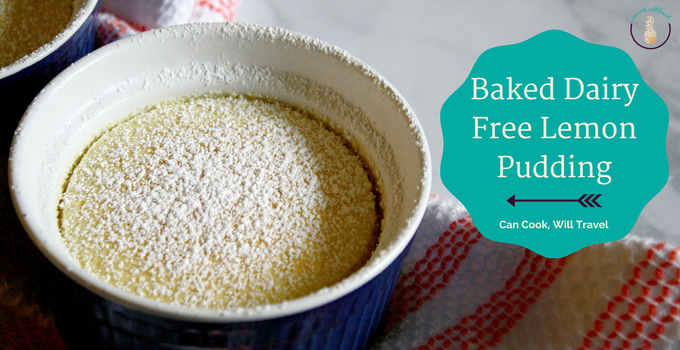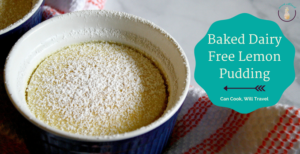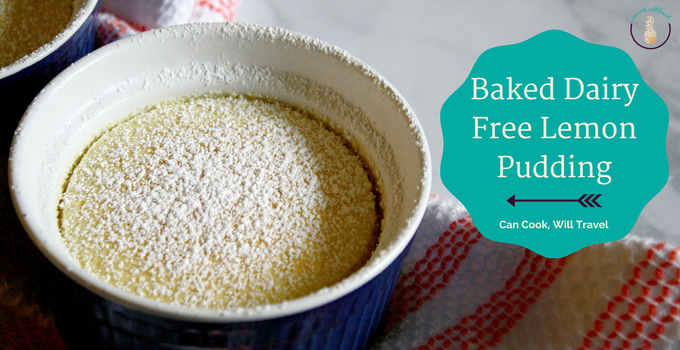 Print
Baked Dairy Free Lemon Pudding
Yield 5 ramekins
Tart meets sweet in this indulgent dairy free lemon pudding that is crazy good!
Ingredients
Pudding Ingredients:
2 Tbsp Vegan Butter, at room temperature (28g) (or regular butter if you prefer)
1 cup Sugar, DIVIDED (225g)
3 large Eggs, separated
1 Tbsp Lemon Zest
1/4 cup All Purpose Flour (25g)
1/4 tsp Salt
1 cup Almond milk (250ml)
1 t. Vanilla Bean Paste
1/2 cup freshly squeezed Lemon Juice (3-4 lemons)
1 Tbsp Powdered Sugar, for garnish
Instructions
Prep Work: Preheat your oven to 350 degrees, and then butter your ramekin dishes and place them in a roasting pan. Then start a large pot of water to simmer on the stove while you make the batter. Then measure a cup of sugar and measure 2 tablespoons of that and set it to the side. Next wash and zest 1/2 a lemon so you have a tablespoon of zest, and then juice enough lemons for 1/2 cup of juice. So that was about 3 lemons for me.

 

The Batter: In a large bowl, mix together the softened butter and sugar (minus the 2 tablespoons) with a handheld or stand mixer, so the mixture is light and fluffy but it's still grainy. Then add the egg yolks one at a time and mix them in. Next mix in the lemon zest. Then add the flour and salt to the bowl, and combine with your batter. Finally add the milk, lemon juice, and vanilla to the bowl and combine the batter. Note that the batter is super runny, so I ended up whisking by hand at the end, so I didn't have liquid all over my counters and me.

 

The Egg Whites: In a clean and dry mixing bowl, add the egg whites and then mix on high until they form soft peaks. Then add the reserved 2 tablespoons of sugar to the whites and continue to whisk until stiff peaks form.

 

Combined Pudding: Then add the egg whites to the batter, and gently take a few minutes to fold them into the batter. Be careful not to whisk but use a spatula so that the batter becomes really light and airy. Now ladle or pour the mixture into your prepared ramekins, and I got about a 1/2 cup per ramekin.

 

Bake: Gently pour the warm water into the bottom of your roasting pan so that it goes halfway up the side of the ramekins. Then carefully transfer the pan to the oven (on the center rack) and bake for 30-45 minutes, depending on the size of the dish(es) you're using. Mine took about 34 minutes until they here slightly firm to the touch and just starting to get some color on top.

 

Finish Up: Remove the finished pudding from the oven, and carefully transfer the ramekins to a wire cooling rack. I place some waxed paper under my cooling rack to catch the powdered sugar, because 10 minutes after cooling you'll dust the Baked Dairy Free Lemon Pudding lightly with the sugar. This helps from making a huge mess on your counters, so that's a fun tip! Serve while they're still warm and then enjoy!
Notes
Quick Tip: Reheating leftover puddings is a cinch, so add them to a 350 degree oven for 3-5 minutes and let them cool for 10 minutes before enjoying.
Courses Dessert
Nutrition Facts
Serving Size 1 ramekin
Amount Per Serving

Calories 268

% Daily Value

Total Fat 8 g

12%

Saturated Fat 2 g

10%

Unsaturated Fat 5 g

Cholesterol 129 mg

43%

Sodium 111 mg

5%

Total Carbohydrates 47 g

16%

Dietary Fiber 1 g

4%

Sugars 41 g

Protein 4 g

8%
* Percent Daily Values are based on a 2,000 calorie diet. Your daily values may be higher or lower depending on your calorie needs.
0