I LOVE this time of year. The warm weather, tank tops, flip flops, capris, golfing, long Summer nights…it just makes for a seriously pleasant season and a very happy Kelli. Some may say it's too hot and sometimes I agree, but then I think of the snow and ice and suddenly can't help but smile and soak it all up.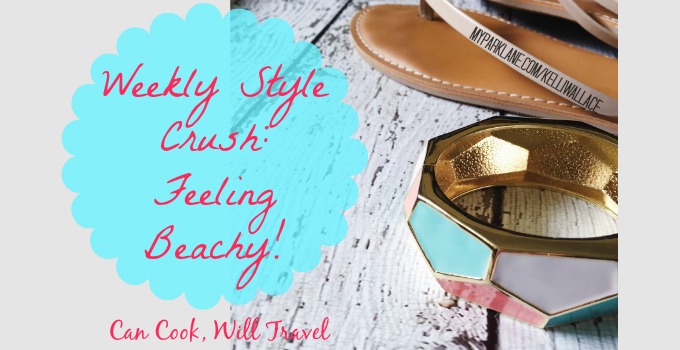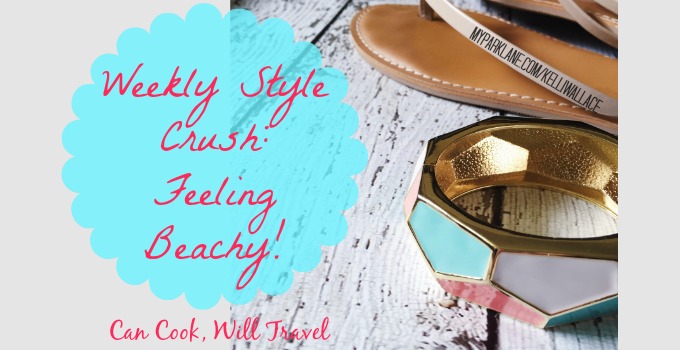 I also love the bright colors this time of year. The turquoise, pinks, peaches, golds we seem to gravitate towards…they all look so great with a tan and announce "It's Summer!". And suddenly with this being Shark Week, I start to think about being on a beach (not in the ocean unless it's to get my feet wet) and soaking up the sun.
That got me thinking that of course I'm going to carry my shark/beach/ocean theme into my Weekly Style Crush this week. So I thought I'd feature some of my favorite Summer, beachy trends for jewelry.
Give This Girl Some Turquoise!
To say I'm loving a pop of turquoise or teal right now might be an understatement. Lately you'll see me in some simple gold pieces with a turquoise accent in the shape of my Rio ring. I love this one and love the price even more! (It's $39 people and has a lifetime guarantee!)
If you don't like a statement ring (I have a bit of a problem with my ring collecting habits), then recreate that accent with the Filigree or Tickle earrings or the Soho or Mingle bracelets! I love the pops of pastels in the Soho bracelet below, and have been wearing that one a lot myself.

Accessorizing Your Summer Maxi Dresses and Skirts
Maxi dresses and skirts are easy to throw on in the Summer and at the beach. Dress up that maxi dress or skirt with a great necklace. Maxis are lovely in the warm months, because they can be dressed down or up really easily. Add a pair of flip flops for a more casual, beachy feel or put on some wedges and a light jacket for a dressier feel. Then pair it with your favorite short to mid-length necklace.
I'm absolutely loving my Kristen necklace, Spike it Up, or Aqua Fleur to provide a pop of color with muted blues, blacks, and whites. If you're already working the colors with your outfit, go more neutral with your necklace with something like the Raise the Bar, Honey Comb, or Linked In necklace to look polished and highlight the colors in your outfit.
Gimme some gold, gold, and more gold!
And while I love gold all year long, Summer just seems to scream for you to adorn yourself in this metal. Remember that gold actually looks great on nearly every person if you have even just a hint of warmth in your hair. So if you don't have steel gray or jet black hair, you can pull off gold. And did I mention it looks great with a tan?
The Three's a Charm necklace is fabulous this time of year. It's 3 detachable necklaces, so you can wear any combo of the 3 and you'll always look perfectly on trend. If I just want a simple gold necklace, Infinite is always close at hand. I love wearing this one or Inner Circle when I want an easy, polished look that works with any occasion.

The Terrific and On Trend bracelets in gold also add a simple touch of gold to tie a look together. And I don't leave home without my Cleo earrings or Whisper earrings in gold. They go with nearly every outfit I wear and are a steal at $19 and $15 respectively.
I hope I've inspired you to embrace the beach look this Summer. Especially for those of us who are land locked, it's a great way to feel like you're at the beach even when you aren't.
See something you like? Let me know, and I can definitely hook you up with some serious jewelry deals! It's what I do!
0