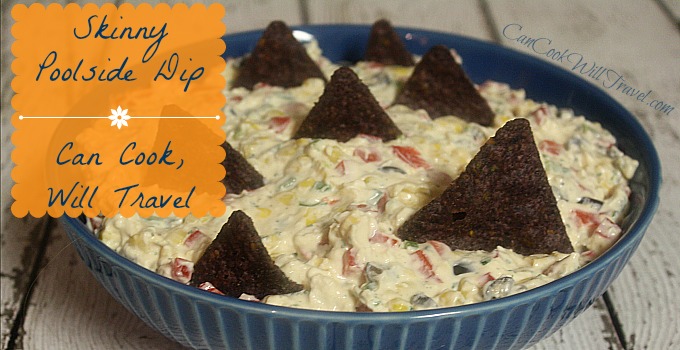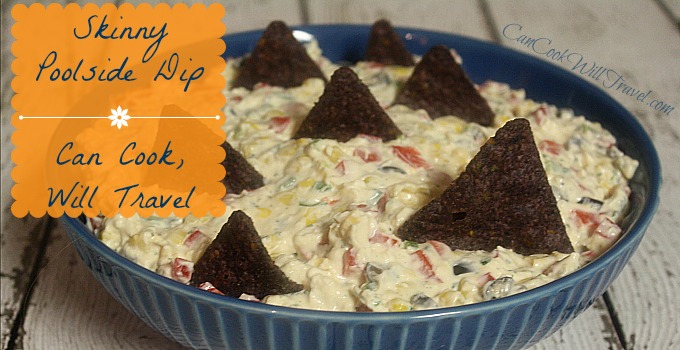 (Recipe comes from the site Home Trends Utah here.)
Step by Step Instructions:

Skinny Poolside Dip is not only easy to make but is a real crowd pleaser. Here's what you'll need: One can of Corn, 1 Red Pepper, either half a large can of Black Olives (or I grabbed a smaller can about 3 ounces in size), 16 ounces of room temperature reduced fat Cream Cheese, 2 Jalapenos, and 1 package of Ranch Dip Seasoning Mix.

Begin by draining the corn.

The place the softened cream cheese in a large bowl. I let my cream cheese sit out on the counter for a couple of hours to come to room temperature.

Once the corn is well drained, add it to the cream cheese.

Then drain your olives.

While the olives drain, dice up your red pepper into fairly small pieces. The idea is to be able to taste lots of flavors with each bite, so keep the veggies on the small side.

Then add the chopped red peppers to the bowl.

To chop the olives, I cut each one in half and then cut each half so that they were quartered.

Then chop the olives again, so that they are a smaller size just like the red peppers.

Transfer the olives to the bowl.

Finally it's time to work with the jalapenos. I'm always cautious when handling these peppers, so I don't get jalapeno juice everywhere. Typically I use a baggie or plastic wrap over my hands to keep the juice from touching my skin as much as possible. I start off by cutting the cheeks of the jalapeno off…essentially cutting around the core to remove as many seeds as possible. (I use this technique with most peppers I cut.)

Then cut each piece in thin strips lengthwise and then cut across to get small pieces of jalapenos.

Once all of the jalapenos are chopped, transfer them to the bowl. And clean up your workstation and wash your hands and under your fingernails really well. (No need to get burning hands or eyes or anything else today!)

Add the packet of Ranch dressing seasoning to the bowl.

Then fold the ingredients together with a large spoon or sturdy spatula until the veggies are totally mixed into the cream cheese. Serve up your dip right away and enjoy with your favorite tortilla chips, corn chips, crackers, or veggies. Happy snacking!!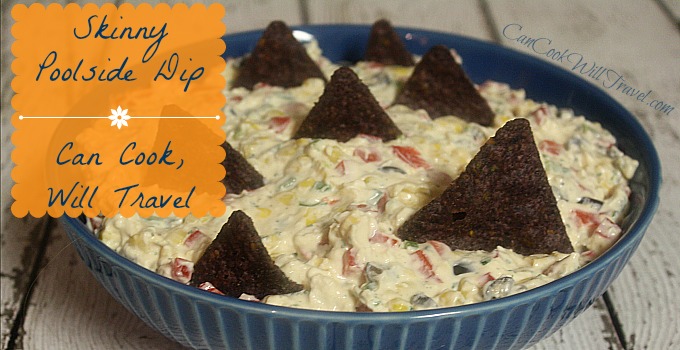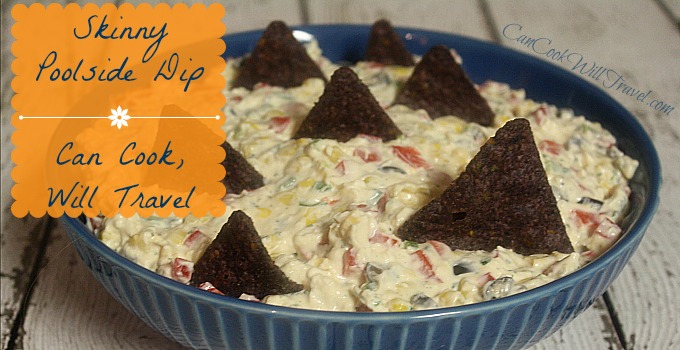 Ingredients:
1 Red Pepper, diced
2 Jalapenos (seeds and ribs removed), finely chopped
1 can of Corn, drained
1/2 can diced Olives (about 3 ounces drained)
16 oz reduced fat Cream Cheese (softened)
1 packet Hidden Valley Ranch Dip Seasoning Mix
Preparation Instructions:
1. Start by prepping all of your vegetables.
2. In a large bowl add all ingredients and then use a sturdy spoon and spatula and combine until the cream cheese is completely mixed in with the vegetables. Note that the dip will become more creamy as you continue to mix it.
3. Serve immediately and enjoy!
0