Can I tell you a secret? I don't know that I've ever had eggnog. I know, I know – stop yelling! But after whipping up these Eggnog Truffles, I will most certainly be craving eggnog in the future!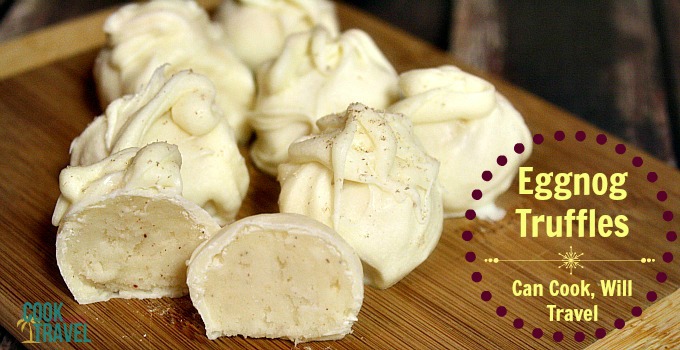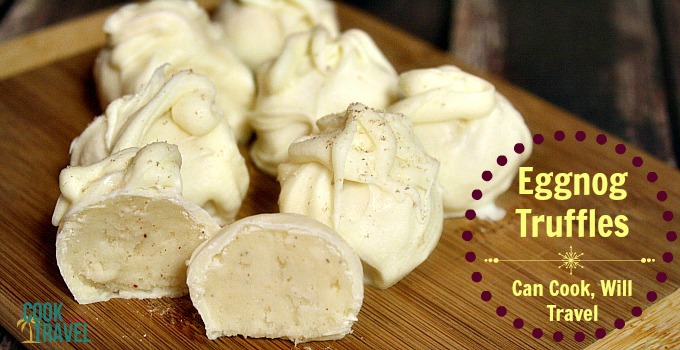 I saw this eggnog truffles recipe all over Pinterest from the Six Sisters website (fun site, if you haven't checked it out). And I finally gave in and decided to give them a shot. Every year my mom does her big candy making session to put together candy platters for people in our lives, and I had the urge to test out this recipe and see if it might make the cut for this year's session.
I'm happy to report the eggnog truffles are amazing!! And pretty easy to make. You start off by making the filling eggnog filling ahead of time. Just whip together some cream cheese, powdered sugar, ground nutmeg, and brandy extract.
The original recipe calls for rum extract, but since I didn't have that on hand but did have brandy extract that smelled delightful, I made an executive decision. Plus eggnog can be spiked with either rum, brandy, or bourbon, so it made perfect sense to me.
Melt some white chocolate and add it to the cream cheese mixture. The chocolate helps thicken up the mixture. Then chill it in the fridge for about 2 hours.
Once your filling is chilled, melt the rest of the white chocolate, and roll the filling into balls. Dip the balls in the chocolate and let them set up on a baking sheet lined with waxed paper. I had a little chocolate left, so I put it into a piping bag and topped each truffle to pretty them up a bit. Finally I grated some fresh nutmeg (sparingly) over the top of each truffle.


When the truffles are set up, they are ready to be enjoyed. And wow if that's what eggnog tastes like, then I'm totally a fan now! The nutmeg and brandy flavors are subtle and the eggnog flavor hits you after your first bite. The chocolate coating gives a little texture to the smooth and creamy eggnog filling.
These Eggnog Truffles are now a new favorite holiday candy in our household. I can't wait for you to try them for yourself. Click that link for the recipe and step by step instructions. Happy candy making!!
A look back:
One year ago: Ham and Cheese Waffles Hit the Spot Anytime!
Two years ago: Creamy Mushroom Pasta with Caramelized Onions and Spinach – Goodness on a Plate
Three years ago: Brrrr … Homemade French Bread to the Rescue
Four years ago: Cranberry Love
1