What a whirlwind of a week it's been for me, so a smoothie bowl had to happen. I've been moving to a new apartment, and I'm not sure how I've accumulated so much stuff in the past few years. While moving has never been my favorite thing, on the plus side it did have me purging a lot. The best part is my updated kitchen, and smoothie bowls wouldn't leave my mind. So I'm bringing you this Superfood Blueberry Smoothie Bowl to help start the day off right.
Not only have I been moving, but I'm pretty sure in typical KC weather, that we skipped Spring. Correction, Spring lasted approximately 1 week, and then it was already in the 90's. That made this Superfood Blueberry Smoothie Bowl even more appropriate and something I couldn't stop thinking about.
If you follow me on IG, then you know that I'm a big fan of my smoothie bowls. So I like to make them a few times a week and even more if it's really hot out. Frankly this week I had a whole other bowl in mind, but I thought I had more frozen fruit on hand. So this Superfood Blueberry Smoothie Bowl was an on the spot kind of recipe. But I think those often turn out even better.
And smoothie bowls are a pretty easy way to start off the day on a healthy note. I love my Vitamix for how well it blends everything, and I can usually have a smoothie bowl in hand in 5 minutes.
Here are my guidelines for this Superfood Blueberry Smoothie Bowl (although I'll be experimenting more in the coming week):
6 oz liquid
Half a frozen banana
1/2 cup of frozen fruit
1 scoop of protein powder
Then you can really get creative with whatever else you blend in along with what you top the bowl with. For this Superfood Blueberry Smoothie Bowl, I chose mango and blueberry for my frozen fruit. I love the creaminess that mango offers, and blueberries are filled with antioxidants! I also am loving adding in chia seeds, matcha green tea powder, maca powder, turmeric, and cinnamon for some major superfood love.
Topping the bowl is where you can get really creative. Having just moved I realized that my normal toppings weren't here, so I opted to keep this healthy. I topped my Superfood Blueberry Smoothie Bowl with fresh blackberries (seriously great sale at Target on them), coconut chips for crunch, and hemp seeds for some serious health benefits. Check out this link I found on everything hemp seeds have to offer, because it's too much to mention here.
I don't add extra sweetness to my smoothie bowls, because I let the fruit and protein powder naturally do that. But this Superfood Blueberry Smoothie Bowl still tastes slightly sweet and the coconut chips help with that. Then the hemp seeds add a little earthiness and the maca powder has a slight butterscotch taste that is super subtle.
You're left with a delicious, gorgeously purple smoothie bowl that doesn't disappoint. I love how you can pack all of these amazing ingredients into it without overpowering the flavors!
So for an easy and super healthy breakfast filled with fruit and goodness, definitely check out this Superfood Blueberry Smoothie Bowl recipe. Click the link for step by step photos and then happy blending!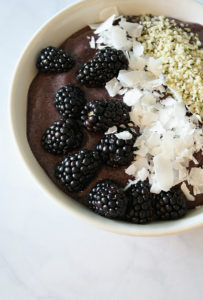 Print
Blueberry Mango Superfood Smoothie Bowl
Yield 1 smoothie bowl
Breakfast made incredibly delicious thanks to this fabulous smoothie bowl packed with nutrition.
Ingredients
Smoothie Bowl Ingredients:
6 oz. Coconut Water
1 scoop Protein Powder (I love the vanilla Tone It Up Protein Powder at Target)
Half a frozen Banana
1/4 cup frozen Mango
1/4 cup frozen Blueberries
1 T. Chia Seeds
1 t. Maca Powder
1/2 T. Matcha Powder
1 t. Cinnamon
1/4 t. Turmeric
Toppings:
Coconut Chips
Fresh Fruit
Hemp Seeds
Chia Seeds
Granola
Instructions
Add all smoothie bowl ingredients to your blender, and note how your particular blender instructs the order of ingredients. My Vitamix works well with the order listed above.

 

Blend until smooth, and I always use the tamper that came with my blender to help ensure everything is blended well.

 

Transfer to a bowl, and then top with your favorite toppings. Enjoy!
Notes
Quick Tip: Don't have mango or blueberry on hand? No problem! Swap with your favorite frozen fruit!
Courses Breakfast
Cuisine Healthy
Nutrition Facts
Serving Size 1 recipe
Amount Per Serving

Calories 414

% Daily Value

Total Fat 5 g

8%

Saturated Fat 1 g

5%

Unsaturated Fat 3 g

Sodium 307 mg

13%

Total Carbohydrates 80 g

27%

Dietary Fiber 26 g

104%

Sugars 30 g

Protein 22 g

44%
* Percent Daily Values are based on a 2,000 calorie diet. Your daily values may be higher or lower depending on your calorie needs.
A look back:
One year ago: Guilt Free Coffee Ice Cream is All You Need
Two years ago: Healthy Sweet and Sour Chicken is Fab!
Three years ago: Sticky Honey Lemon Ginger Chicken = One Light, Bright Dinner!
Four years ago: Crock Pot to the Rescue with Honey Sesame Chicken
Five years ago: Learning to Love Salads – Part 12: Tuna Pasta Salad
Six years ago: Creamy Avocado Pasta…My New Favorite Pasta Dish
Seven years ago: The Deliciousness that is Israeli Couscous
0