(This Blueberry Mango Superfood Smoothie Bowl is one to devour, and if you want some more inspo, then you may like this one and this one.)
Step by Step Instructions:

You'll have this Blueberry Mango Superfood Smoothie Bowl ready in no time, so here's what you'll need: Coconut Water, Protein Powder (TIU vanilla protein powder is my go-to), Matcha Green Tea Powder, Maca Powder, Chia Seeds, Cinnamon, Turmeric, Half a frozen Banana, 1/4 cup (roughly) of Frozen Mango and Frozen Blueberries.

Grab your blender (I adore my Vitamix) and add 6 ounces of coconut water, but be sure you load up your blender as your model instructs.

Next up is a scoop of protein powder so you can make this Blueberry Mango Superfood Smoothie Bowl count!

Finally throw in everything else, and I like starting with the frozen fruit followed by 1 T. chia seeds, 1 t. maca powder, 1/2 T. Matcha powder, and about 1/4 t. turmeric and 1 t. cinnamon.

Turn the blender on the lowest setting, and then start blending while slowly increasing the speed.

I like my smoothie bowls to be fairly thick, so they're easy to eat with a spoon. So you'll likely find the tamper that came with your blender to be extremely useful to help get the frozen food blended.

Keep blending so the Blueberry Mango Superfood Smoothie Bowl is completely smooth, creamy, and thick.

I wouldn't normally throw this step in, but once you transfer your Blueberry Mango Superfood Smoothie Bowl to a bowl, immediately clean it out. The easiest method is to run water in the blender to rinse it out, then add a little detergent and fill it 1/3 to 1/2 full of hot water and blend away for a few seconds. Then rinse and scrub it to get any leftover smoothie and dry. Do this part now, so that food doesn't dry on the container and make it impossible to get clean.

Now that the Blueberry Mango Superfood Smoothie Bowl is in your bowl, top it with your favorite toppings and then enjoy! To keep this clean and healthy, today I went with fresh berries, coconut chips, and hemp seeds. And I'm enjoying my new, pretty granite countertops, so there's that!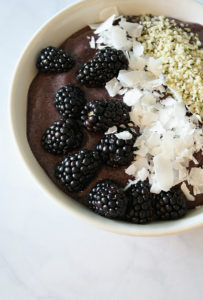 Print
Blueberry Mango Superfood Smoothie Bowl
Yield 1 smoothie bowl
Breakfast made incredibly delicious thanks to this fabulous smoothie bowl packed with nutrition.
Ingredients
Smoothie Bowl Ingredients:
6 oz. Coconut Water
1 scoop Protein Powder (I love the vanilla Tone It Up Protein Powder at Target)
Half a frozen Banana
1/4 cup frozen Mango
1/4 cup frozen Blueberries
1 T. Chia Seeds
1 t. Maca Powder
1/2 T. Matcha Powder
1 t. Cinnamon
1/4 t. Turmeric
Toppings:
Coconut Chips
Fresh Fruit
Hemp Seeds
Chia Seeds
Granola
Instructions
Add all smoothie bowl ingredients to your blender, and note how your particular blender instructs the order of ingredients. My Vitamix works well with the order listed above.

 

Blend until smooth, and I always use the tamper that came with my blender to help ensure everything is blended well.

 

Transfer to a bowl, and then top with your favorite toppings. Enjoy!
Notes
Quick Tip: Don't have mango or blueberry on hand? No problem! Swap with your favorite frozen fruit!
Courses Breakfast
Cuisine Healthy
Nutrition Facts
Serving Size 1 recipe
Amount Per Serving

Calories 414

% Daily Value

Total Fat 5 g

8%

Saturated Fat 1 g

5%

Unsaturated Fat 3 g

Sodium 307 mg

13%

Total Carbohydrates 80 g

27%

Dietary Fiber 26 g

104%

Sugars 30 g

Protein 22 g

44%
* Percent Daily Values are based on a 2,000 calorie diet. Your daily values may be higher or lower depending on your calorie needs.
0