Can we just celebrate for a sec that football season is starting this week?! Go Chiefs! Sorry, had to get that out of way, because it felt like the right thing to do. But back to this week's recipe, because Sriracha Tofu Stir Fry was not exactly what I thought I'd be making this week.
I thought I'd do a salad for you, because it's been a while and I could probably use more salad in my life. But this week it's been raining and I was more feeling something hot and comfort food-y. This Sriracha Tofu Stir Fry recipe is one that I made last week on a whim one night and it was so good I made it the next night. Instead of tofu though, I used shredded chicken because I had it on hand…so good!
But let's talk about tofu for a sec. Yep, I'm cooking with tofu this week with this Sriracha Tofu Stir Fry. I actually can count on one hand how often I've made anything with tofu, so add today to the list. But I was at Trader Joe's Sunday and this Sriracha baked tofu was calling my name. Keep in mind that if you're going for a gluten free meal, I don't believe this particular tofu is gluten free but you could always make something similar yourself.
Actually I'd never worked with pre-cooked tofu or flavored tofu, so I was curious. And what's awesome is you can eat it cold for a salad or cook it like I did.
Since I was loving last week's stir fry and it was uber easy to make, it was the perfect choice for this week. You can use whatever veggies you love and your favorite proteins. So this week I went with an onion, carrot, red pepper, and broccoli for my veggies. I also had this tofu that was begging to be thrown in. And I made brown rice the other day and in it went to the Sriracha Tofu Stir Fry.
I went for an Asian twist on this dish for a few reasons. First, I can't seem to stop cooking Asian flavors lately, and have a recipe I've tweaked a bit that I'll be sharing with you soon. Second, last week's dinner proved that these flavors are the best!
Oh and let's not forget this meal was done in about 15 minutes, so that's another plus!
So for the Sriracha Tofu Stir Fry I used tamari (to keep it gluten free), rice vinegar, chili oil for heat, and toasted sesame oil to amp up the sesame flavor. It creates a really light sauce that coats all of the ingredients. Then I topped my dish with some scallions and Sriracha for a bit of freshness and heat.
If tofu isn't your thing, I totally get it and shrimp or chicken would be fabulous too. I usually have chicken I've poached and shredded on hand, so I know it works well in this recipe. And other topping options would be a little salt and pepper, fresh basil, or a splash more of tamari.
I'm so glad this Sriracha Tofu Stir Fry recipe makes 2 healthy servings, because I know what I'll be eating again tomorrow! I can't wait for you to try this one, so click the link for the step by step instructions complete with photos! Happy stir frying!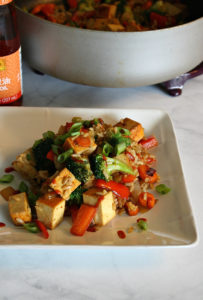 Print
Spicy Asian Tofu Stir Fry
Yield 2 servings
It doesn't get much easier or more flavorful than this healthy stir fry packed with veggies & protein!
Ingredients
Stir Fry Ingredients:
1 T. Avocado Oil
Yellow Onion, chopped
Carrot, chopped
Red Pepper, sliced
Broccoli, cut into bite-sized pieces
Sriracha Baked Tofu from Trader Joe's (or your fave protein like chicken)
1 c. Brown Rice
1.5 T. Tamari
1 T. Rice Vinegar
1.5 t. Chili Oil
1 t. Toasted Sesame Oil
Topping Suggestions:
Green Onions
Sriracha
Fresh Basil
Freshly Cracked Pepper & Sea Salt
Splash of Tamari
Instructions
Begin by prepping your veggies and cutting them into bite-sized pieces that aren't too small. Then heat the avocado oil (or olive, grapeseed, etc. would work) over medium heat.

 

Chop the veggies in the order that cooks the slowest, so I chopped the onions and added them to the pan followed by the carrots, peppers, and broccoli. Once the veggies are well cooked after 3-5 minutes, then click the tofu and add it to the veggies to heat through. Finally add a cup of brown rice to the pan and heat it through.

 

Once all of the food is cooked and heated through, add the tamari, vinegar, chili oil, and toasted sesame oil to the pan and lower the heat to low and cook for another 1-2 minutes so everything is well coated. Then enjoy!
Notes
Quick Tip: This would be gluten free except for the type of tofu I used, so you can switch that out if you prefer.
Courses Dinner
Cuisine Healthy
Nutrition Facts
Serving Size 1/2 recipe
Amount Per Serving

Calories 429

% Daily Value

Total Fat 21 g

32%

Saturated Fat 2 g

10%

Unsaturated Fat 8 g

Sodium 1342 mg

56%

Total Carbohydrates 42 g

14%

Dietary Fiber 6 g

24%

Sugars 10 g

Protein 21 g

42%
* Percent Daily Values are based on a 2,000 calorie diet. Your daily values may be higher or lower depending on your calorie needs.
A look back:
One year ago: Spicy Asian Wings – Challenge Accepted!
Two years ago: Bacon Parmesan Spaghetti Squash is So Good!!
Three years ago: Roasted Poblano Queso Fundido . . . It's Queso Time!
Four years ago: Vanilla Chia Seed Pudding … I Might be Obsessed!
Five years ago: Did Someone Say Salted Mudslide Cookies? Oh Right, That Was Me!
Six years ago: Learning to Love Salads – Part 8: Southwest Chicken Chopped Salad
Seven years ago: Taking a Crack at Eggs Benedict
0