Ah it's officially September, (seriously, how the hell is it already September?!) which means that football season is upon us! But let's celebrate just a little that it is … oh, happy day!! And what makes football viewing just a little more perfect? Beer & dip, of course! So that's where this Roasted Poblano Queso Fundido comes in. It's a delicious, cheesy dip that is spiked with a little beer. Plus it comes from a food blog that I LOVE to frequent called Spoon Fork Bacon. Don't you just love that name?!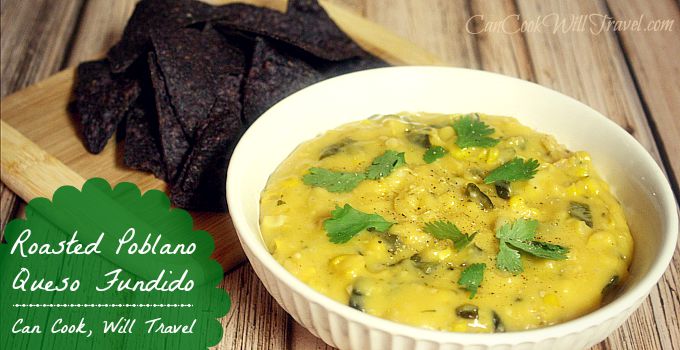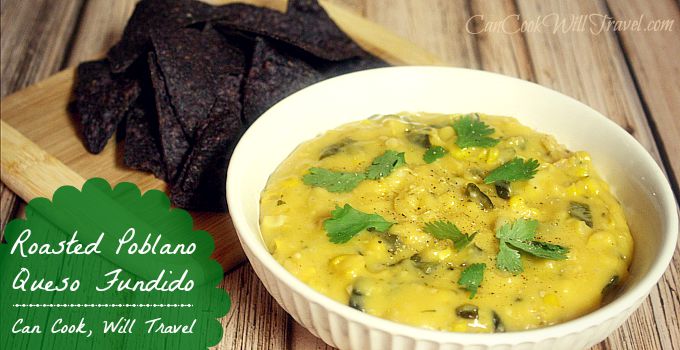 I've been slammed this week with work (I feel like a fireman with all of the fires I've been putting out), and the fact was, I needed a quick dish this week to save my sanity. A few of my coworkers had requested I make a queso to recreate one we had on our trip to Dallas last week. Well, I can't tell them no. 😉 And this queso was really easy and kinda fun to make so it was perfectly timed.
The fun part was getting to roast the poblano pepper. I've roasted red peppers before for what was to date one of my favorite pasta dishes I've made on my blog. But this time around I used a Nu-Wave to roast the poblano, so I could watch it darken before my eyes. (I'm a slight dork, but it was still really cool to watch the skin blister and darken!)
The dip is pretty easy to make. First is a little prep work, but it's not bad. Just chop up some fresh oregano (or use dried). Then remove the skin from the roasted poblano and dice it up, removing the stem and seeds. Finally cut the corn off of an ear of cooked corn and mince one clove of garlic.
Melt a little butter in a saucepan. Then add the poblano, garlic, corn, and oregano to the butter and saute over medium-high heat for 3-4 minutes. The corn will start to brown a little and the smell is delightful.
Pour in some of your favorite beer. I would use a good wheat beer so it has great flavor. And let the liquid reduce. Toss some cheese with lime juice. For the cheese I used a shredded Mexican cheese blend, which was delightful. (Spoon Fork Bacon suggests a pepper jack cheese, but I wanted some sharp cheddar added in for even more flavor.) And once the veggie/beer mixture has reduced, stir in a little cheese at a time until it's completely melted. Season with some salt and pepper and serve it up immediately.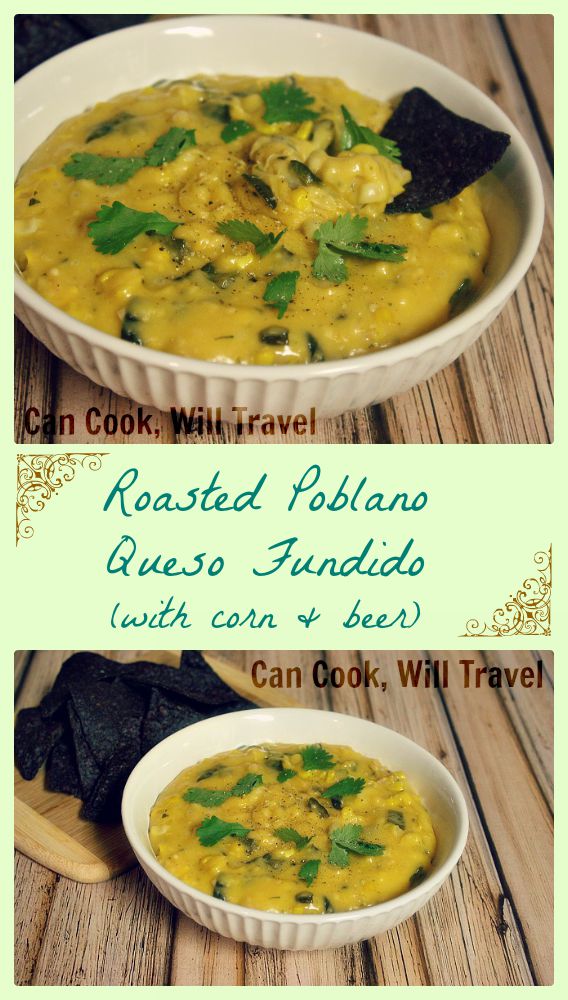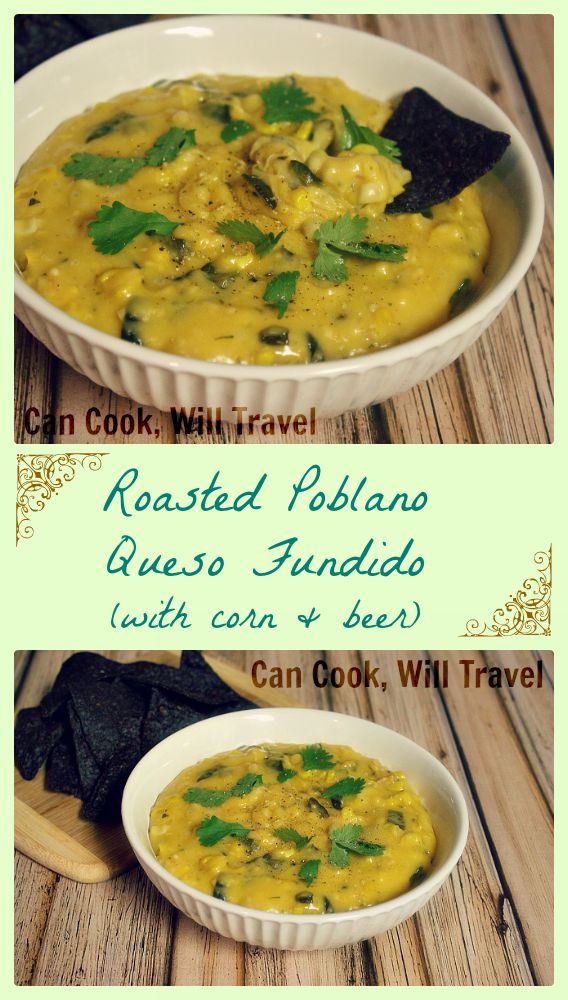 I exercised serious restraint on this dip, because I honestly could have devoured the entire thing! It was so, so good! The corn added a little sweetness, the roasted poblano added a slightly smokey flavor, and the cheese was ooey, gooey, stringy goodness!
I know you'll love this Roasted Poblano Queso Fundido, too. Be sure to click the link for the recipe and step by step instructions! Happy dipping!
A look back:
One year ago: Vanilla Chia Seed Pudding … I Might be Obsessed!
Two years ago: Did Someone Say Salted Mudslide Cookies? Oh Right, That Was Me!
Three years ago: Learning to Love Salads – Part 8: Southwest Chicken Chopped Salad
Four years ago: Taking a Crack at Eggs Benedict
0