(Spicy Asian Tofu Stir Fry is a snap to make, and here's another delicious stir fry recipe to try.)
Step by Step Instructions:

You'll love how fast this delicious Spicy Asian Tofu Stir Fry comes together, so here's what you'll need: Avocado Oil (or your fave cooking oil), Tamari (Soy sauce can be substituted if you prefer), Sriracha, Broccoli, Brown Rice (or your favorite cooked grain), Rice Vinegar, Toasted Sesame Oil, Chili Oil, Red Pepper, Onion, 1 Carrot, and Sriracha Baked Tofu from Trader Joe's (or your favorite cooked protein).

Begin by heating a tablespoon of oil in a skillet over medium high heat.

Then I start by chopping the veggies that cook the longest first and add them as I go. So I chopped 1 onion into good sized pieces.

Now add the onions to the pan stirring occasionally.

Next I chopped the carrots into bite-sized pieces, and then it gets added to the onions.

Then chop the peppers into similar sized pieces and add it to the pan.

I then grabbed about a cup of broccoli and cut it into bite-sized florets and add it to the pan.

Keep stirring all the veggies every few minutes so they're tender.

Now I picked up this Sriracha baked tofu from Trader Joe's out of curiosity and I'm kind of obsessed with it. It's already cooked so you can eat it cold or warm, and then it comes in 2 blocks that are each a serving.

Then dice the tofu into cubes so they're in easy to eat sizes.

Now add the tofu and warm them through for about 1-2 minutes and the Spicy Asian Tofu Stir Fry is almost ready.

Finally add the cup of brown rice along with about 1 1/2 T. tamari, 1 T. rice vinegar, 1 1/2 t. chili oil, and 1 t. toasted sesame oil and stir for a couple of minutes. Now it's time to enjoy your Spicy Asian Tofu Stir Fry and serve right away. I topped mine with scallions and Sriracha but I've also added fresh basil and salt and pepper in the past and it's fabulous. So happy eating!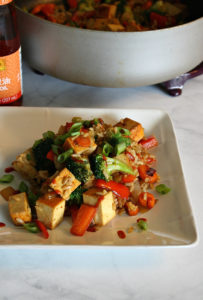 Print
Spicy Asian Tofu Stir Fry
Yield 2 servings
It doesn't get much easier or more flavorful than this healthy stir fry packed with veggies & protein!
Ingredients
Stir Fry Ingredients:
1 T. Avocado Oil
Yellow Onion, chopped
Carrot, chopped
Red Pepper, sliced
Broccoli, cut into bite-sized pieces
Sriracha Baked Tofu from Trader Joe's (or your fave protein like chicken)
1 c. Brown Rice
1.5 T. Tamari
1 T. Rice Vinegar
1.5 t. Chili Oil
1 t. Toasted Sesame Oil
Topping Suggestions:
Green Onions
Sriracha
Fresh Basil
Freshly Cracked Pepper & Sea Salt
Splash of Tamari
Instructions
Begin by prepping your veggies and cutting them into bite-sized pieces that aren't too small. Then heat the avocado oil (or olive, grapeseed, etc. would work) over medium heat.

 

Chop the veggies in the order that cooks the slowest, so I chopped the onions and added them to the pan followed by the carrots, peppers, and broccoli. Once the veggies are well cooked after 3-5 minutes, then click the tofu and add it to the veggies to heat through. Finally add a cup of brown rice to the pan and heat it through.

 

Once all of the food is cooked and heated through, add the tamari, vinegar, chili oil, and toasted sesame oil to the pan and lower the heat to low and cook for another 1-2 minutes so everything is well coated. Then enjoy!
Notes
Quick Tip: This would be gluten free except for the type of tofu I used, so you can switch that out if you prefer.
Courses Dinner
Cuisine Healthy
Nutrition Facts
Serving Size 1/2 recipe
Amount Per Serving

Calories 429

% Daily Value

Total Fat 21 g

32%

Saturated Fat 2 g

10%

Unsaturated Fat 8 g

Sodium 1342 mg

56%

Total Carbohydrates 42 g

14%

Dietary Fiber 6 g

24%

Sugars 10 g

Protein 21 g

42%
* Percent Daily Values are based on a 2,000 calorie diet. Your daily values may be higher or lower depending on your calorie needs.
0