Can I make a confession? I like sports, quite a bit. And I'm starting to think maybe I like watching sports as much (or more) than the average fella. For years I'd thought I liked watching baseball and football (especially) a normal amount, but I'm beginning to think that I'm a bigger fan than that. And when I think of what foods you eat when you watch football, since it's officially football season now, wings immediately came to mind. And Spicy Asian Wings were born!
It's funny, actually, that I thought of wings since I've never made them before. And I'm not the type of person to say "Hey, let's go out and eat some wings!". I mean I like them, sure, but there is something super sports bar-like about them.
And one thing I'm never afraid of is a little challenge, so "Challenge: Make Wings" was on! True it was a self-imposed challenge but still, it counts doesn't it?! And I was going to try to get all fancy and make 2 kinds of wings this week, but then I realized that was silly and I'd work on just creating a kickass wings recipe. And Spicy Asian Wings sounded pretty fabulous. After all, one of my favorite Buffalo Wild Wings flavors is Asian Zing, so I was inspired to create my own version.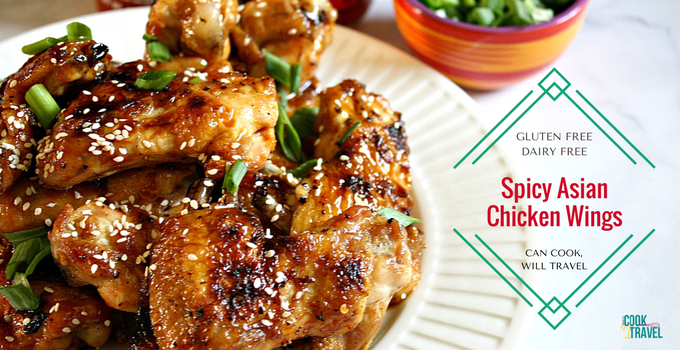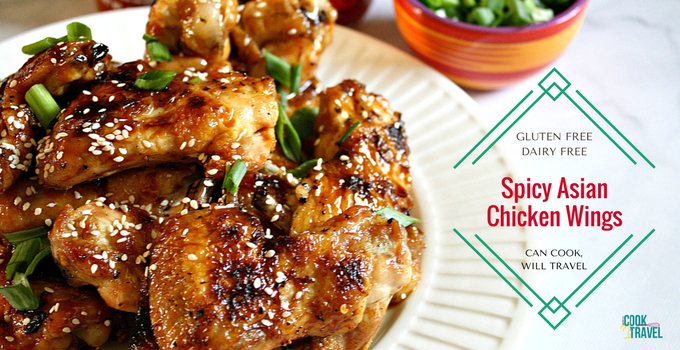 I like to eat fairly healthy these days, but to me, wings don't exactly scream "health food". So I was alright with not having a super good-for-you dish here, but I knew I could cut the fat by baking my wings. So I broiled them for about 10 minutes on each side until they were brown and lovely. One tip here is to place the oven rack on the second shelf from the top, because my chicken was splattering a lot. So smoke wafted through my kitchen a bit – whoops!
As the chicken cooked, I whipped up an Asian sauce made from hot sauce (okay not so Asian but it gives me heat!), Sriracha, pepper flakes, apple cider vinegar, salt, and coconut palm sugar. Now you can use brown sugar, but in an effort to try this recipe out with unrefined sugar, I opted to give coconut palm sugar a whirl. Holy moly, I'm so glad I did, because it's a more natural option and still was nice and sweet in the sauce. Yum!
I brought the sauce to a boil briefly to get the sugar to cook, and then set it to the side. Once the wings came out of the oven, I tossed them with the sauce and just like that I had Spicy Asian Wings! Now this was my first attempt at wings, and I'd say I did pretty damn well. I mean there were no leftovers once my fella and I started digging in, so that was my best clue. I'm glad that we saved lots of room for wings.
These Spicy Asian Wings were juicy and totally messy, which is what makes wings really great, right?! And I loved that they were a little sweet but totally spicy too, because that balance is great! And I'm happy to report that making wings is way easier than I expected them to be. So yay!!
With football season and tailgating upon us, you definitely need to try these Spicy Asian Wings! Click that link for the recipe and step by step instructions, so you'll see just how easy they are. Happy wings eating!
A look back:
One year ago: Bacon Parmesan Spaghetti Squash is So Good!!
Two years ago: Roasted Poblano Queso Fundido . . . It's Queso Time!
Three years ago: Vanilla Chia Seed Pudding … I Might be Obsessed!
Four years ago: Did Someone Say Salted Mudslide Cookies? Oh Right, That Was Me!
Five years ago: Learning to Love Salads – Part 8: Southwest Chicken Chopped Salad
Six years ago: Taking a Crack at Eggs Benedict
0