I've always been a fan of cauliflower. Let's be honest, I'm a fan of veggies in general. But cauliflower is such a versatile veggie that I love cooking (and eating it). And this week was crazy, crazy busy with work, so I wanted something easy but also pretty good for you too. That's where this Skinny Bang Bang Cauliflower came in.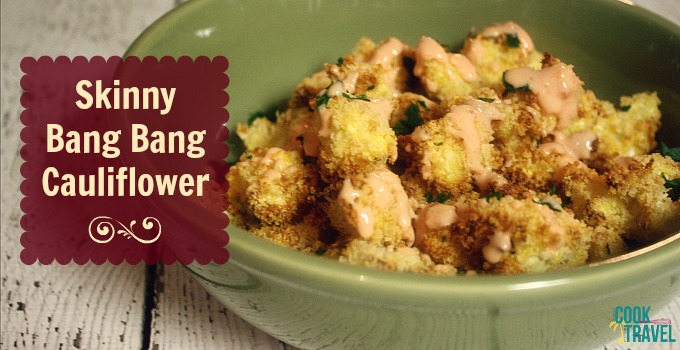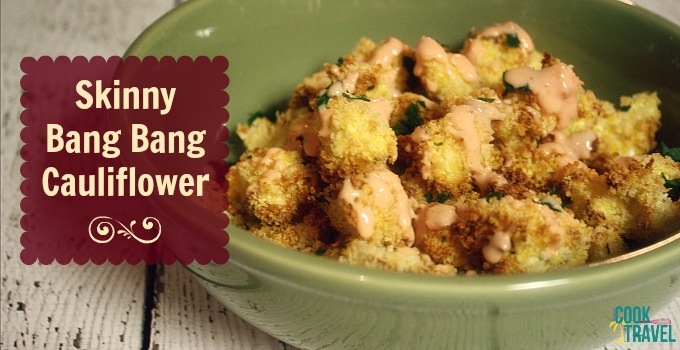 I don't know about you, but when I'm going non-stop, the first thing that tends to fall by the wayside is my eating habits. It's all about convenience, which usually means that it's not so healthy.
But not this week! Oh no . . . my dark chocolate almonds and protein bites have been a reliable afternoon snack, and my green smoothie drinking has continued. So eating healthy has been pretty easy this week (with the exception of a dinner at Buffalo Wild Wings with my sister and cousin – so worth it!).
Like most recipes, this one came to me from the oh-so-reliable Pinterest site. I've become a Pinterest-aholic these days, and love getting recipes and inspiration from life in general from Pinterest. And when I saw this Skinny Bang Bang Cauliflower from the site Kirbie's Cravings, well I just couldn't get them out of my mind. I knew they'd be making an appearance on my blog soon.
So let's talk about this Skinny Bang Bang Chicken, shall we?
First off, it's pretty darned easy to whip up, which makes making it for a weeknight meal a pretty convenient dish. You could even have the cauliflower florets cut up in advance to save you time. You'll cut up half a head of cauliflower in bite-sized florets. Unless you're feeding a large group, I'd definitely stick with just cutting up half of a head of cauliflower. I feel like this side is best right out of the oven and probably wouldn't heat up extremely well because you won't get the crispy crust.
Now about that crust . . . All you do is dip the florets in whisked eggs and then coat in Panko, which are Japanese bread crumbs. I personally LOVE using Panko, because you get a really crispy crust and it's a nice, light crust. Then bake the cauliflower on a lined baking sheet for about 20 minutes or until the cauliflower is browned and crispy.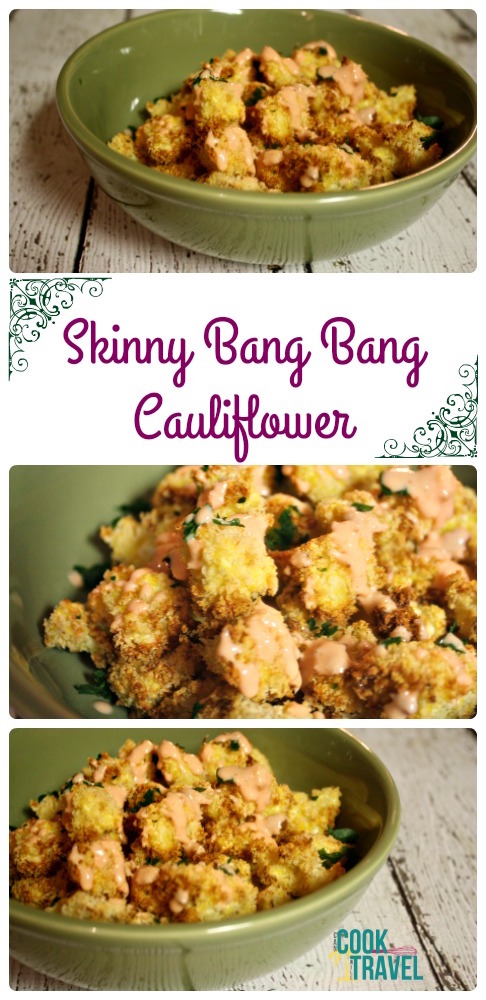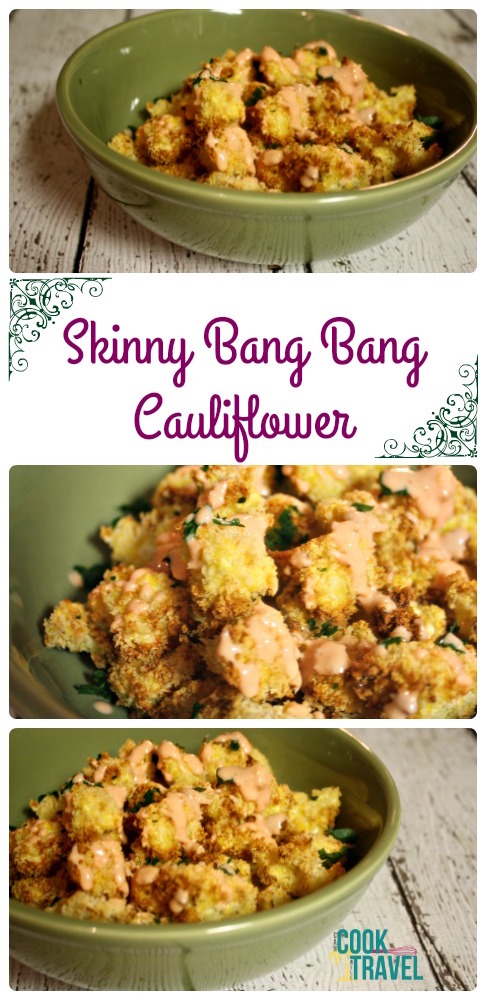 While the cauliflower bakes, the "bang bang" part of the dish comes into play with the sauce. All you do is whisk fat-free Greek yogurt, some Sriracha sauce, honey, and sweet chili sauce together. A note on that sweet chili sauce . . . the recipe calls for sauce that is smooth without chili visibly in the sauce. Unfortunately I couldn't track that down in the Asian food aisle, so I decided to put the sauce through a sieve to strain out the extra bits in the sauce so it's smooth. It worked like a charm. Whisk the sauce and set it aside.
Once the cauliflower is nice and crispy, serve it up right away with the sauce drizzled over the top, and some extra sauce on the table for dipping.
These were fabulous! They made a perfect side to some stuffed pork chops we had for dinner. The Skinny Bang Bang Cauliflower was nice and crunchy and the sauce was a great way to kick up cauliflower that might otherwise be a bit boring.
So if you love spice, then you'll love this sauce! It's got a nice heat but also a really good balance of sweetness with the sweet chili sauce and honey to tone down the Sriracha a bit. And if you don't love spice as much, just reduce the amount of Sriracha to your liking.
I cannot wait for you to try out this Skinny Bang Bang Cauliflower side next week. It's such a great dish that is pretty dang guilt-free. Click that link for the recipe and step by step instructions. Happy eating!!
A look back:
One year ago: Goat Cheese and Black Pepper Popovers . . . You Had Me at Goat Cheese
Two years ago: Potato and Brussels Sprouts Hash – #Yum!
Three years ago: Learning to Love Salads – Part 10: Mediterranean Orzo Salad
Four years ago: Zucchini-Roni Pizza!!
Five years ago: Po-lenty of Polenta
0