Okay, so I'm kind of cheating a bit because this salad has pasta in it, but give a girl a break. We have gotten so much snow dumped on us in the Midwest that I wanted to eat something lighter to make me feel like Spring is on its way…it is right?! (Just lie to me if it isn't.) Plus I'm on part 10 of my journey to eat more salads…not too shabby! I bring you the Mediterranean Orzo Salad…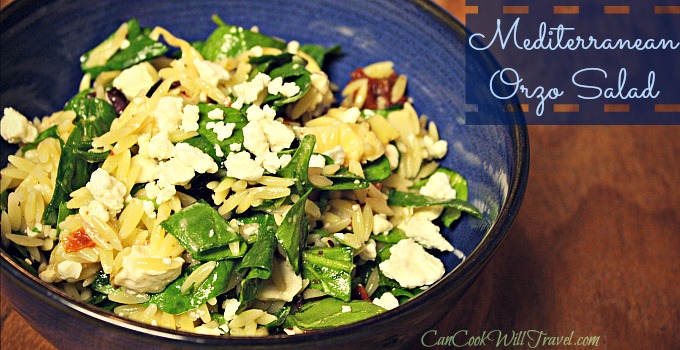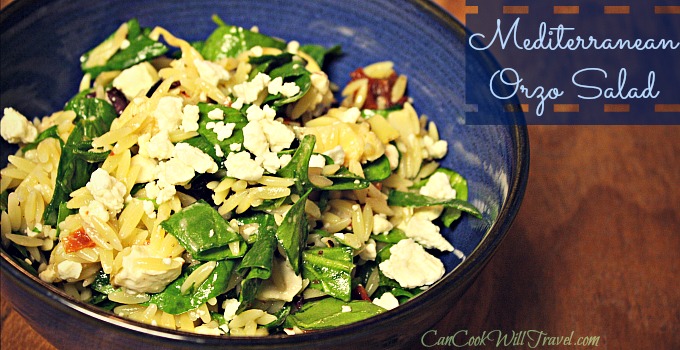 So I found myself crazy busy this week and started looking through my pantry for what I had and I found I only needed a couple of ingredients to try out this Cooking Light recipe.
This dish was perfect for a week night. The longest part was boiling the water and cooking the orzo, which gave me time to chop the baby spinach, Kalamata olives, artichoke hearts and sun-dried tomatoes. I didn't even have to make a dressing. The marinade for the artichokes dressed the salad and it tasted great.
One thing to note when you head to the recipe is that I totally spaced on needing a red onion. Whoops – oh well, less to chop! The salad tested really fresh and delicious (sans onion), and I was a happy camper.
If you're looking for a light dish with great flavor, then look no further. I thought the olives and tomatoes gave a nice acid to the dish to balance out the pasta. Plus the spinach is not only good for you but also made the salad more substantial.
Click here to find the recipe, step by step instructions, and nutritional information.
A look back:
One year ago: Zucchini-Roni Pizza!!
Two years ago: Po-lenty of Polenta
0