I know how crazy busy we can all be, and it's so easy to lose track of that post I meant to read or get super behind on my favorite sites. So I'm doing something new at Can Cook, Will Travel with a blogging roundup of everything you might have missed in January and February.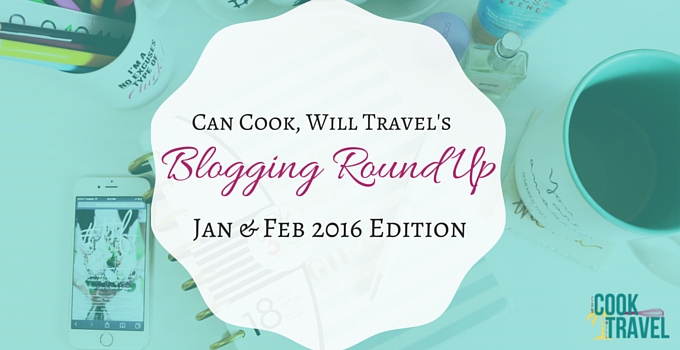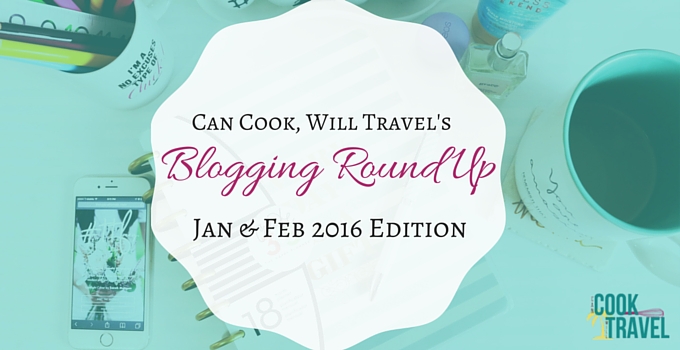 The past 2 months have flown by, yet as always, I've shared a TON of great stuff with you from recipes, tips, and what I'm crushing on right now.
So without further ado, let's start the blogging roundup, shall we?!
Recipes Blogging Roundup
From day one, I've been a food blogger, so let's start off with the delicious recipes I shared so far this year.

DRINKS:
This Grapefruit Rosemary Moscow Mule was not only my first attempt at a Moscow Mule, but was also the first time I drank one. And let me tell you . . . I was NOT disappointed. The tart of the grapefruit, lime juice and ginger beer makes for a really refreshing drink that is seriously stellar. Plus the aroma of the rosemary with each sip takes it over the edge. And dear God those copper mugs are GORGEOUS!
SNACKS:
I'm completely obsessed with these Dark Chocolate Sea Salt Almonds. They come together with just a few ingredients and satisfy my dark chocolate cravings while also being a great snacking option. Soooooo good!!
The other great snack I made are Maple Vanilla Nut Latte Protein Bites that are packed with coffee flavors, guilt-free ingredients, and all you need is 2 or 3 for a satisfying and health snack. Yum!
Last but not least is one of my personal favorites for several years . . . a Lightened Up Spinach Artichoke Dip. My sister has been making this one for years, and it was way overdue that I share the recipe with you. I am seriously drooling just thinking about this one!
BREAKFAST:
I love breakfast food a ton. Especially when I'm eating it for a meal other than breakfast. Traditionally I go for a cereal or homemade oatmeal, but sometimes I like to change it up. And as a total grapefruit fan, I've been dying to try broiling this fruit. So a Broiled Grapefruit with Honey and Bananas was an easy choice. And it's wonderful, because it's a less tart version of the fruit, so you may just convert yourself or your breakfast guest to becoming a fan too.
SIDES & MAIN DISHES:
One of the recent sides I made was this lovely Lemon Spinach Orzotto. It was essentially a pasta dish with orzo made like you would risotto where you gradually stir in liquid until it's absorbed. It's completely delicious!
I got slightly obsessed with these Sweet Potato & Bean Quesadillas . . . as in I made them for 5 straight meals. Packed with flavor and super filling, it's a real winner!
Whatever happens to me, I just hope I always have pasta in my life. The love affair continued with a Mexican Enchilada-Style Stuffed Shells recipe. A Tex-Mex spin on stuffed shells is a very good thing!
Weekly Crush Blogging Roundup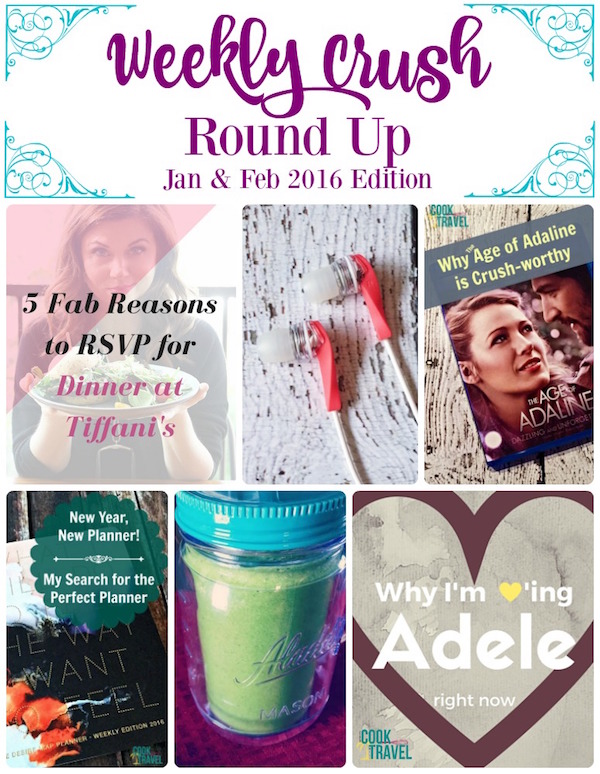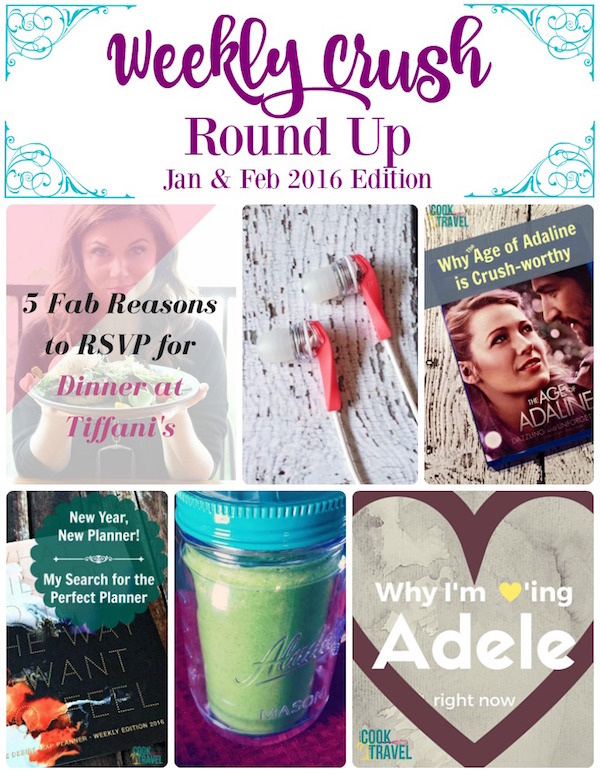 It's never too late for us to organize our lives with a new planner. Learn about how I researched and found my new favorite planner, which I'm still using to this day!
As a self-professed movie-aholic, I don't lightly offer movie recommendations. So when I started crushing on The Age of Adaline, well I just had to share. It's interesting, gorgeous, great acting, and totally unique. #LovedIt
Like much of the world, I'm crazy for Adele's music. More than that, I'm kinda obsessed with everything she's up to these days. Click that link for why I'm loving her right now.
Green smoothies. Yep, they were how I started off my year, and how I've continued on into February. You can learn all about the green smoothie challenge I took and how it went. (Hint: really well!)
Earbud heaven is where I've been recently. You don't realize how badly you need a perfect pair of earbuds until yours die. Check out what I picked out and why I'm LOVING them!
As any good foodie does, I love a good cooking show for inspiration. One of my recent favorites is Dinner With Tiffani's on the Cooking Channel. For all of the details, click away and learn what makes this one so great!!
And if you're curious about how I got started on my blog 5 years ago, or perhaps you want to start your own blog off on the right foot, check out this post all about my blogging journey and why I started. It's been a fun ride!!
Well that's the blogging roundup for January and February, my friend! I hope you find some great recipes and start crushing on some of my recent favorites too.
YOUR TURN: Comment below and let me know what you loved from this blogging roundup and want to see more of! I'd love to know!
Stay inspired & happy discovering!
~Kelli
0