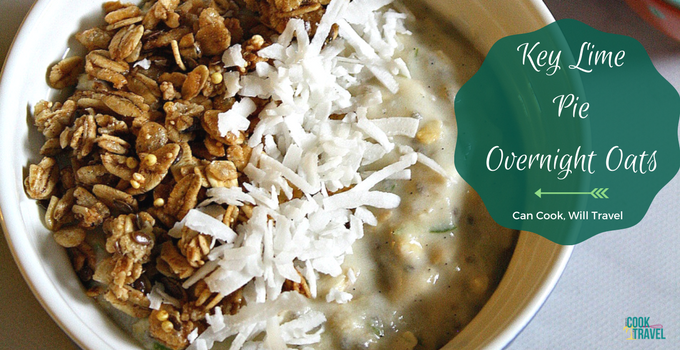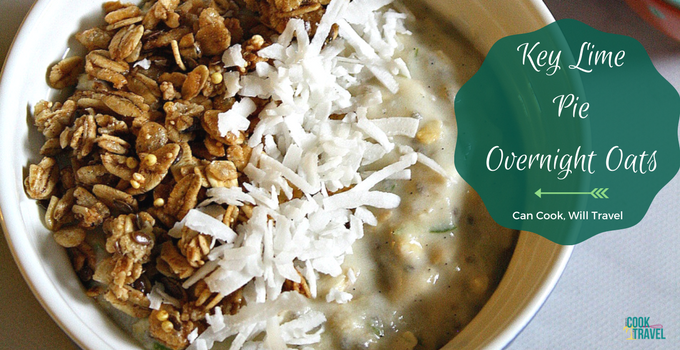 (This Coconut Lime Overnight Oats recipe is inspired by this recipe on the Tone It Up site, so click here for their lemon-y version.)
Step by Step Instructions:

I'm obsessing over this Coconut Lime Overnight Oats recipe, and I bet you'll be too, so here's what you'll need: Protein Powder (I love Perfect Fit protein powder and the vanilla and coconut varieties would be great here), gluten-free Rolled Oats, Coconut Yogurt (or Greek Yogurt), 1 Lime, Vanilla Bean Paste, Honey, Coconut Milk (or Almond Milk), Your favorite Granola for topping, Unsweetened Coconut Flakes, and Chia Seeds.

The Coconut Lime Overnight Oats start off by adding the dry ingredients to a bowl, so that includes 1/2 cup of rolled oats, 2 teaspoons of Chia Seeds, 1 scoop of protein powder, and 1 tablespoon of unsweetened Coconut Flakes.

Then stir the dry ingredients to combine.

Next add 1 cup of yogurt, and because I wanted this to have a coconut undertone I happily went with a dairy free coconut yogurt from So Delicious. But Greek Yogurt would be yummy too.

Add in your coconut milk, or you can use almond milk if you'd rather but again I wanted that coconut flavor throughout.

Next up add a teaspoon of vanilla bean paste and then 2 teaspoons of honey.

Now here's where the lime part of the Coconut Lime Overnight Oats comes in by adding the juice and zest of 1 lime. Seriously when are they going to invent scratch and sniff computers, because this smelled so good!

Then stir until everything is well incorporated, and let the oats mixture sit for about 3 minutes.

This Coconut Lime Overnight Oats recipe makes 2 servings, so divide the mixture between 2 glass containers. I love using mason jars or a glass jar like this with a hinged lid, so they are well sealed.

Let the Coconut Lime Overnight Oats sit (you guessed it) overnight in the refrigerator, so that all of the flavors come together and the oats are softened. I like to eat the Coconut Lime Overnight Oats for the next 2 breakfasts and not keep them too long, because I want to be sure they're fresh. Top the Coconut Lime Overnight Oats with a sprinkling of your favorite granola and coconut flakes and enjoy, so happy overnight oats eating!!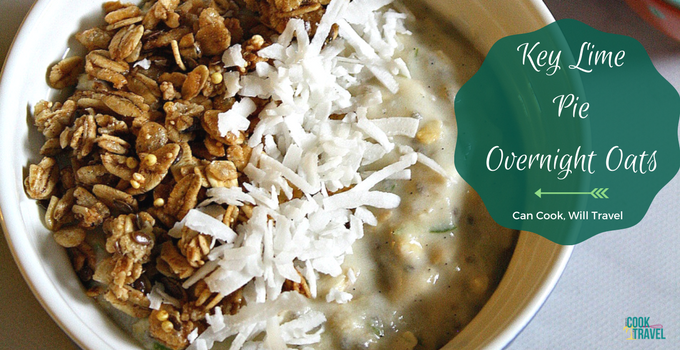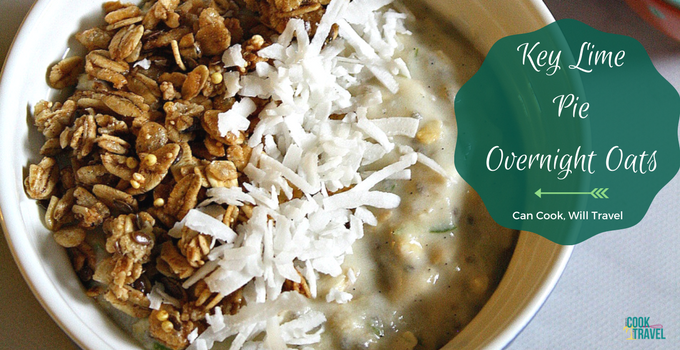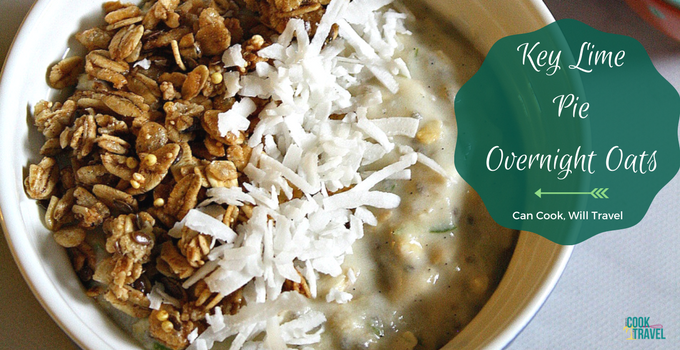 Print
Coconut Lime Overnight Oats
Yield 2 Servings
Not only can you make a healthy breakfast in advance, but it also tastes so good! I think I could eat these overnight oats every morning!
Ingredients
Overnight Oat Ingredients:
1/2 cup gluten-free Rolled Oats
2 tsp Chia Seeds
1 scoop (20 grams) Protein Powder (I love vanilla Perfect Fit Protein)
1 T. Unsweetened Coconut Flakes
2/3 cup Coconut Milk (or Almond Milk)
1 cup Coconut Yogurt (or Greek Yogurt)
Zest of 1 Lime
Juice of 1 Lime
2 tsp Honey
1 tsp Vanilla Bean Paste
Toppings:
Instructions
Mix the dry ingredients together including oats, chia seeds, protein powder, and coconut flakes.

 

Then add the remaining ingredients to the bowl, which includes the coconut milk, coconut yogurt, zest and juice of a lime, honey, and vanilla.

 

Stir until it's well combined and let it sit for 3 minutes.

 

Divide the oats into 2 glass jars (like mason jars), cover, and refrigerate overnight. Enjoy!
Notes
Quick Tip: I like to make 2 servings of this (which is 1 recipe), and you'll want to eat it the following 2 days after you make it so it's still fresh.
Courses Breakfast
Cuisine Healthy
Nutrition Facts
Serving Size 1/2 recipe
Amount Per Serving

Calories 260

% Daily Value

Total Fat 10 g

15%

Saturated Fat 7 g

35%

Unsaturated Fat 1 g

Sodium 65 mg

3%

Total Carbohydrates 31 g

10%

Dietary Fiber 7 g

28%

Sugars 8 g

Protein 12 g

24%
* Percent Daily Values are based on a 2,000 calorie diet. Your daily values may be higher or lower depending on your calorie needs.
3