I'm a big fan of pizza, and I kinda question anyone who isn't. How do you beat a carb-filled crust of deliciousness?! But it's usually jam packed with cheese, so I don't eat it too often these days. So I was curious if I could make a dairy free pizza that wouldn't make me feel bad afterwards, and that's where this Italian Sausage Apple Pizza came into the picture.
First of all, 2 weekends ago my bestie, Jamie, and I went out for pizza. We got our usual which is a taco-inspired pizza that is just crazy good. And because I don't eat it very often, I had 3 huge pieces – totally regretted that decision! And then when I got home, it all became clear why I don't eat much dairy anymore. My poor stomach was pissed and making crazy noises and it just hurt. I apologized profusely to my body, and swore to it I wouldn't eat that pizza again (for a little while).
Second, there is a chain of pizza places in KC called Spin! Pizza. I love Spin! with it's cool toppings, love of goat cheese, and crave-worthy combinations. Plus their salads are killer too! I modeled this Italian Sausage Apple Pizza after a pizza at Spin with my own twist of course.
I always get the Spin pizza with gluten free crust because it tastes great, and this was long before I thought much about gluten. Now that I'm trying to limit it, I'm thankful for this option from Spin. So I found a 2-pack of gluten free pizza crusts at Trader Joe's in the freezer section, and knew instantly that they'd be the crust for my Italian Sausage Apple Pizza.
The Italian sausage is a mild sausage, because I wanted to not over power the other flavors. I love a tart Granny Smith apple, so that's what I used here. For some extra crunch I added a few sliced onions, and also because I love that onions are savory but do have a sweet side too. And finally my secret ingredient became some toasted pecans that I caramelized a little with some coconut palm sugar. So it became a much healthier and natural way to sweeten up the pecans.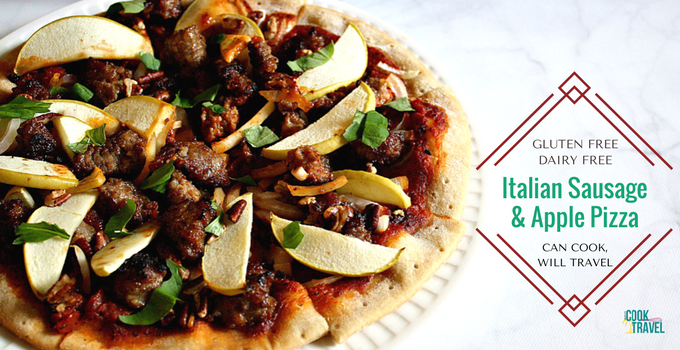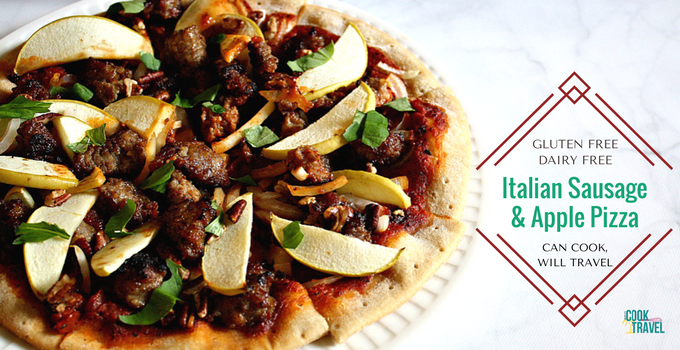 I think this is the first time I used coconut palm sugar, which I believe I picked up at my local Sprouts store. And something told me to give it a go here, which of course I did. I tested it with walnuts as well, because I didn't want to waste pecans since I had fewer of those. So if you don't like pecans or prefer another nut, experiment a bit. But the nut is great for a for a slightly toasted yet sweet flavor combo on top of the pizza.
Putting the Italian Sausage Apple Pizza together is a total snap. You'll want to keep in mind the instructions for whatever crust you're using as you do this. My crust instruction said to start by thawing out your crust, and then brushing the crust with some olive oil. If this is the route you're going, I'd say don't go super light with the oil, because it creates a good barrier between the crust and sauce so it keeps the crust from soaking up all of the marinara.
Then spoon as much marinara over the crust as you like, and this is where it gets to be your personality. I added some sliced onion, the cooked sausage, put a fun layer of thinly sliced apples over that, and then sprinkled the caramelized pecans over the top. Play around with flavors if you want, but this is a great combo if you like sausage and apples.
Finally you'll bake the Italian Sausage Apple Pizza until the crust is brown and the apples start to dry slightly and begin to brown (not much) on the edges. Let the pizza sit at least 1 minute before cutting up and devouring.
I enjoy the different textures in this pizza, and I love the balance the sweet pecans add to a more savory Italian Sausage Apple Pizza. The tart of the apples cuts the richness of the sausage, which adds such a lovely savory flavor. I topped my pizza with some red pepper flakes and fresh basil. Amazing idea!!
Let's talk cheese for a moment, because it's obviously missing (on purpose) here. This Italian Sausage Apple Pizza is proof that with great ingredients, you really don't need the cheese. However, I would totally forgive you for adding it, because it's hard to deny how yummy a cheese pizza is. You could add a little shredded mozzarella or crumble some goat cheese over the top and it would be PHENOMENAL. I could totally see myself doing the latter for a little indulgence.
I cannot wait for you to preheat your oven and whip up this Italian Sausage Apple Pizza recipe too! Click that link for the recipe and step by step instructions!
A look back:
One year ago: Learning to Love Salads – Part 21: Thai Chicken Salad
Two years ago: Let's Talk Turmeric: Turmeric Shot
Three years ago: Cranking Up the Crock Pot with Black Bean Burritos
Four years ago: Dip in a Time Crunch – Taco Ranch Dip
Five years ago: Fast and Fabulous Gnocchi
Six years ago: Homemade Croissants. . .Am I Crazy?!
2