Happy end of July, my friends! How the heck did we get through July already? Every month as I do this blogging roundup, I'm taking a moment to review my month. And in your own way, I encourage you to do the same!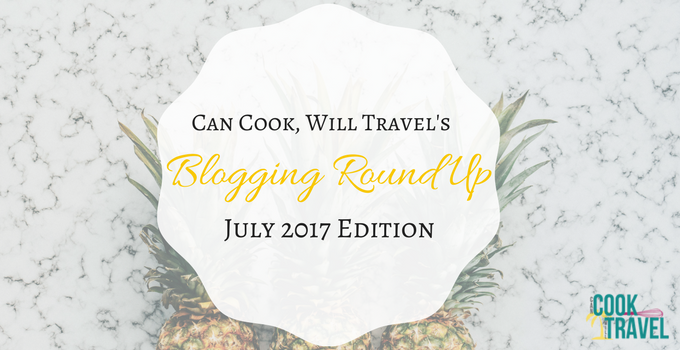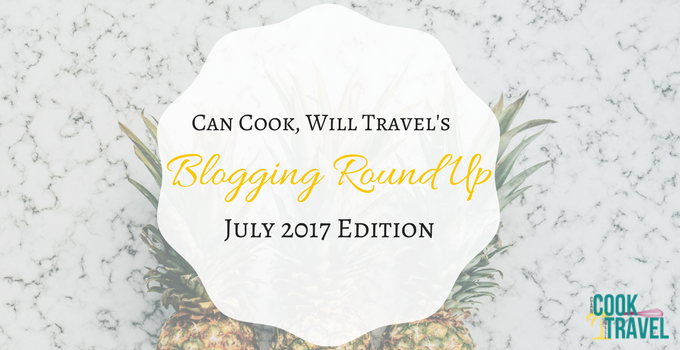 These blogging roundups remind me of the things I create, memories of coming up with recipes, things that inspired me, and fun stuff I've done this month too. And this month as I reflect it's about being natural and clean in flavors and products.
I suppose this translates to life a bit too. I'm such a huge fan of nature, and earlier this month I took a trip down to the lake with my parents to get away. I love my time down there as time to connect with the world, be near the water, and see how well I can balance work and play.
And another super fun memory from this month is that we added a new member to our family last week. My cousin, who is like a sister to me, had little baby Aubrey, and she's just perfection! It's so fun to see new life come into the world and watch kids as they grow. They remind me to stay in touch with that sense of wonder, play, fearlessness, and imagination/dreaming that I know is still deep inside me.
I guess I've been a bit fearless this month in a new opportunity that's come my way. And honestly I immediately felt this urge to just go for it, even if it wasn't something I was envisioning. Sometimes the things that we imagine can manifest into something so much bigger than we could dream of. You'll be hearing a ton more soon about this fun adventure!
But I digress, and want to get you caught up on this month's posts. I was experimenting with a new ingredient, trying out a new technique, elevating a light dish I've loved for years, and let my favorite pizza inspire me to create my own version. And that's just the food! On Wednesdays this month, I've shared a cookbook that's all about eating clean and healthy, sharing 20 of my favorite recipes, and getting a little vulnerable about my journey to healthy skin.
So let's dive right into July's Blogging Roundup!
July's Recipe Blogging Roundup:
Breakfast:
Do you follow me on Instagram, because if you do then you know that I'm loving smoothie bowls these days. I try to change it up a bit here and there, and when I decided I wanted to experiment with matcha powder, a smoothie bowl was natural. Matcha powder is a green tea powder with tons of antioxidants and are great for energy too, so you must try this super yummy Tropical Matcha Smoothie Bowl when you have matcha on hand!
Lunch:
I feel like tuna is a bit controversial in that people either love it or despise it. I'm in the first camp, because I grew up on the stuff, and love tuna salad, tuna noodle casserole, tuna patties, etc. I became quite good and whipping up recipes with tuna at a young age, because I loved. it. And that brings me to this yummy Avocado Tuna Salad that is a lemon-y tuna salad piled onto an avocado half for a super healthy and easy lunch. Tuna fans, this is a must try!
Snack:
I was super excited to share this Tropical Fruit Leather recipe with you, because it's so cool. I'd never made fruit leather before, and I'm pretty proud of my first attempt. This is fruity and tropical (obviously) but also a little spicy too, so it makes it a more grown up fruit leather than we were used to as kids! I hope you love this one!
Dinner:
Pizza lovers, rejoice for this yummy Italian Sausage Apple Pizza recipe! I've made this dairy free and gluten free, because I wanted to see if it would be any good. So good in fact that I've made it twice so far. Yum! But for me, you make this one as you want with your favorite crust and add cheese too! I think it'd be great with mozzarella or goat cheese for sure, so get to experimenting!
July's Weekly Crush Blogging Roundup:
Cookbook Love:
This month's cookbook feature is the Love Real Food Cookbook by Kathryne Taylor over at the blog Cookie + Kate. It's a veggie-filled cookbook that focuses on using fresh, real food and show the versatility of the ingredients. This book is GORGEOUS and I can't wait for you to read my review of it!
Salad Recipes:
This time of year, I'm craving salads like crazy, which is pretty impressive. After all, I'm the girl who started a "Learning to Love Salad" blog series 6 years ago to force myself to eat them. But I'm officially a salad fan, and I'm sharing 20 Ultimate Salad Recipes with you in this post, and there's definitely something for everyone! So go grab your cutting board and get ready to dive in!
Healthy Skin:
This month I shared my journey to having healthier, more glowing skin starting this year. Since my teenage years, acne has been my arch nemesis, and you'd think in your 30's you'd finally be rid of it, but I never seemed to be. So I found myself on this path of reading up on nutrition and health and trying to eliminate some foods from my diet all in an effort to look and feel healthier. And lucky for me, my skin has totally benefited and I'm excited to share with you all of the things I've found in this post.
Wow that is a whole lot of info and yummy recipes that I just threw your way. So I encourage you to scroll back up and see what topics and recipes you're interested to try. Whether it's a cool ingredient, a fun technique, or just darned good food, July's blogging roundup totally has you covered!
If you're curious about how I've started cooking dairy free, check out my 5 days to Dairy Free Challenge here. And to not miss a single post and get them delivered straight to your inbox, sign up for my newsletter here and get yourself a free gift of my favorite kitchen tools!
Let me know below what foods you're craving or if you've found yourself in the same skin situation? I would love to continue the conversation with you, so comment away!
Stay inspired & discover new things!
~Kelli
0