Salads can be boring. Trust me I'm well aware, as you can see from my Learning to Love Salads blog series. I've never been a fan of salads until I've attempted to make them myself. What I've learned about myself is that I like my salads packed with flavor, veggies, and did I mention flavor?! That's what made this Thai Chicken Salad with Ginger Lime Dressing an easy choice for me.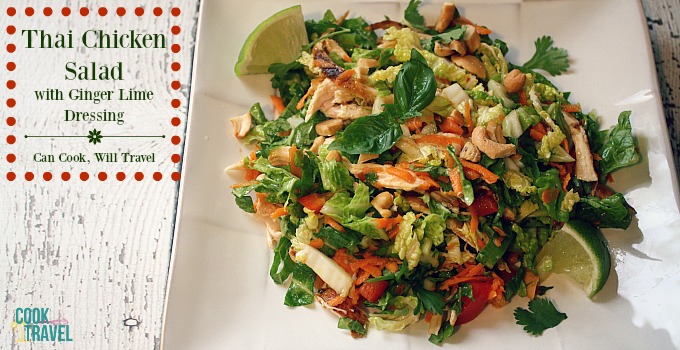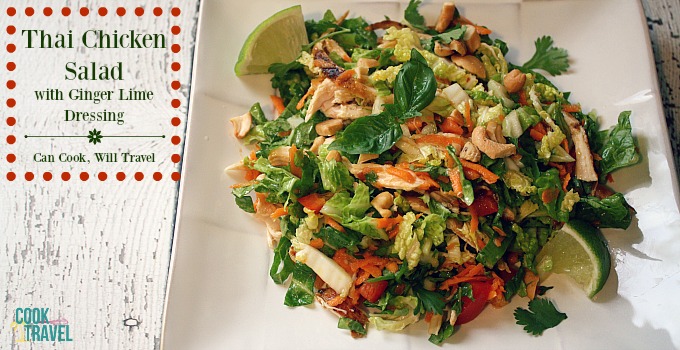 I mean, is there anything that says flavor more than Thai food? You get bright, clean, sweet, spicy flavors with every bite. And this salad is no different! Gotta love Pinterest and their delicious suggestions. This one came from the site Wendy Polisi.
I've got a trip to Florida coming up, and lately I've been craving healthy food to get ready for this vacay. So naturally making a salad seemed like the thing to do. Luckily this Thai Chicken Salad with Ginger Lime Dressing is a light dish (only EVOO and coconut oil are used for fat), and it's very filling. A cup or less of this salad makes for a great lunch or dinner for me.
I'm not going to lie, the prep for this salad was pretty intense. There was a lot of chopping. And I've found over time that I like to be as organized as possible when cooking, so I can relax and enjoy the process. So plan for plenty of time for veggie chopping.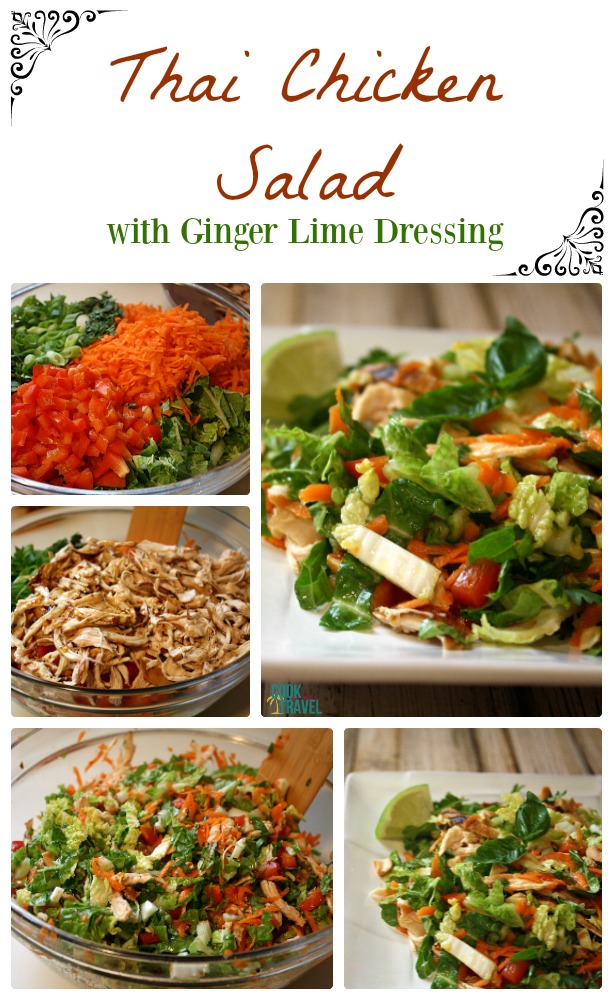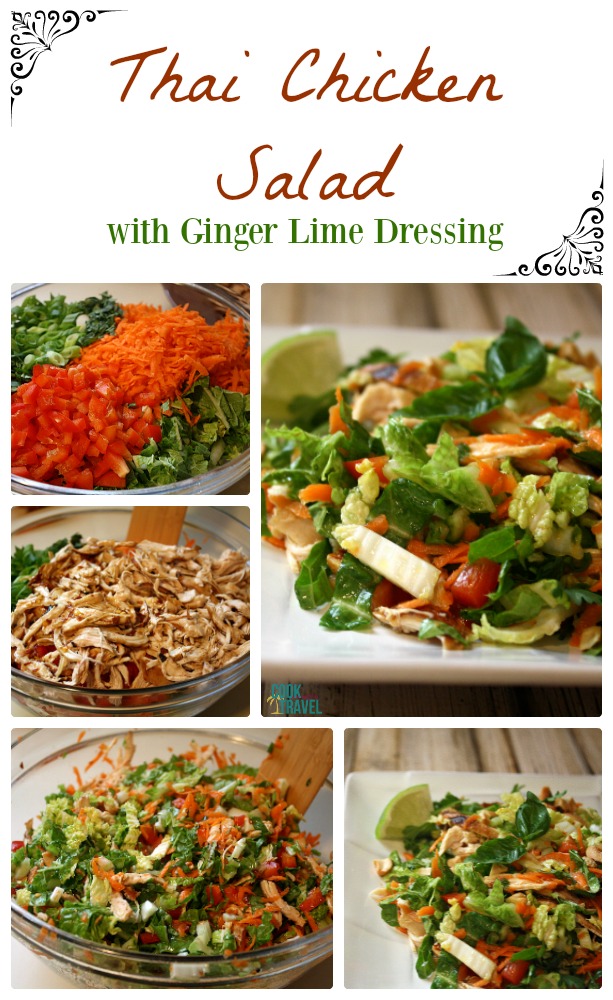 Once you've got all of the prep done, this recipe comes together in a snap! Cook your chicken along with some red onions and garlic to really infuse it with flavors. Don't worry if you aren't a fan of either onions or garlic, because I discarded them as they were overcooked while the chicken sautéed. But that was totally okay because the chicken smelled and tasted so good.
After the chicken is cooked, you'll need to shred it. I like to use my hands. Then it's a matter of whisking together the dressing for the Thai Chicken Salad with Ginger Lime Dressing. It is a mix of fresh lime juice, fish sauce (it's a must – just don't smell it. . . you've been warned!), freshly grated ginger, red pepper flakes, extra-virgin olive oil, and honey.
The salad consists of shredded Napa cabbage, carrots, red pepper, scallions, and fresh basil and cilantro. Add the shredded chicken and dressing, mix, top with cashews, and then enjoy. Seriously it's that easy.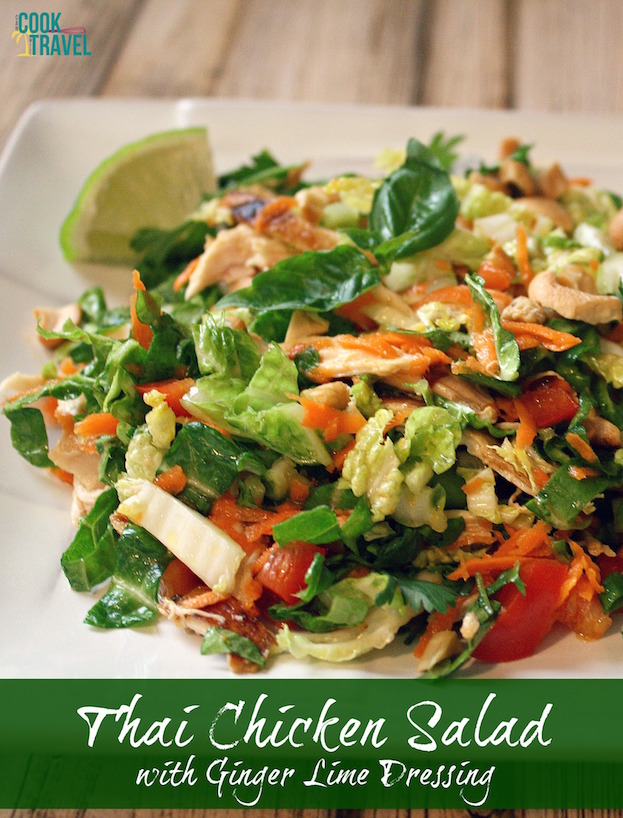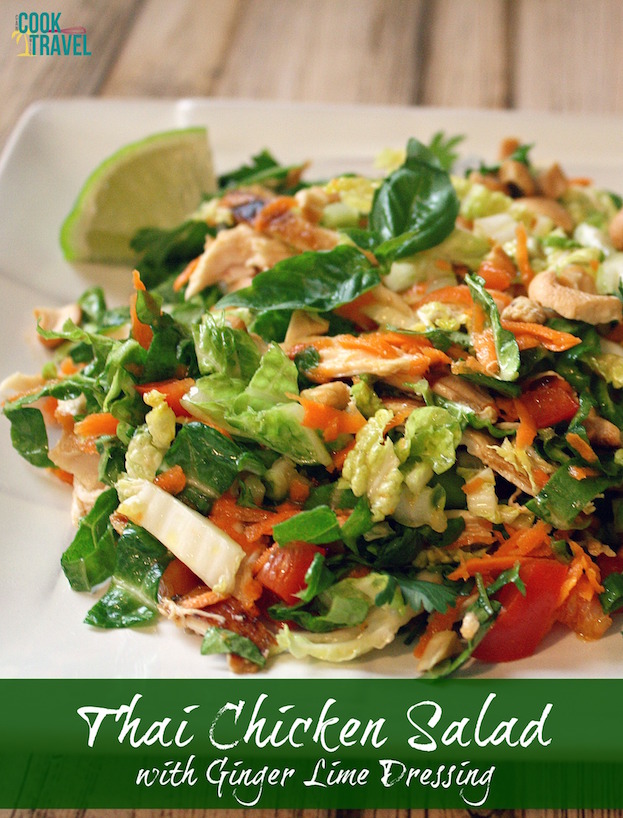 The texture is crisp and the flavors are bright. The salad has great crunch from the cabbage, red peppers, and cashews. (I also think peanuts would be a great nut option.) And the fresh herbs, lime juice, and ginger keep the salad light and keeps your interest with every bite, which is crazy important for me. Cuz in case I haven't mentioned, salads bore me.
This recipe makes a ton of salad, so you'll have plenty leftover. But I'm happy to report that the leftovers are great. The cabbage helps keep the salad crunchy and tasting fresh. Whew!
So next time you're craving a salad, you really have to give this Thai Chicken Salad with Ginger Lime Dressing a try. Click that link for the recipe and step by step instructions, and then get ready for some serious flavor!
One year ago: Let's Talk Turmeric: Turmeric Shot
Two years ago: Cranking Up the Crock Pot with Black Bean Burritos
Three years ago: Dip in a Time Crunch – Taco Ranch Dip
Four years ago: Fast and Fabulous Gnocchi
Five years ago: Homemade Croissants. . .Am I Crazy?!
0