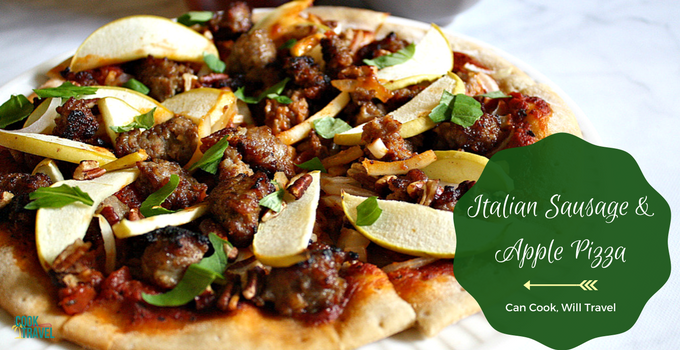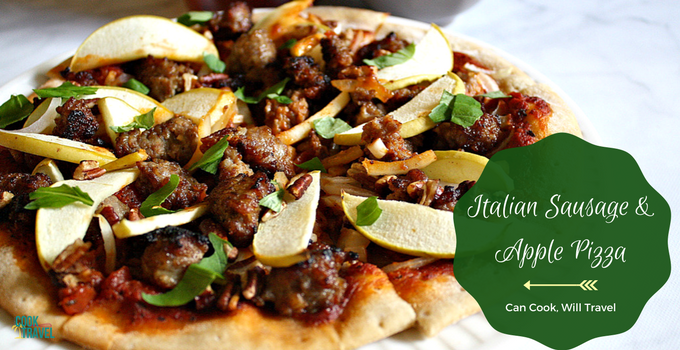 (This Rustic Sausage Apple Pizza is inspired by one of my favorite pizzas at Spin!)
Step by Step Instructions:

You'll be enjoying this Rustic Sausage Apple Pizza in no time, so here's what you'll need: 1 Granny Smith Apple, Marinara or Pizza Sauce, Cococnut Palm Sugar, 1/2 pound of Italian Sausage, 1/4 of an Onion, 1 tablespoon of chopped Pecan, and 1 Gluten Free Pizza Crust (or curst of your choice).

First thing you want to do is preheat your oven based on your crust's instructions. My crust is a gluten free crust I picked up at Trader Joe's, and it suggests preheating the oven to 425 degrees.

Since I'm omitting cheese from my Rustic Sausage Apple Pizza, I wanted to make sure every ingredient would serve a purpose. The pecans should add a slight crunch and a touch of sweetness, so to do that in a healthy way, I'm using coconut palm sugar, which is all natural and low in sugar.

The first step is t cheat a nonstick skillet over medium high heat without anything in it, and then add the chopped pecans to the hot pan. Stir frequently, because you don't want the pecans to burn, and you'll know they're nicely toasted when you can smell them.

Once the pecans are toasted, turn off the heat and sprinkle about a teaspoon of the coconut palm sugar over them. Stir in the still hot pan until the sugar melts and is coating the pecans.

Then transfer the pecans to a bowl until you're ready for them. It's difficult to see here, but the pecans had a little bit of the melted sugar all over them so the were slightly sweet and crunchy.

Now wipe out the pan you just used and return it to the stove over medium heat, and add 1 tablespoon of olive oil or grapeseed oil to the pan. Then add the sausage and break it into bite-sized chunks. Cook it for about 2 minutes, then stir again and cook for another 2 minutes. You want the sausage to be browned and cooked through.

As the sausage cooks, brush olive oil all over the crust. this will help it brown in the oven, but it'll also add a layer or protection to the crust so it won't soak up all of the sauce.

Once that's done, then thinly slice 1/4 of an onion.

Line a plate with paper towels, and transfer the cooked sausage to the plan so that it can drain and cool slightly.

I found I only needed half of an apple, so that's all I'm using here and I snacked on the rest. 🙂

Then thinly slice the apple.

It's time to make the Rustic Sausage Apple Pizza, so start by spooning 1/4 to 1/2 cup of your marinara or pizza sauce over the top careful to leave an edge around the crust. Pick a sauce that you really love, because ingredients are so key here.

Then add a layer of onions over the sauce.

Now add the sausage over the top of the pizza, and I didn't end up using all the sausage I cooked. So just use as much as you want.

Then add a layer of apples over the Rustic Sausage Apple Pizza followed by a sprinkle of pecans over the top.

I baked my pizza for 12-14 minutes, but again follow your package instructions. You want the crust to be turning brown and then for the apples to start to dry out a little and brown on the edges.

Here you can see the browning crust and apples a bit better, and that's what you're looking for. Let the Rustic Sausage Apple Pizza rest for at least a minute, and then transfer it to a cutting board and slice it up and enjoy. I love mine topped with a little torn fresh basil to brighten up the flavor, so I hope you enjoy and happy pizza making!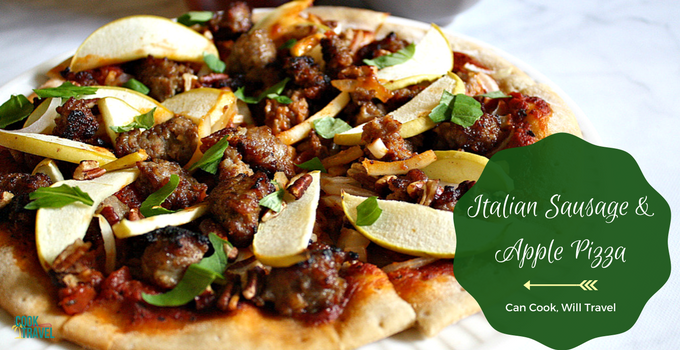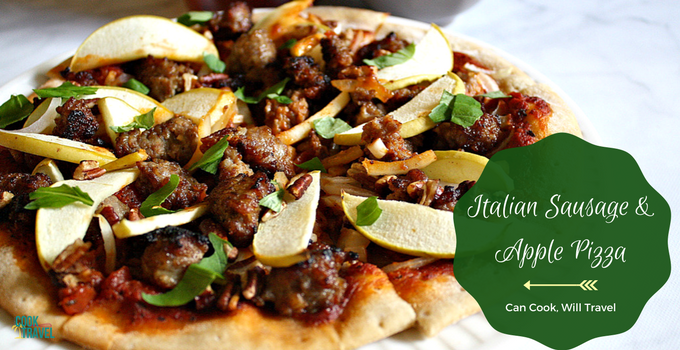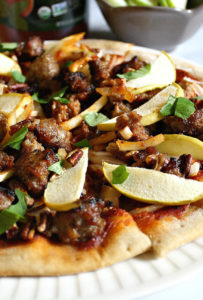 Print
Rustic Sausage Apple Pizza
Yield 2 servings
This pizza is on a gluten free crust and is cheese-free. However, feel free to add your favorite cheese for pizza and use whatever crust you like. Enjoy!
Ingredients
Pizza Ingredients:
1 gluten free Crust (or crust of your choice)
1/4-1/2 cup of Marinara or Pizza Sauce
1/2 lb. of Italian Sausage
1/4 of an Onion, thinly sliced
1/2 of a Granny Smith Apple, thinly sliced
1 T. Pecans
1 t. Coconut Palm Sugar
Fresh Basil for topping
Cheese, optional (such as Mozzarella or Goat Cheese would be fab)
Instructions
Based on your crust's instructions, preheat your oven. My crust needed to be baked at 425 degrees, for example.

 

Then heat a nonstick skillet over medium high heat with nothing in it. Add the pecans and stir frequently until you start to smell them. Then turn off the heat, and add the coconut palm sugar to the pan and stir until it starts to melt and coats the pecans giving them a crunchy, sugar coating. Transfer the pecans to a bowl until you're ready for them.

 

In the same pan (you can wipe it out with a paper towel if you need to), heat it over medium heat with a little grapeseed or olive oil. Then add the sausage to the pan and break it into bite-sized chunks. Cook for a couple of minutes to brown and then stir again and cook another couple of minutes until the sausage is fully cooked. Transfer it to a paper towel lined plate and let it drain and cool slightly.

 

Now it's time to put the pizza together, so first brush the pizza crust with olive oil. Then spoon your marinara/pizza sauce over the pizza using as much as you'd like. Next top with sliced onions, then the sausage, then lay the sliced apple across the pizza and finally top with a sprinkle of the pecans over the top. You can also add cheese at this point, if you desire.

 

Bake the pizza according to your crust's instructions. I baked mine for 12-14 minutes until the crust was starting to brown and the edges of the apples were getting a little color.

 

Once the pizza is done, let it rest at least 1 minute before slicing it up. Then enjoy!
Notes
Quick Tip #1: Since we're skipping the cheese, make sure that you're choose quality ingredients especially with a marinara/pizza sauce you really like!
Quick Tip #2: For a lighter version, you could sub out Italian sausage for ground turkey or chicken!
Courses Main Meal
Cuisine Italian
Nutrition Facts
Serving Size 1/2 pizza
Amount Per Serving

Calories 617

% Daily Value

Total Fat 38 g

58%

Saturated Fat 12 g

60%

Unsaturated Fat 4 g

Cholesterol 80 mg

27%

Sodium 1037 mg

43%

Total Carbohydrates 47 g

16%

Dietary Fiber 5 g

20%

Sugars 18 g

Protein 24 g

48%
* Percent Daily Values are based on a 2,000 calorie diet. Your daily values may be higher or lower depending on your calorie needs.
0