You guys, it's that time of year again! The time when I'm excited for football weekend and fitting some baseball watching in there again. I'm such a huge sports fan, and I like to take football season into consideration as I blog, because I love dip. Well I love dip and all tailgating and game day kinds of food, just like these Garlic Parmesan Wings.
I was really unsure what to make this week, if I'm being honest. But as soon as I realized that NFL preseason was going on, I knew I needed something perfect for game day. And I had only made wings once before (and they were fab, so check them out), so it was time.
I kept seeing Garlic Parmesan Wings all over Pinterest, but of course they were dairy heavy and you know I try to watch that sort of thing. So I wanted to do my twist on this wings recipe.
Another thing I'm LOVING these days is Thrive Market, and you should check it out if you haven't. Here's my affiliate link for them, if you want to give them a try. I had just picked up some Ghee and Coconut Oil combo that I was excited to cook with and throw in my coffee. Now keep in mind that Ghee isn't dairy free, but it is lactose free so it's a great alternative if you have a lactose sensitivity. And honestly that may be a large part of what I have, because I've felt pretty GREAT with the ghee in the past 2 weeks. But if you do have dairy allergies still, then use Earth Balance or another butter alternative. I also got my Avocado Oil I used in this recipe from Thrive Market.
Garlic Parmesan Wings allows me to experiment with ghee and avocado oil, but what do I do about the Parm? I mean I love the stuff, but since 2017 have really enjoyed trying to find ways around dairy when I can. And that's when I found this Vegan Parmesan alternative using my favorite nut for its versatility: cashews!
I actually made this Vegan Parm in about 5 minutes time, and it should last me quite a while. You're combining cashews, nutritional yeast (super healthy for you!), salt, and garlic powder in a food processor until it looks like grated Parm. That's it! I threw it in a mason jar with a lid, and am keeping it in my fridge as I need it.
Now throwing it on a pasta dish or something is a lot different than cooking with it, so I didn't know what to expect. Especially since Parm is a big part of this Garlic Parmesan Wings recipe. But hell, you never know until you try, so off I went.
Since I was leaving town, I just got one package of bone-in, skin on wings that was less than 2 pounds. I planned to share them with my friend and so I happily was off to give them a shot. I trimmed the end off of the wings, patted them drive, and then tossed them with avocado oil and salt and pepper.
Now let's chat oil for a sec, because the recipe I used for inspiration called for canola oil or maybe olive oil. But lately I've been loving avocado oil because it has a high smoking point, so it's great to cook with. I also used it for the butter sauce, because again it's easy to cook yet doesn't have a strong flavor.
Now off the wings go to bake, because let's face it, I don't want to make a mess frying. Plus these Garlic Parmesan Wings are way healthier when you bake them. After about 40 minutes (turning over once), I flipped them back over (skin side up) and broiled them for about 6-8 minutes.
Now as they broiled, I made my sauce, which was a mix of avocado oil and my ghee/coconut oil combo. Then I cooked garlic in the butter/oil and added in spices like smoked red pepper, pepper flakes, salt and pepper, plus my Vegan Parm.
It gets cooked for a few minutes, and then I removed it from the heat. Once the wings were browned, I put them in a bowl and tossed them with the sauce. Then you devour immediately!
I had to taste test one of course, and it was fantastic. Especially when I topped it with a little honey and hot sauce. When I shared them with my friend, we baked them later for 5 minutes at 350 to heat them through. He really wanted to add Sriracha to the mix, so hot sauce, Sriracha, and honey made a delicious appearance.
My Thoughts On These Garlic Parmesan Wings:
Flavor Wise: You've got salty notes from the garlic parm butter. Then the sweet, spicy notes from the honey and hot sauce, plus fresh scallions hit it out of the park.
Making Them: Overall the Garlic Parmesan Wings were darned easy. They took under an hour, didn't make a huge mess, and let me play around with some lactose/dairy free alternatives.
Vegan Parmesan: While the Vegan Parm isn't quite the same as regular, it really worked well here. I didn't tell my friend that I made my own fake Parm, and frankly, he didn't notice.
Other than that these Garlic Parmesan Wings were crazy delicious! And I love you don't make a huge mess with frying them, and instead bake the wings. When you broil them, you get a similar crispy crust to frying, so you don't miss it at all.
So for some killer Garlic Parmesan Wings that come together easily, you really have to try this recipe. Click that link for my step by step photos and the recipe as well. I can't wait for you to try these guys, so happy wing eating!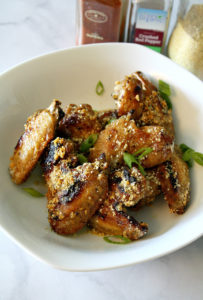 Print
Baked Parmesan Garlic Wings
Yield 4 servings
These guys are perfect for game day, or any day. Plus they offer a lactose free recipe that could be dairy free as well.
Ingredients
Wing Ingredients:
1.5-2 lbs. Chicken Wings
2 T. Avocado Oil (divided)
1 t. Pink Himalayan Sea Salt
1 t. Freshly Ground Pepper
3 T. Ghee (I used a Ghee/Coconut Oil combo product)
3 T. Avocado Oil
2 Garlic Cloves, minced
4 T. Vegan Parmesan (or regular if you choose)
1/4 t. Smoked Paprika
1/4 t. Red Pepper Flakes
Salt & Pepper, to taste
Optional Toppings:
Instructions
Begin by preheating the oven to 400 degrees, and then lining a baking sheet with foil and placing a wire cooling rack on the baking sheet.

 

Then trim your wings (for example, I trim off the end of the chicken wings I bought). And toss the wings with 2 T. Avocado oil and about a teaspoon each of salt and pepper.

 

Put the wings on the rack on the baking sheet and bake for 40 minutes, flipping over halfway through. Then turn the broiler to high and put the wings on the top rack (I put it 2 rows down so it's not super high as the chicken splatters). Also make sure the chicken is skin side up and broil for 6-10 minutes or until it's browned and crispy.

 

While the chicken broils, heat 3 T. ghee & 3 T. avocado oil to a small saucepan and heat over medium-high heat. Once the butter has melted, add the minced garlic and cook about 1-2 minutes or until the garlic is fragrant. Then add all of the remaining spices and vegan Parm to the butter, and cook for about a minute until it smells really great. Then remove the garlic oil from the heat, and by now the chicken should be finished.

 

Remove the chicken from the oven, put it in a large bowl, and then add the garlic butter to the chicken. Toss gently to coat the wings and serve right away. I love a drizzle of honey and a few dashes of hot sauce and Sriracha for an extra kick, but it's totally optional. Enjoy!
Notes
Quick Tip: If you want this totally dairy free, then just use a dairy free butter like Earth Balance instead of the ghee.
Courses Appetizer
Nutrition Facts
Serving Size 2 wings (approx)
Amount Per Serving

Calories 581

% Daily Value

Total Fat 48 g

74%

Saturated Fat 17 g

85%

Unsaturated Fat 20 g

Cholesterol 11 mg

4%

Sodium 820 mg

34%

Total Carbohydrates 11 g

4%

Dietary Fiber 2 g

8%

Sugars 1 g

Protein 25 g

50%
* Percent Daily Values are based on a 2,000 calorie diet. Your daily values may be higher or lower depending on your calorie needs.
A look back:
One year ago: Shrimp Avocado Pasta = 1 Delish Dish!
Two years ago: Teriyaki Shrimp is Simply Delicious!
Three years ago: Bring on the Basil Garlic Popcorn!
Four years ago: Three Cheers for Sautéed Zucchini with Toasted Garlic and Lime!
Five years ago: Feeling Fancy with Blackberry, Fennel and Goat Cheese Pizza
Six years ago: It's a Mac 'N Cheese Kinda Week
Seven years ago: It's Tea Time…Muffins + Chai Tea = Pure Goodness!
0