So here we are doing this month's blogging roundup, which means that October is nearly over! Can you even believe that?! I sure can't. Where has 2016 gone? It's been a bit of a blur for me as it's been really busy. But not too busy to share some awesome stuff with you.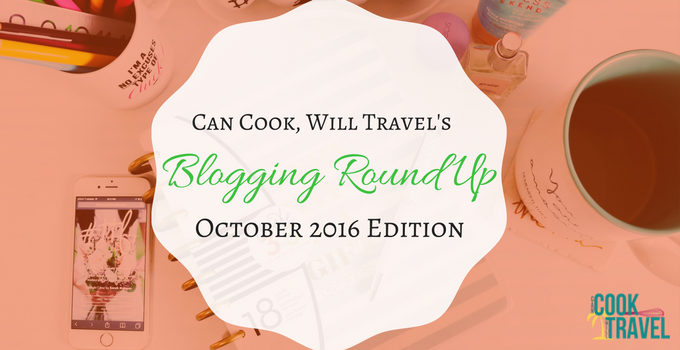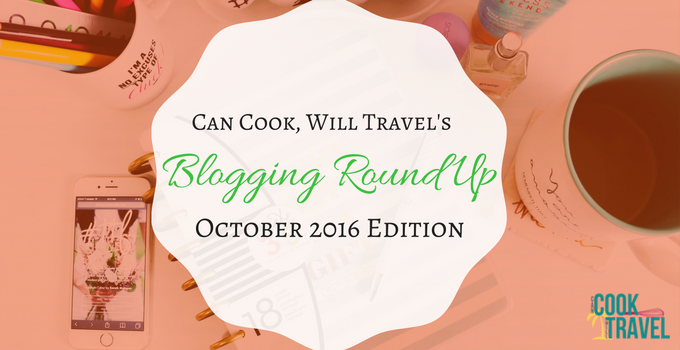 To me, it was all about comfort and getting excited for this season. From some recipes that will have you dreaming of them later on to some blog posts sharing tons of my favorite stuff . . . well there was a ton going on.
It's actually been a really fun month. I've gotten to try some great new restaurants, which makes my foodie heart so happy! And the theater-loving girl that I am hit up 4 movies in 6 days!! (I totally could have seen more . . . just sayin'.) My mom, sister, and I got to Tom Jones in concert at the beginning of the month, which was absolutely a highlight of our lives.
And I just got back from spending quality time with some of my besties at Mizzou Homecoming. No, the Tigers lost (I'd rather not talk about it), but we enjoyed Shakespeare's Pizza 2 days in a row and enjoyed a lot of beer, tailgating, and some karaoke!
Overall October has been a blast. So I'm excited for you to see all of the Fall features, comfort food, and fantastic recipes that I highlighted this month. I have a feeling you're going to like what you find.
So let's get you caught up on October's Blogging Roundup:
Recipes Blogging Roundup: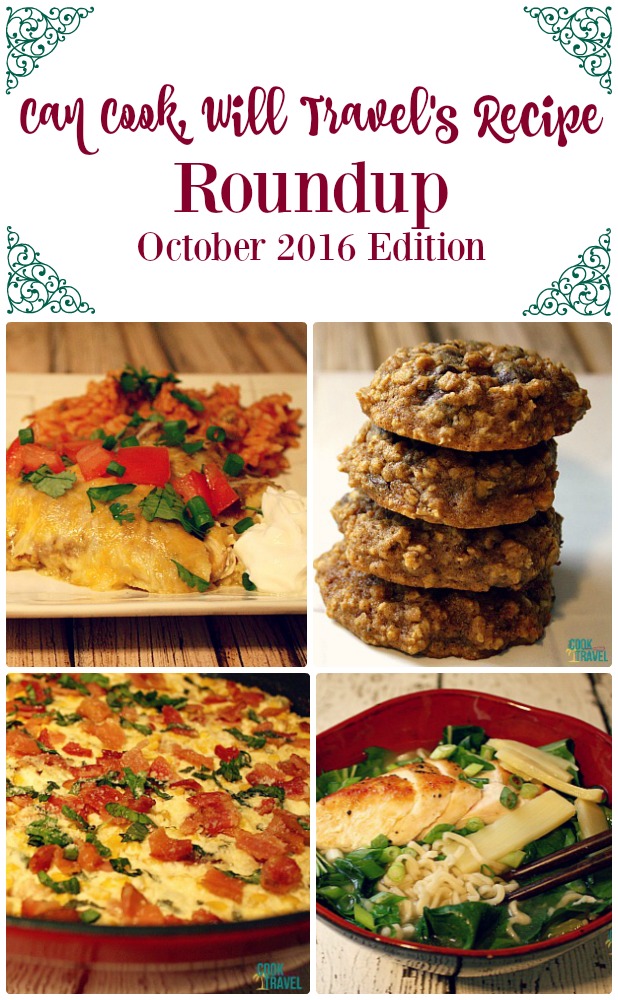 Enchiladas:
October started off with some serious comfort food in the form of Salsa Verde Chicken Enchiladas. It began by whipping up my own salsa verde with some tomatillos from my friend Rebecca's garden. Working with tomatillos was a first for me. And for some reason I couldn't get enchiladas out of my head, so this recipe HAD to happen. And I'm pretty glad it did! So good!
Soup:
And as the temperatures in the Midwest start to cool down (despite a few 80 degree days throughout the month), making soup seems like the right thing to do. And this Chicken Ramen Soup was THE BEST! Seriously ever since making this recipe, I've been whipping up my own version of ramen over and over and over. To say it inspired me and hit the spot is an understatement.
Cookies:
When I woke up one morning to a very chilly day, baking was absolutely going to happen. And a Pumpkin Chocolate Chip Oatmeal Cookie was what that Fall day called for. Before I knew it, I was enjoying a warm, melty cookie that was filled with my favorite Fall spices. So good!
Dip:
Since October is also filled with football games, a dip was a necessity. It'd been a while since I'd made a dip, and I knew I wanted something cheesy, warm, and packed with flavor. This Cheesy Corn Bacon Jalapeño Dip is now on my list of favorite dips to make. It's smokey, cheesy, and packed with great textures. It certainly made my football watching afternoon more delicious and brought some good luck to my Chiefs this weekend.
Weekly Crush Blogging Roundup: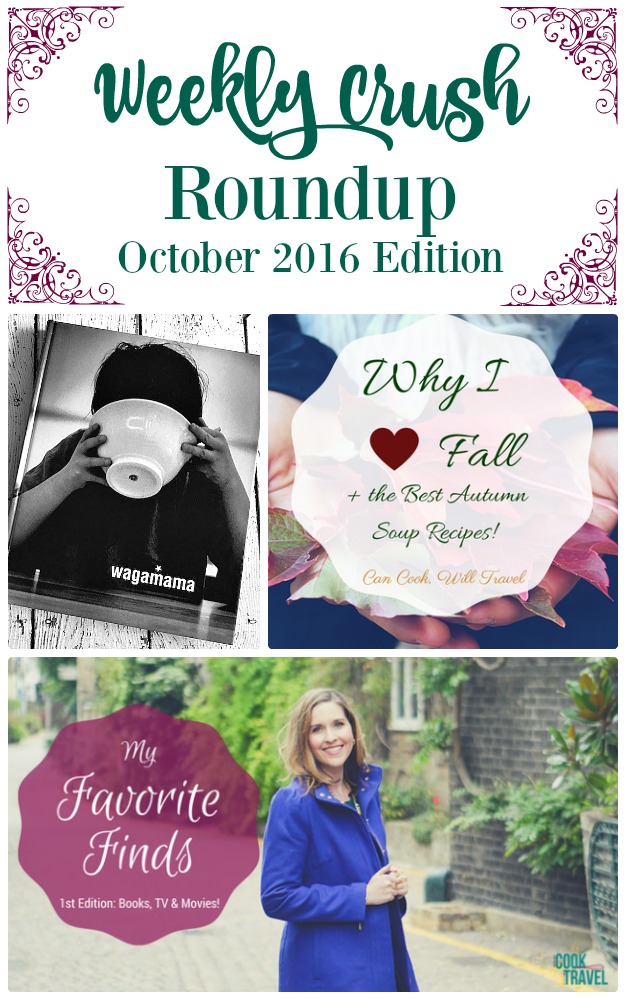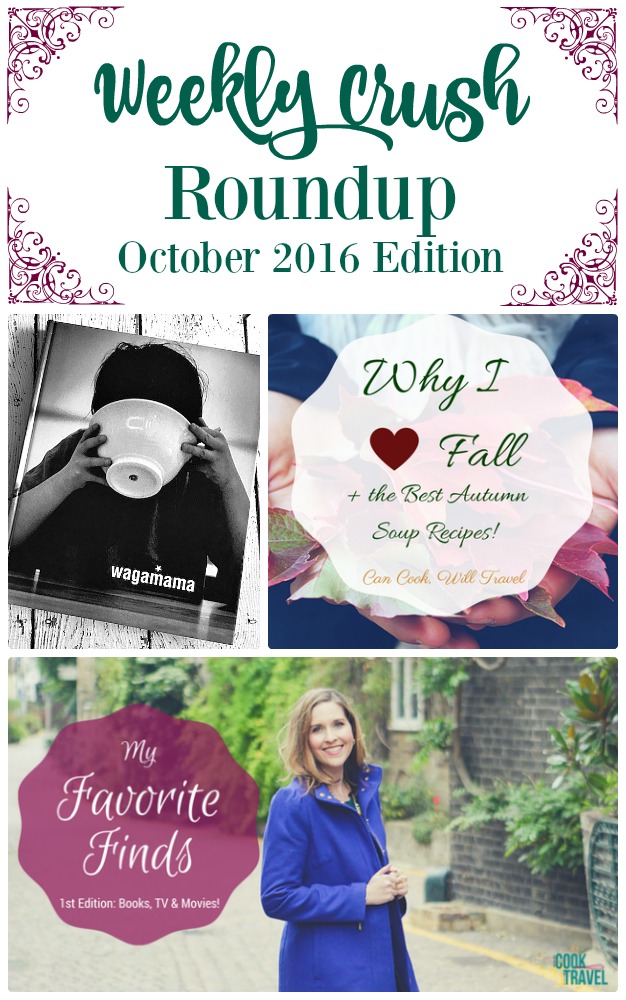 Cookbook Love:
In this month's Cookbook Love feature, I was highlighting the Wagamama Cookbook. If you aren't familiar with Wagamama, it's this great Japanese-inspired fast food restaurant. It's starting to find its way into the States, but I was lucky enough to get to enjoy it regularly when I lived abroad in London. If you love Japanese food, this cookbook is a total must-have so you can create these dishes at home. Delicious!
Falling for Fall:
It's no secret that Fall is arguably my favorite season. I decided to share my love of the season by showcasing my top 5 Fall favorites list. Sometimes we take things for granted, and I see this post as a way to show my appreciation for Autumn. Plus I included 8 of my favorite soup recipes that are so perfect for this time of year. I can't wait for you to check out this post!
Favorite Finds:
Finally I started up a new blog series called Favorite Finds. This series gives me a chance to highlight cool things I come across all in one post. I anticipate sharing all kinds of things ranging from products I love to great music, TV, books, movies to a website or podcast that is awesome. I'm a multi passionate person, so I'm excited for this series. It's going to be a great chance to share my favorite things with you. In the first installment, I'm highlighting 2 great books I read, 3 movies that I saw in the theaters, and focus on new shows this season because there are some amazing TV series on right now.
Whether you love to cook and are looking for stellar recipes, or you want to recommendations, I hope you enjoyed everything I shared  in this month's blogging roundup. Blogging has become such a part of who I am and how I identify myself. Getting to share my passions with you is a true honor and pleasure.
So tell me what you think of this blogging roundup! What are your favorite posts at Can Cook, Will Travel? What do you want to see more of? Comment below and let's keep this conversation going!
Stay inspired & discover new stuff!
~Kelli
0