Have you ever lived some place and then moved and desperately missed your favorite restaurants that you didn't have access to anymore? Me too! Such was the case when I lived in London in what seems like forever ago. One of our favorite places to eat was wagamama. Years later I still pined for that place, and it resulted in me purchasing the Wagamama Cookbook.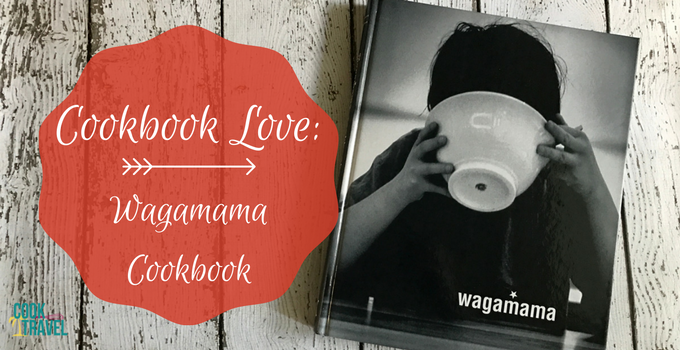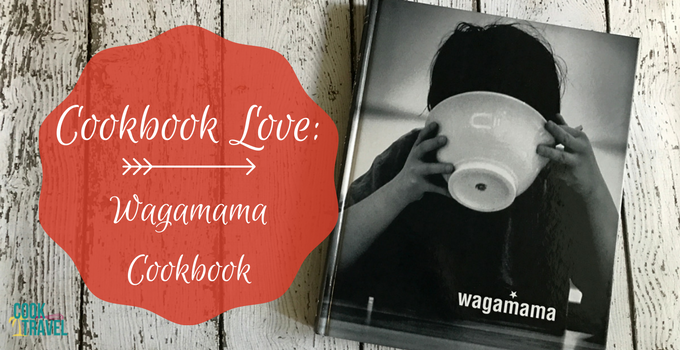 My first experience cooking from this book was in the first year of blogging. I declared that if I could make their Yaki Soba recipe and it would taste like I remembered, then I wouldn't have to move to Boston! Boston was the only place I knew that had a wagamama in the US. Lucky for my family, the recipe turned out perfectly.
Suddenly I was transported back in time to my days in grad school. We would go to our local wagamama which was less than a 10 minute walk away. The restaurant was above a clothing store on the busy High street, and as you climbed up the stairs inside, you got closer and closer to the joy of wagamama! It's amazing that I could cook something like this that could instantly conjure up such vivid memories from more than 12 years ago now.
And after enjoying a delicious Chicken Udon Bowl at a local restaurant here in KC, I was remembering wagamamas all over again. I knew I just had to share this Wagamama Cookbook with you so that you could enjoy some of the same amazing flavors that I did.
Why Wagamama?
Normally this section in my Cookbook Love posts tells you why I picked a book or a certain chef. But in this case, it's all about the restaurant. What is it that makes wagamama so special?
When you walk into a wagamama, which is a Japanese-inspired cuisine, you're hit with this modern style with lots of steel and wood. The tables are cafeteria style. You sit down at a long table never knowing who will end up sitting next to you and your group. But it's kinda cool, and it's AMAZING for people watching. You'll find all ages and ethnicities that are drawn to this cuisine.
The menu is filled with dishes that are packed with veggies and heavy on flavor. You know that whatever you choose will undoubtedly be stellar. Another cool feature is that you order by number. So when you come in, if you're a regular, you typically know your number immediately and they will get your order in. Orders come out as soon as they are ready.
Part of the joy of wagamama is the vibe that you get. Because while it's crazy good food, they also consider it fast food! And this is absolutely my favorite fast food of all time! From their rice bowls, to their addictive yaki soba, to their dumplings and fresh juices, you just feel good eating here.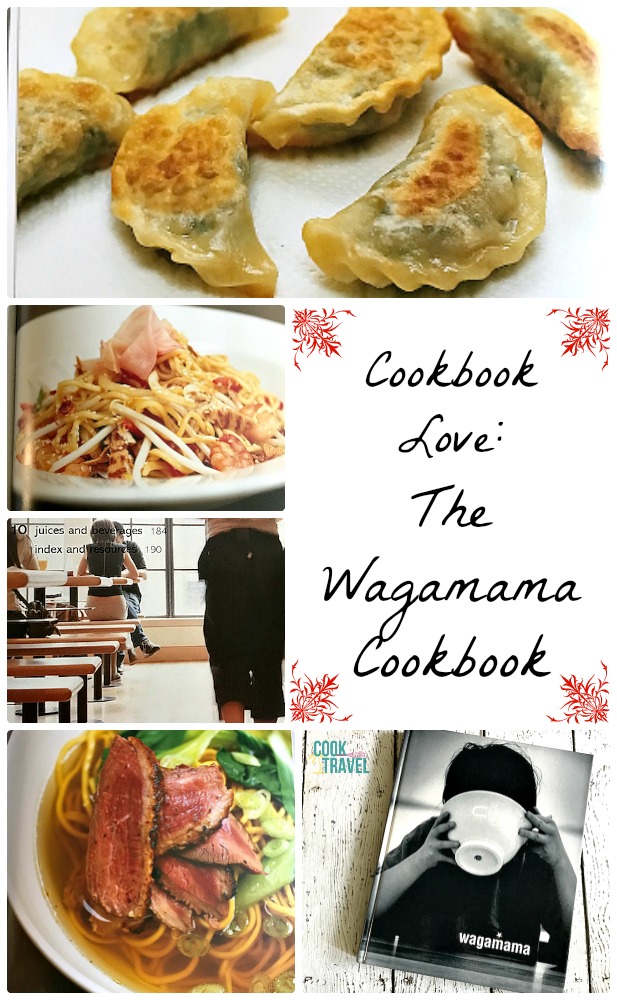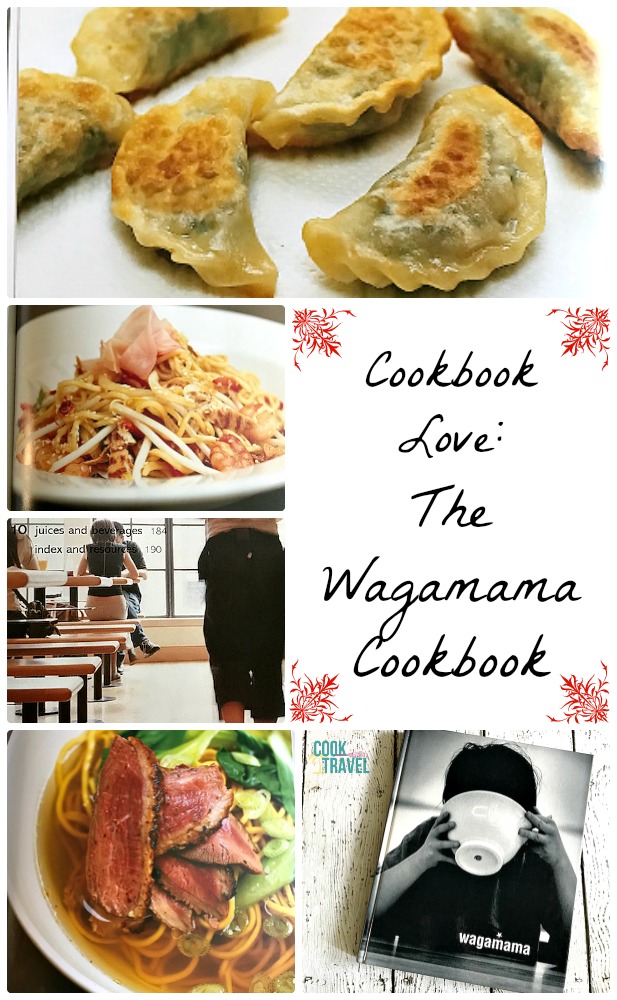 Wagamama Cookbook Organization
Since the Wagamama Cookbook is based off of a restaurant and helping you recreate their dishes at home, it's a bit unique in its approach. First off, you open the book and are treated by a DVD that shows you 30 minutes of cooking techniques so you can go into each recipe with confidence. How nice of them!
The intro does an amazing job of painting the picture for what it's like to dine at wagamamas. Like I said, it's a unique experience, but one that is so fun too. And it also explains a few tweaks to recipes and such.
In the first section, it talks about the wagamama kitchen from the equipment you need, to how to stir-fry properly, how the portions work for the recipes (enough for 2 people), how to present the dishes and ways to add extra spice to your meals. There's a great ingredient dictionary as well to define a lot of the Japanese terms they use in the book. And finally you get a few basic recipes for stocks and other sauces/pastes that you could make yourself.
The rest of the chapters are your recipes starting with sauces, dips, and even their top secret wagamama dressing! The whole idea with their food is that it's quick, easy, and doesn't require a ton of ingredients. Keep it simple!
You'll have recipes for sides, small dishes, chapters for different proteins, veggies, salads, and desserts. A special note on the final chapter. . . their juices and beverages. At the restaurant they make all of these amazing juice combinations. I can't remember the exact one I used to get (since it's been over a decade) but I know it had apple in it, and it was so freaking good! So if you have a juicer, definitely dive into this chapter!
And happily there is a lovely index as well as a list of some useful addresses in the US and Canada to find Oriental ingredients and equipment. Delicious and helpful!!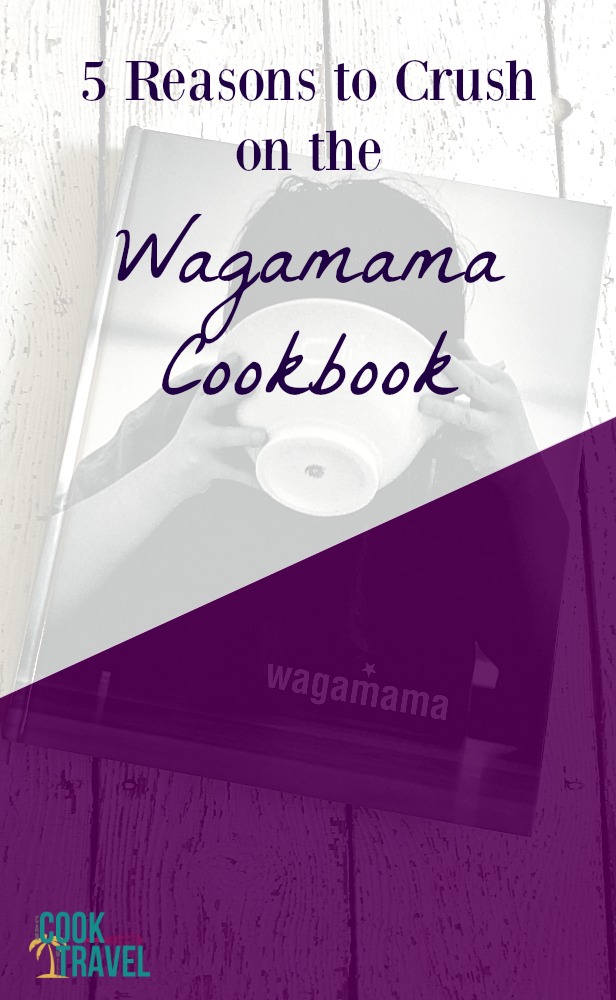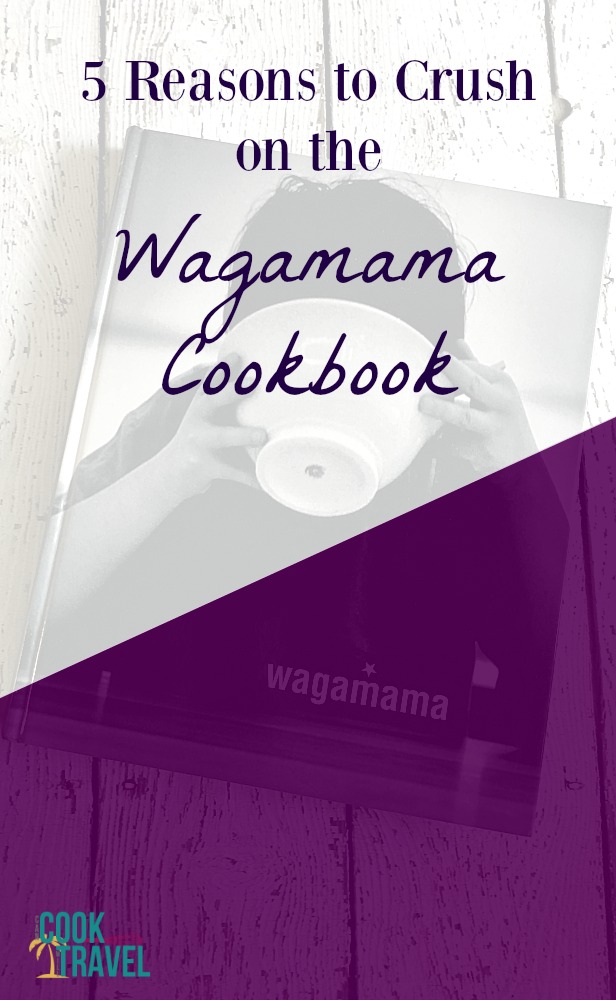 What's to Love about the Wagamama Cookbook?
The vibe – Even though it's a cookbook, it manages to capture the vibe of the restaurant and their motivations for their recipes beautifully. It's like you get into the creators' heads a bit and get a clear understanding of the care they take in creating the dishes and the experience.
The ease – I love that they took the recipes from the restaurant and domesticated it a bit. Making them recipes for 2 people, letting you know that it's okay if you don't have the fancy Ramen bowls or a proper wok, etc. That you work with what you have and the food will turn out amazing!
The empowerment – Having grown up in the Midwest in a tiny farm town, I definitely didn't get exposed to a lot of Asian cuisines aside from really good Chinese food. So to me, some of the ingredients and flavors can seem a bit intimidating. But this Wagamama Cookbook does a great job at instructing and helping you, so you don't get overwhelmed.
The simplicity – The recipes don't call for that many ingredients. A lot of them are every day items, so you won't go to a store with an insanely long (and expensive) grocery list. For those of us who are busy and don't want to spend an arm and a leg on meals at home, this is huge! A few ingredients you might need to order online or find in an Asian food store if you're lucky enough to live in a big enough city that has one.
The DVD – How awesome that the author includes this DVD to help you visualize and walk you through different techniques? With great instructions, this little bonus to the cookbook is such an amazing addition!
Crave-Worthy Wagamama Cookbook Recipes
Yaki Soba – First and foremost is this dish that inspired me to pick up the Wagamama Cookbook to begin with. And it doesn't disappoint. From the first bite to the last, it was as if I was back in London sitting at the long table diving in.
Chicken Ramen – Chicken ramen is at the top of my must-make list, since wagamama is known for the dish. Especially with cold and flu weather coming up, this will be a wonderful recipe to have on hand.
Caramelized Sweet Potatoes – Because how on Earth could these be bad?!
Any Gyoza recipe – In the past year, my mom, sister and I have become a bit obsessed with potstickers. These dumplings look like a great way to make my own really easily!
Salmon Korroke – This Salmon cake recipe sounds like a fancier version of salmon cakes that I used to make as a kid for a quick and easy meal for the family. Gotta love elevating a dish that reminds you of childhood!
Pork and Beef Cabbage Rolls – They just sound amazing don't they?! Large napa cabbage leaves packed with pork, beef, rice, and more. . .yum!
Roasted Honey Pork Ramen – Pretty much every word in that recipe title sounds delightful!
Asparagus and Green Tea Noodle Salad – It sounds too interesting not to have to try!
Salmon Salad – I love salmon year round. There's something about it in a salad that suddenly makes salad eating a whole lot more enticing!
Sake Poached Pears – Yep you read that right! With pears and dark chocolate involved, what's not to love?!
Green Tea Drizzle Cake – There's something about putting tea in sweet treats that always seems to intrigue me.
I hope those recipes give you some insight into the flavors and food you'll find in the Wagamama Cookbook. The instant I open this book up, I want to rush to the grocery store and whip up a dish. (And I may have just done that less than an hour ago in prep for Friday's cooking post – hint, hint!)
Please tell there are some of you out there that have enjoyed the wagamama experience too? If so, first comment below and let's reminisce. And second, go buy this Wagamama Cookbook as soon as humanly possible, because you will adore it!
Stay inspired & go read a cookbook!
~Kelli
1