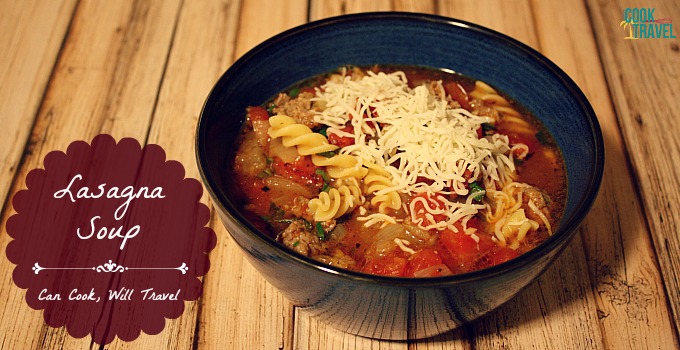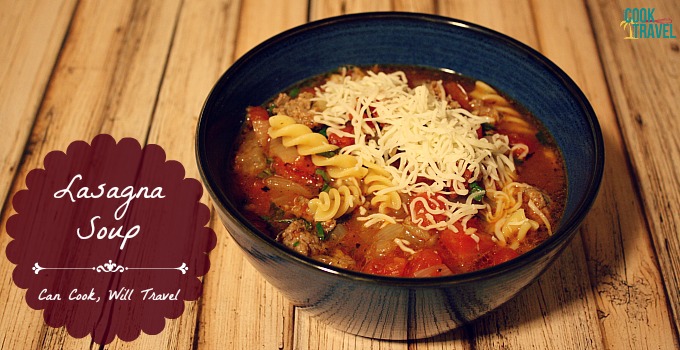 (This Lasagna Style Soup recipe can be found on the A Farmgirl's Dabbles site here.)
Step by Step Instructions:

Your kitchen is about to smell fantastic, because of this Lasagna Style Soup! Here's what you'll need: 6 cups of Chicken Stock (I went with unsalted), 8 ounces of Fusilli Pasta (or you can grab your favorite bite-sized pasta), Tomato Paste, 28 ounces of Fire Roasted Diced Tomatoes, Olive Oil, grated Parmesan Cheese, 3 cups of chopped Onion, Salt & Pepper, 1 1/2 pounds of Italian Sausage (I chose a reduced fat variety), 4 cloves of minced Garlic, 8 ounces of Ricotta (I used a Part-Skim kind), Dried Oregano, Bay Leaves, Crushed Red Pepper Flakes, 1/2 cup of chopped fresh Basil, and shredded Mozzarella Cheese (optional).

You'll need 2 large pots for this recipe, because you want one for the pasta and one for the soup. This is especially important if you plan on having leftover soup, since this soup makes a large amount. So you'll fill one pot with water and bring it to a boil, and this pot is for cooking your pasta in.

Then heat your other pot (I used a Dutch oven) over medium heat and add 2 teaspoons of olive oil.

Add the sausage to the hot oil, and then break it up into bite-sized pieces and stir for about 5 minutes. You're looking for the sausage to get brown.

Once your water is boiling, cook your pasta according to package instructions. (You can also choose to do this part while the soup simmers in a bit.)

Here's the sausage after 5 minutes.

Add the chopped onions to the sausage. Stir and cook for about 6 minutes or until the onions are translucent.

When your pasta is done, drain it. Once it's cooled a bit, drizzle 1-2 teaspoons of olive oil over it and toss so the pasta is coated in oil. This will keep the pasta from drying out.

Now it's time to add your spices. Add the minced garlic, 2 teaspoons of dried oregano, and 1/2 teaspoon of crushed red pepper flakes to the pot. Stir and cook for about a minute.

Next up is the tomato paste. Add 2 tablespoons and stir it in. You'll cook it for 3-4 minutes. And if you can find the tube of tomato paste (usually in the Italian food section), it's great so you can squeeze in how much you need, pop on the lid and refrigerate it. Much easier than a can unless you need the entire can of paste.

Then after about 3 minutes, the tomato paste had coated the sausage and onions, and it's turned a bit more of a brown color.

Now it's time to simmer! Just add the 6 cups of chicken stock, the fire roasted diced tomatoes, and 2 bay leaves to the pot. Give it a nice stir, pop on the lid, and reduce the heat to low, and let it simmer for 30 minutes.

While your Lasagna Style Soup simmers, put together your cheese yum. Grab a medium-sized bowl, and add 8 ounces of ricotta, 1/2 cup of Parmesan cheese, plus salt and pepper to taste.

Then stir until it's completely combined. Set the cheese to the side until you're ready to serve the Lasagna Style Soup.

About this time the soup was done.

Very important step here: Remove the 2 bay leaves from the soup, because you don't want anyone to accidentally eat those. Yuck!

Finally remove the soup from the heat, and add salt and pepper to taste along with the chopped basil to the soup. Then stir it well.

Once the soup is nearly done simmering, grab your serving bowls. Then spoon a good-sized spoonful of the cheese yum into the bottom of each bowl.

Then sprinkle a little shredded mozzarella cheese over the top.

Right before you serve, add a little pasta to the bowl over the cheese yum.

Now finally you'll ladle the soup over the pasta and cheese and serve right away. Then you can top with mozzarella as kind of a hint of the cheesy surprise at the bottom or skip that part. Totally up to you! And enjoy the Lasagna Style Soup right away! Happy deconstructed lasagna eating!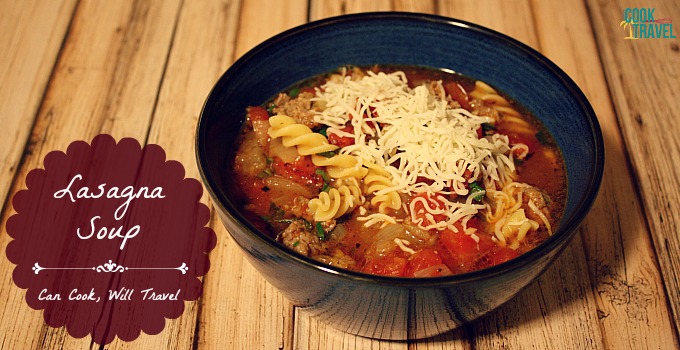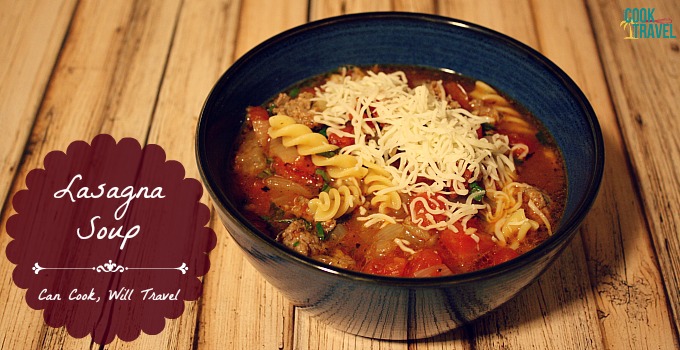 Lasagna Style Soup
Get excited for this deconstructed lasagna in soup form! Seriously it's packed with flavor and a cheesy surprise!
Ingredients
FOR THE SOUP:
2 tsp. Olive Oil
1-1/2 lbs. Italian Sausage
3 c. chopped Onions (about 1½ to 2 large onions)
4 Garlic Cloves, minced
2 tsp. Dried Oregano
½ tsp. Crushed Red Pepper Flakes
2 T. Tomato Paste
1 28-oz. can Fire Roasted Diced Tomatoes
2 Bay Leaves
6 c. Chicken Stock
8 oz. Fusilli pasta (or bite-sized pasta of choice)
½ c. finely chopped Fresh Basil Leaves
Salt
Freshly Ground Black Pepper, to taste
FOR THE CHEESY YUM:
8 oz. Ricotta (Part Skim is what I used)
½ c. grated Parmesan Cheese
¼ tsp. Salt
pinch of Freshly Ground Pepper
OPTIONAL:
2 c. shredded Mozzarella Cheese
Preparation Instructions
Start off by prepping your ingredients, which includes chopping your onion, cutting your basil, and mincing your garlic.
Then in a large stock pot, heat two teaspoons of olive oil over medium heat. Once the oil is hot, add the Italian sausage and break it into bite-sized chunks. Cook until the sausage browns, which should take about 5 minutes.
Add the onions to the sausage and cook another 6 minutes or so until the onions are translucent.
Next up, add the garlic, oregano, and red pepper flakes, and then cook for a minute.
Then add the tomato paste to the sausage and onions and stir for 3 or 4 minutes until the tomato coats all of the ingredients and has browned a little.
Finally add the entire can of diced tomatoes, 2 bay leaves and 6 cups of chicken stock to the sausage. Give it a stir, cover the pot and let it simmer over low heat for 30 minutes.
While the soup is cooking, bring a separate pot of water to a boil, and cook your pasta according to the package instructions. Then drain the pasta. Once it's cooled a bit, drizzle a little olive oil (1-2 teaspoons) over the pasta and toss until the pasta is coated. This will keep it from drying out.
As the pasta cooks, combine the ingredients for the cheesy yum in a medium-sized bowl, so you can get it done ahead of time. This includes combining the ricotta, grated Parmesan Cheese and salt and pepper. Then set the cheese mixture aside.
Once the soup has finished simmering, remove the 2 bay leaves. Then add salt and pepper to taste and stir in the chopped basil. Remove the pot from the heat.
To put the soup together for each individual serving, spoon some of the cheesy yum (1-2 tablespoons) into the center of each bowl. Then add a little sprinkle of mozzarella cheese over the top. Next a handful of pasta (or however much you'd like per bowl) gets added on top of the cheese. Finally ladle the soup over the top. You can top with a little extra mozzarella if you want to give a hint to the cheesy surprise inside. And serve right away! Enjoy!
Notes
For leftover soup, store the soup, pasta, and cheesy yum separately. Often if pasta is left in a soup and kept in the fridge it will absorb a lot of the liquid making your leftovers less soup-y.
0