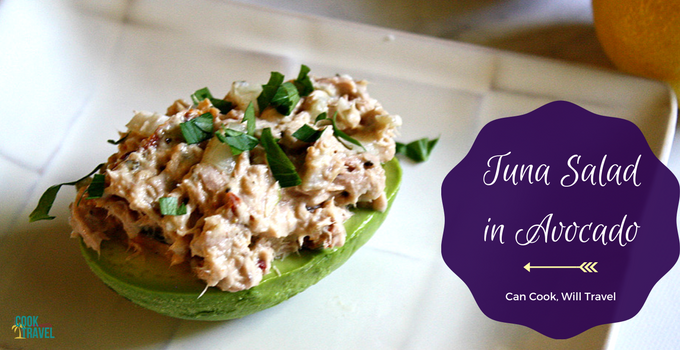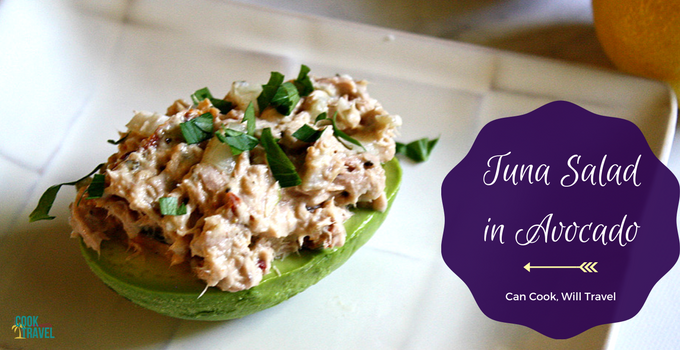 Lemon Tuna Salad Step by Step Instructions:

This Lemon Tuna Salad is super easy, great to make ahead, and perfect for a quick lunch, so here's what you'll need: 1 can of your favorite Tuna, Salt & Pepper, your favorite Mayo (I like the olive oil mayo), 1 Avocado, 1/4 of a yellow onion, Lemon Zest Vinaigrette (see recipe below for how to make it), Dill Pickle Relish, and Sun-dried Tomatoes.

This vinaigrette is one of my go-to's for salads and quinoa bowls, and it's so easy to make. Just add the zest of 1 lemon, juice of 2 lemons, 1 tablespoon of extra-virgin olive oil, 1 t. of honey, plus salt and pepper to taste. Put it in a mason jar, cover it, and then shake away and shake right before using.

You won't need much onion here, because you just want to add the crunch. So slice 1/4 of an onion by cutting the onion in half from stem to root, peel it, then just slice half of one of the halves and then chop it into small pieces.

Now it's time to put the Lemon Tuna Salad, so drain the tuna and add it to a small bowl.

Next up the onions get added.

Then add about 2 tablespoons of mayo, remembering that the more you add the creamier it will be. So it really depends on how you prefer your tuna salad.

Then add about a tablespoon of the vinaigrette to the bowl, and save the rest to top your favorite salads for a light dressing!

Now add about a teaspoon each of relish and sun-dried tomatoes to start off.

Then add salt and pepper to taste.

Combine the Lemon Tuna Salad with a fork until it's mixed throughout, and then taste and adjust seasonings. I added a little more salt and pepper plus a little more relish, because I wanted a little more tang to my Lemon Tuna Salad. At this point you can pop the tuna salad in the fridge if you're making it ahead, or continue on if you're ready to enjoy it now.

Now it's time to the serve up the Lemon Tuna Salad in an avocado, so cut an avocado in half.

I like to use a large spoon to scoop out the avocado, and then place one half of the avocado on each plate (half the avocado is one serving) and top with the Lemon Tuna Salad. You can add a little parsley on top and then devour and happy eating!
And if you're a fan of tuna & pasta, then you're sure to love this Tuna Pasta Salad!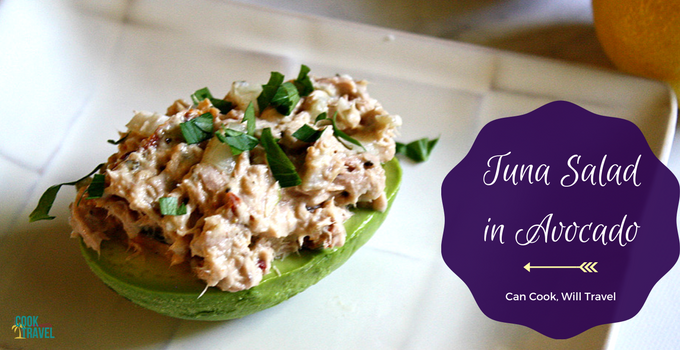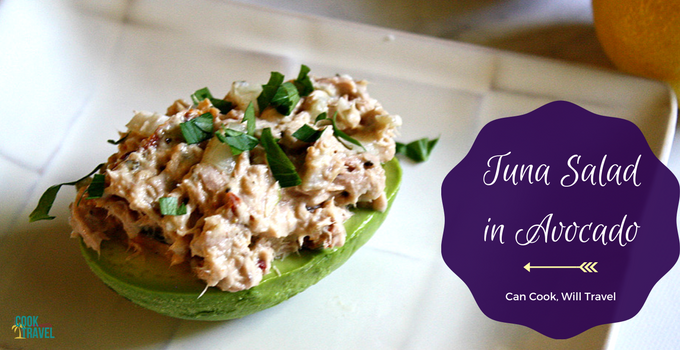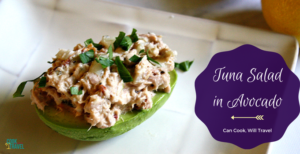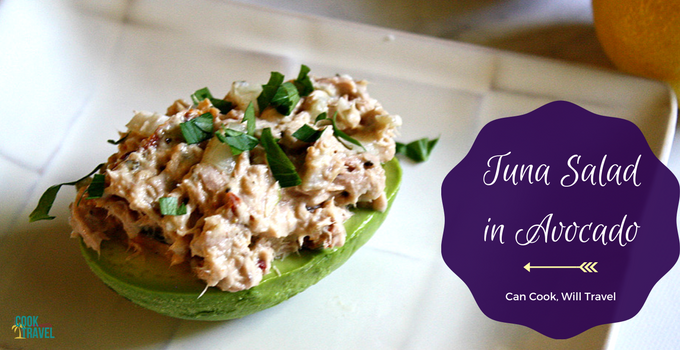 Print
Lemon Tuna Salad in Avocado
Yield 2 servings
I love this salad as a perfectly light lunch whether you're in a rush or have plenty of time! Enjoy!
Ingredients
Lemon Zest Vinaigrette:
Zest of 1 Lemon
Juice of 2 Lemons
1 T. EVOO
1 t. Honey
Salt & Pepper, to taste
Tuna Salad Ingredients:
1 can of Tuna
2 T. Mayo (I like the olive oil mayo)
1/4 of an Onion, diced (yellow or red onions are great)
1 t. Dill Pickle Relish
1 T. Lemon Zest Vinaigrette (see below)
1/2 t. Sun-dried Tomatoes (or 1 full teaspoon if you prefer)
Salt & Pepper to taste
1 Avocado
Fresh Parsley for topping, optional
Instructions
Begin by combining the vinaigrette ingredients in a mason jar, and shake well. Shake the jar right before using the vinaigrette.
Chop up the onions, and then combine all of the tuna salad ingredients except the avocado together in a small bowl. Taste and adjust flavors as you prefer.
Slice the avocado in half, remove the pit, and scoop out the avocado.
Place one avocado half on a plate, top with half of the tuna salad, and then add some fresh parsley for color if desired. Serve right away and enjoy!
Notes
Quick Tip #1: Make the vinaigrette ahead and use it as a salad dressing or on your favorite roasted veggies. 
Quick Tip #2: You can make this recipe in advance by making the tuna salad and refrigerating it for the following day. Tuna salad should be eaten within 4 days of making it. Then when you're ready to eat, cut into your avocado, top each half with the tuna salad, and enjoy!
Nutrition Facts
Serving Size 1/2 recipe
Amount Per Serving

Calories 236

% Daily Value

Total Fat 16 g

25%

Saturated Fat 2 g

10%

Unsaturated Fat 13 g

Cholesterol 13 mg

4%

Sodium 288 mg

12%

Total Carbohydrates 8 g

3%

Dietary Fiber 5 g

20%

Sugars 3 g

Protein 13 g

26%
* Percent Daily Values are based on a 2,000 calorie diet. Your daily values may be higher or lower depending on your calorie needs.
0