When the sun is out and the temperatures are hot, I'm finding myself drawn to making salads. Now if you've followed me for a while, then you know that my saying that is a BIG deal. In fact, in year one I created a Learning to Love Salads series to initially force myself to start eating salads. So I'm pretty excited to share this ultimate list of 20 Salad Recipes with you!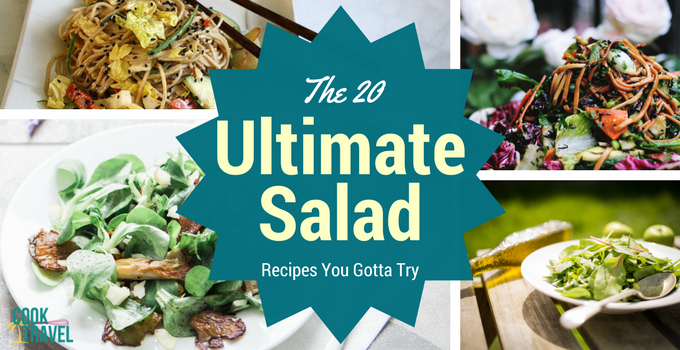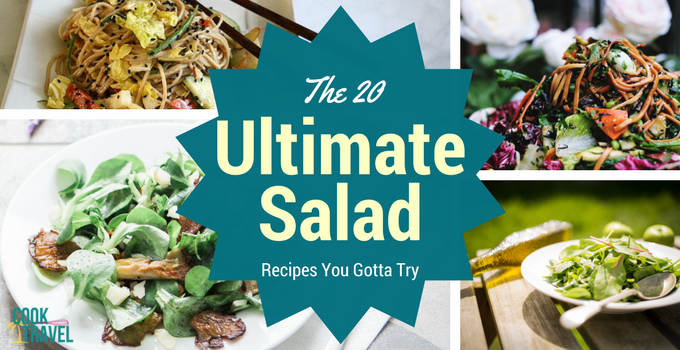 As my salad post series has evolved, it's ended up being a really fun one for me. Surprisingly I've actually started loving salads and eating them out more often than not. And I have to say this post series was a big part of it, because now I no longer am "forcing" myself to share salad recipes with you.
Salads involving lettuce and greens still aren't my favorite. I do prefer a yummy pasta salad, quinoa salad, or one filled with veggies. But occasionally one with romaine or kale (especially) will get me pretty excited.
I have organized this list into 5 categories, so click on the links below to go directly to that section. And as you know, I do try to keep things dairy free these days, so any salads that are free of milk products will have a (DF) next to it.
Quinoa Salads That ROCK – Because immediately the salad has great texture and versatility with quinoa.
Salads for Carnivores – Hey sometimes ya just need some meat in your life.
Salads Starring Pasta– I could eat pasta for every meal, so naturally a pasta filled salad is a favorite category of mine.
Veggie-Filled Salads – The more veggies and textures the better to make a killer salad!
"Get Your Greens in" Salads – Sometimes greens can be boring, but not with these green-filled recipes.
The Ultimate 20 Salad Recipes List:

Quinoa Salads That ROCK:
The BEST Quinoa Salad – At least I think it is. This is hands down my favorite quinoa salad with a delicious lime cumin vinaigrette and TONS of veggies!
Cucumber Quinoa Salad – This salad with its light lemon vinaigrette begs to be made this summer. With cucumbers, quinoa, red onions, fresh basil, and feta cheese, how could it not be delicious? Skip the Feta to make this one dairy free.
Kale Superfood Salad with Quinoa & Blueberries – Anything with blueberries has me all in. So naturally this kale salad with quinoa, blueberries, and goat cheese looks totally delicious for a light lunch. Yum!

Salads for Carnivores:
Basil Chicken Salad – I'm obsessed with this dish and it's one that my mom, sister and I adore. We have a habit of making this salad every single summer, because it's that flipping good! Fresh tomatoes, chunks of mozzarella, and chicken tossed with a mayo based dressing and don't forget the fresh basil!
Rosemary Chicken, Bacon, & Avocado Salad (DF) – Yep this salad encompasses all the yummy! Now it's not quite as healthy with the bacon and cooking the chicken it the same pan, but hot damn it must taste fabulous!!
Chile Lime Fish Taco Bowl with Citrus Crema (DF) – I love a great fish taco, so this is basically like that minus the tortilla. So really you can't go wrong, right??
Black Bean Quinoa Salad with Chipotle Steak – I had completely forgotten about how yummy this salad is until I was searching back through my blog. If you love steak, then this is a fabulous way to eat lots of veggies and good-for-you quinoa!

Salads Starring Pasta:
Asian Pasta Salad (DF) – This soba noodle salad is AMAZING and I'm obsessed about it! I made it earlier this year, and it reminded of sushi with all of the flavors, and that's a very good thing. This one's a must-make-ASAP kind of situation if you love pasta AND sushi.
Greek Tortellini Salad – Combining my love of pasta with Greek flavors is such a very good thing. How can you beat tortellini, plus Feta, tomatoes, cucumbers, olives and onions. So yummy!
Tuna Pasta Salad (DF) – Okay I love tuna, so to me this salad is a perfect way to get you to start liking it too if you're on the fence. With a mayo, lemon, and dill based that you toss pasta, tuna, onions, and pickles, then it's a total winner. Seriously I love this one.

Veggie-Filled Salads:
Mediterranean Salad – If you love salty Feta, olives, cucumbers, and tomatoes, then make this salad right away. It will not disappoint, and it's still one I think of a LOT that makes my mouth water.
Shaved Brussels Sprout Salad – I honestly think about this salad a ton as well. With its shredded Brussels sprouts, sweet bites of onion and salty Pecorino Romano cheese, I'm crazy for it! Seriously if you have a mandolin, then there's no reason not to make it. And if you don't, well you can carefully cut up the sprouts thinly and you'll be just fine (and safer!). Please whip up this salad soon, and you can thank me later.
Beet Root & Feta Salad – Ooh how I love beets, especially when they're roasted. So a light salad with beets, Feta, and a lemon vinaigrette sounds like perfection to me.
Middle Eastern Chickpea Salad – I'm loving chickpeas these days and how crazy versatile they are. So a salad with them as a base plus tons of tomatoes, bell peppers, cucumbers, scallions and fresh mint and Feta sounds divine! Bring on the happy belly.
Mexican Street Corn Salad – I'm not entirely sure why I'm so fascinated with Mexican Street Corn, but I am. I mean it looks delicious, so that's probably why. And this is a healthy version of it in salad form, so of course it makes the list.
Couscous Greek Salad – Clearly I'm a big fan of Greek salads, so naturally this recipe MUST make the list. And this one is so easy to make but also completely delightful. Tomato paste and oregano infuse the couscous with flavor as it cooks. Then you add in more delicious Greek flavors in the form of chunks of Feta, sundried tomatoes, and Greek olives. Oh happy day this is so good!

"Get Your Greens in" Salads:
Kale Salad with Warm Cranberry Vinaigrette – Anytime I think of a kale salad with fondness, it's always this salad. Because it's got 2 of my favorite ingredients in it: goat cheese and cranberries. and it's the first time that I tried the technique of massaging oil into the kale, and that's a total game changer!You'll adore this salad for sure!
Strawberry Spinach Salad – If you love blue cheese, berries, and candied pecans, then this recipe is for you! It sounds fab, although to keep it a bit healthier I probably wouldn't candy the pecans, but they would be amazing!
Greek Salad – Cuz I love Greek Salads, as you can tell by now. Need I say more?
Apple Cranberry Walnut Salad – I cannot wait to make this salad this Fall, because doesn't this just sound like Fall? Two apples, walnuts, Feta, and dried cranberries with an apple dressing, so it has to be delightful!
Whether you're learning to love salads like I have been, or you're a salad fanatic, I'm hoping this post inspires you. Go peruse and find some salad recipes that sound fabulous, and I have a feeling we'll all be eating well with these recipes for the next several months.
My goal with featuring salad recipes focuses on keeping them interesting with flavors and variety, so that I never get bored. Because, frankly, I had to learn to love eating salads because I found them super dull. Rest assured that I love all of the salad recipes I've shared over the past 6+ years, so the words "salad" and "boring" no longer land in the same sentence very often.
I can't wait to find out which of these salad recipes you're looking forward to! There are some new ones and a few from the blog that I'm adding to my cooking queue ASAP. Comment below and let me know which ones you must try!
Stay inspired & go chop up some veggies!
~Kelli
0