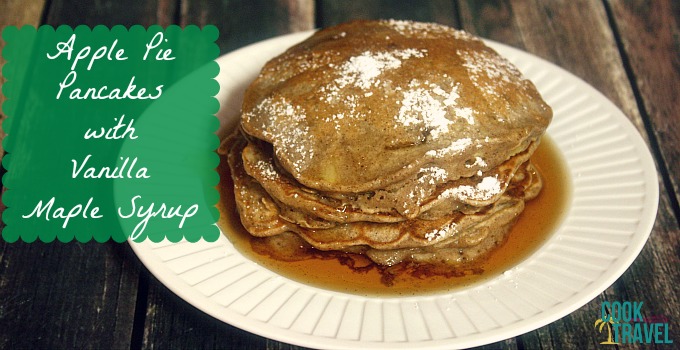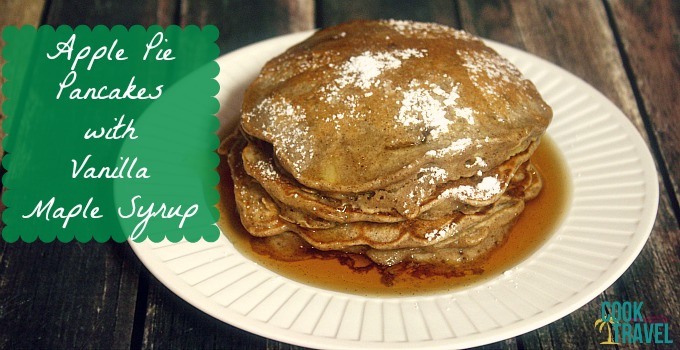 (Recipe can be found on the site Averie Cooks here.)
Step by Step Instructions:

All you need for these Apple Pie Pancakes with Vanilla Maple Syrup is right here … yum: Cinnamon, a cup of grated Apples (I used 2 small Granny Smith apples), ground Cloves, Maple Syrup, 1 cup of Flour, Nutmeg, 1 Egg, Baking Powder, 2 tablespoons (packed) of Light Brown Sugar, Whole Milk, Vanilla Bean Paste (or good quality extract), 1 tablespoon of melted unsalted Butter, and Salt.

First thing you need to do is grab a medium bowl and add a cup of flour, 2 tablespoons of light brown sugar, 1 teaspoon of baking powder, 2 teaspoons of ground cinnamon, 1/4 teaspoon of ground nutmeg (I prefer to freshly grate mine), 1/2 teaspoon of ground clove, and 1/8 teaspoon of salt.

Whisk the dry ingredients together.

Grab a large measuring dish and measure out a cup of whole milk (or your milk of choice).

To the milk add the egg, 1 tablespoon of melted butter (cooled a little) , and a teaspoon of vanilla bean paste.

Then whisk those wet ingredients together.

Pour the wet ingredients into the bowl with the dry ingredients.

Gently stir the wet and dry ingredients until they start to combine.

Then add the grated apples to the batter.

Carefully fold in the apples until they are throughout the batter. A note here that I felt like my batter was a bit runnier than I wanted, so I added a bit more flour to it so it was a bit thicker.

Then grab a non-stick pan and heat it over medium heat. Add a teaspoon of canola oil, butter (or your preferred oil).

I used a 1/4 cup measuring cup and used that to pour the batter in the pan. Cook the pancakes until they are golden brown on the first side. This will take about 2-3 minutes.

You'll notice that the edges dry out a bit, which is how I always judge when to flip the pancakes.

Then cook the other side for another 1-2 minutes until side #2 is golden brown. Take up the pancakes and serve immediately.

For the vanilla maple syrup, heat 1/2 cup of maple syrup until it's warmed through. (I did this as I was cooking the pancakes.)

Then add a teaspoon of vanilla bean paste to the syrup.

Then stir to combine. You'll see little flecks of vanilla bean throughout, which is why I LOVE vanilla bean paste! Just pour the syrup over the pancakes and top with a bit of powdered sugar if you'd like. And enjoy! Happy Apple Pie Pancakes making!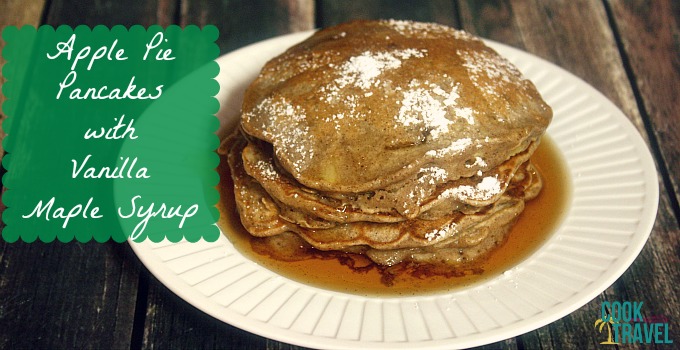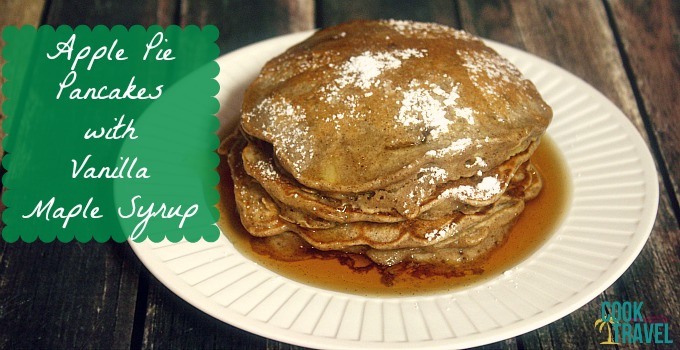 Apple Pie Pancakes with Vanilla Maple Syrup
These pancakes are the perfect way to start (or end) your day! Easy to make and a delicious nod to the classic apple pie minus the guilt. Enjoy!
Ingredients
PANCAKES:
1 cup All-Purpose Flour
2 tablespoons Light Brown Sugar, packed
1 teaspoon Baking Powder
2 teaspoons ground Cinnamon
¼ teaspoon ground Nutmeg (freshly ground is best)
½ teaspoon ground Clove
⅛ teaspoon Salt
1 cup Whole Milk
1 large Egg
1 tablespoon unsalted Butter, melted and cooled slightly
1 teaspoon Vanilla Bean Paste (or extract)
1 cup grated Apple, peeled (about 1 medium apple -- I used Granny Smith Apples)
Butter or Canola Oil for skillet
VANILLA MAPLE SYRUP:
½ cup Maple Syrup, warmed gently
1 teaspoon Vanilla Bean Paste (or extract)
Preparation Instructions
Start off by whisking together the dry ingredients in a medium-sized bowl. This includes the flour, light brown sugar, baking powder, cinnamon, nutmeg, cloves, and salt.
In a separate dish, whisk the wet ingredients including the milk, egg, melted butter, and vanilla bean paste.
Add the wet ingredients to the dry ingredients. Gently stir the mixture until it is just starting to combine.
Finally add the grated apples to the batter and carefully fold it in until the apples are throughout.
Heat a non-stick skillet over medium heat. To the hot skillet, add a teaspoon of butter or canola oil.
Add ¼ cup of the batter to the pan for each pancake. You'll cook these for about 2-3 minutes or until the edges of the pancakes start to dry a bit and the pancake is golden brown. Flip the pancakes and cook an additional 1-2 minutes or until the second side of the pancake is brown.
As the pancakes are cooking, heat up the maple syrup. Add the vanilla to the maple syrup and stir to combine. Your syrup is ready to go!
Once the pancakes are cooked, you can put them on a baking sheet in a preheated oven at 200 degrees to keep them warm. Serve these immediately with your favorite butter and this syrup and enjoy!
0