I love, love, love breakfast, but I know that it's often an overlooked meal. Honestly I'm surprised when I hear people say they never eat breakfast. It's a shame too, because breakfast is the time to really fuel your body with the food it needs to start your day off right. I can always tell the days I've skipped breakfast, because my energy is super low. Thus delicious, healthy breakfast recipes are a must in my daily life.
So for me, breakfast is a total non-negotiable. And I tend to go through periods of time where I eat the same breakfast every day. For years I was a giant fan of cereal with almond milk, but that has changed a bit. When I started eating less dairy, I was amazed at the amount of cereals with milk in them. And then I'd also look at the added sugar in the ingredients list, so quickly I was finding my favorite cereals weren't as great for me as I thought.
That meant it was time to switch things up a bit, and because I try to eat really healthy I found myself trying out a variety of breakfasts after I ditched cereal. And before I knew it, I was finding a ton of different options that I really loved.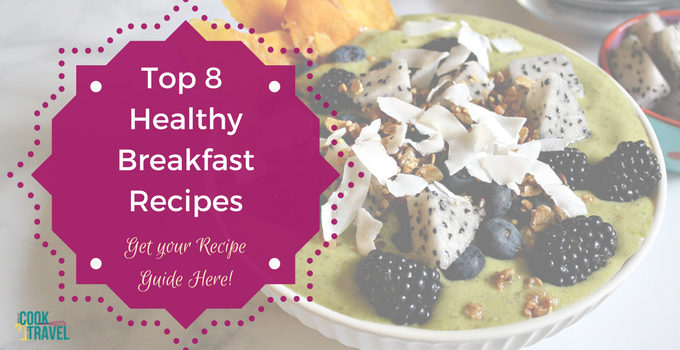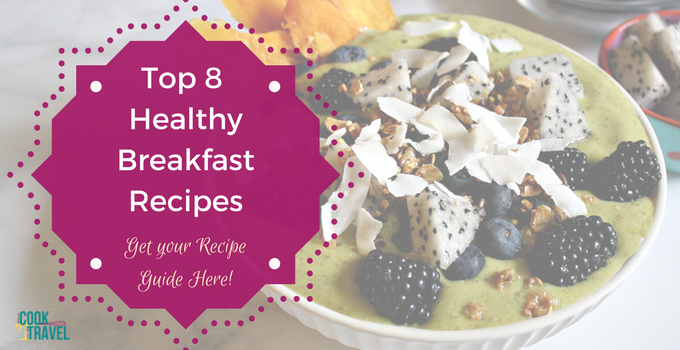 All of this thinking about breakfast made me think that if I was going through this breakfast searching, I probably wasn't alone. I know that many of us are doing our darnedest to eat healthy all the time, but it's not easy. Sometimes hitting the drive-thru once in a while turns into the majority of the time. So my goal today is to make healthy eating as easy as possible, so we can all be more successful at it.
In fact, I'm hoping that by the end of this, you'll find yourself not missing this important meal. So download the free recipe guide, and be converted to a breakfast fan if you're not already. Click on this button to get all of the recipes!
Let's get started with my 8 favorite Healthy Breakfast Recipes!

Smoothie Bowl
If you follow me on Instagram, then you know that my obsession with the smoothie bowl is a very real thing, so it's hard to just share one with you. But because Matcha green tea is super good for you, I'm choosing this one! I love the tropical flavors from mangos and pineapples, and this Tropical Matcha Smoothie Bowl is so delicious topped with your favorite fruit, granola, and coconut chips (those are my favorites). So if you're not sure about this whole smoothie bowl thing, then now's the time to give it a try!

Greek Yogurt
I actually just had this breakfast this morning, and it was delicious and so simple. And when you're in a rush, a quick breakfast is a must. Simply spoon greek yogurt into a bowl, top with about 1/4 – 1/2 cup of your favorite fruit along with a sprinkle of granola and a drizzle of honey. Sheer deliciousness!

Overnight Oats
For the ultimate time saver, overnight oats should be your go-to breakfast. You can make 1 or 2 servings the night before, and then breakfast is set for the next couple of days. Simply grab your jar of oats and go! And overnight oats are crazy versatile. I love this Key Lime Pie Overnight Oats recipe I made earlier in 2017, because it's easy but has yummy tropical flavors!

Pancakes & Waffles
If you say I can have pancakes or waffles, my answer is always a resounding YES, PLEASE! I love them so much, because they just scream comfort food to me. But yeah they can definitely be not-so-healthy when you add lots of crazy stuff to it. But these gluten free pancakes are so delicious!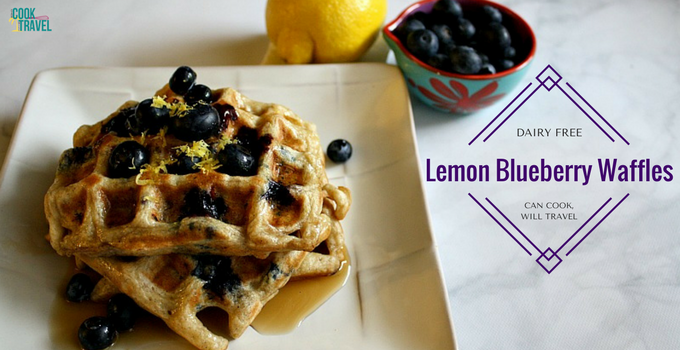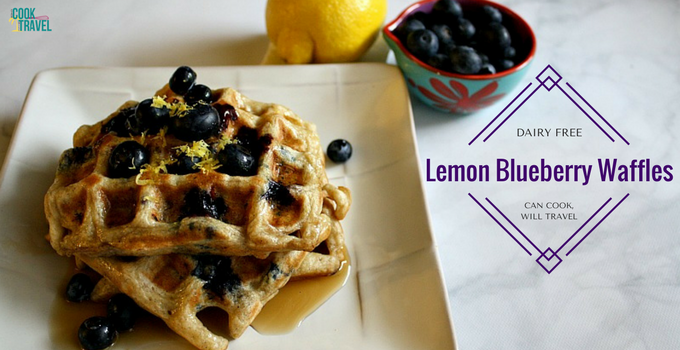 And this gluten and dairy free lemon blueberries waffles recipe is another of my favorites I think about a lot! In fact, I love making them and then freezing the ones I won't eat so that I can eat them throughout the month. Yum!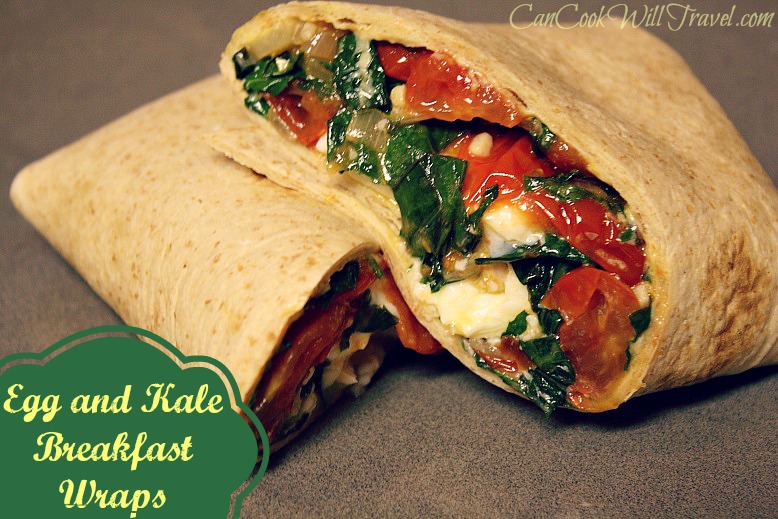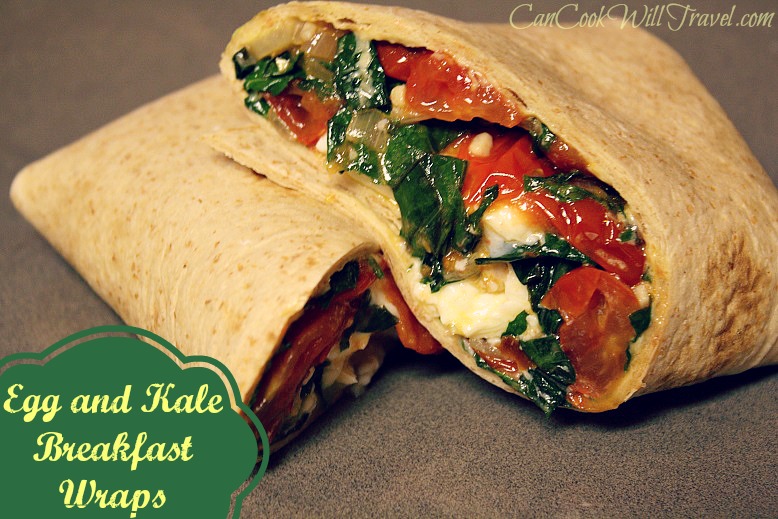 Breakfast Wrap
I'm always such a fan of Giada de Laurentiis, and her Egg & Kale Wrap is just delightful. With a poached egg inside, it automatically makes this wrap delicious and super special. So when you have a few minutes one morning, whip up this wrap and enjoy it. Like literally just sit, eat, and express some gratitude for your fabulous cooking skills and great food you have at your fingertips.

Oats
Now as a kid, I grew up on oatmeal, and instant oatmeal is such an easy option. But as I've grown up, I like the idea of making my own oatmeal, because then I know exactly what's going in my oatmeal. And I have to say that there is one oatmeal dish that I still absolutely love. What's great about it the Quinoa Berry Breakfast Bowl is that it's easy, really flavorful, and reheats well and this recipe makes a ton. So check out my favorite oatmeal post here.

Broiled Grapefruit
Grapefruit fans, I bet you're going to love this one! If you aren't so sure about grapefruit, stick with me, because this recipe may convert you. I grew up eating up grapefruit like a champ, but I adore tart flavors, so grapefruit kinda completes me. What's great about this broiled grapefruit though is that it's sweetened up a bit naturally with some bananas and honey. Plus when you broil fruit (aka bake it at a high temp), it'll caramelize the fruit and brings out more sweetness. I wasn't so sure about the banana/grapefruit combo, but it's delicious.
GRAB YOUR FREE RECIPE GUIDE:
Ready to start enjoying healthy breakfast recipes on the regular now? I hope this list inspired you to expand your current breakfast game, because it's making me hungry!
Want all of these recipes in one spot? Then click this link to get the recipe guide for all of these healthy breakfast recipes I've shared. There you'll find the full recipe so you have them all in one place!
Which healthy breakfast recipe do you love to make? Share below what your favorite breakfast meal is and what you are excited to try from this post! Can't wait for you to enjoy these!
Stay inspired & start the day off on a healthy note!
~Kelli
0