(This Egg and Kale Breakfast Wrap recipe is by Giada de Laurentiis, and it can be found on the Food Network site here.)
Step by Step Instructions:

Breakfast is looking good with this Egg and Kale Breakfast Wrap, so here's what you'll need: Minced garlic (2 cloves), Salt, Red Pepper Flakes if you want it spicy, Tortillas of choice (10-inch tortillas work great), your favorite Hummus, about 6 Kale leaves (I used Lacinato or dinosaur kale), 1 large Shallot, 4 Eggs, Olive Oil, Fresh Thyme, Fresh Basil, 1 1/4 cups of Grape Tomatoes halved, and 1 Lemon.

Start off by prepping your veggies, so begin by dicing your shallot. (If you aren't familiar with dicing shallots, then you do this much like you'd dice an onion but on a smaller scale.)

For the thyme, you'll remove the leaves from the stem and then give them a rough chop. And you'll want about a teaspoon of thyme.

Next rinse and pat dry the basil, and then chiffonade the herb until you have 1/4 cup worth of basil. Chiffonading is a cinch, so all you do is stack about 5 or 6 basil leaves (largest leaves on bottom) and roll them. Then cut across the roll so you have strips of basil.

The kale is up next. It's easy to work with. Again rinse and dry your kale. Then cut the stem from the kale and discard.

I sliced the kale so I had two long pieces, stacked them on top of each other and cut them into about 1-inch slices.

Prep work is done, so it's time to cook! In a large, non-stick pan heat 2 tablespoons of olive oil over medium heat.

Once the oil is hot add the tomatoes, thyme, garlic, shallots and crushed red pepper flakes for an extra kick. (You can leave out the red pepper flakes if you're not digging the heat.) Then stir the mixture and cook for about 4 minutes…

…until the tomatoes and shallots are softened but not brown.

Then add the kale to the sauce pan along with a pinch of salt and toss together for a couple of minutes until the kale has wilted but is still bright in color.

This is what you're looking for.

Then add the basil to the pan and stir.

Remove the pan from the heat and set aside until you're ready for it.

Now get ready for the egg poaching. I'm warming up to this method, so here we go. Grab a large pot and fill about halfway with water. And turn up the heat so that it comes to a light boil. While you wait, prep the tortillas for your Egg and Kale Breakfast Wrap.

Depending on your tortilla size, grab a non-stick pan, and turn the heat to medium. Then once the pan is hot, add the wrap and flip so that both sides get heated.

Once the wrap is warm (making it more flexible), then the first step to the Egg and Kale Breakfast Wrap is to add a tablespoon or so of hummus and spread around the center of the tortilla.

Then spoon in some of the tomato and kale filling, and your Egg and Kale Breakfast Wrap is nearly done.

Once the water is at a low boil, then you're all set. Grab a wooden spoon and use the handle to begin stirring around the pot to create a vortex, so it'll look like a mini whirlpool.

Now squeeze in some fresh lemon juice, and then continue keeping the vortex going. Break an egg into the center of the pot and use the spoon handle, so you continue to gently keeping the vortex going again. The idea is that the egg will sort of wrap around itself, and cook 2 to 3 minutes, but don't overcook as you need a runny yolk.

I'm still fine-tuning this technique, and yeah I know this isn't the prettiest poached egg, but it's not a beauty contest. 😉 Remove the egg from the pan gently, and then let it drain a bit on a paper towel.

Transfer the egg to the center of the wrap and break the yolk by slicing it with a knife, and you'll see how the yolk oozes out and starts to coat the filling. Then fold in the ends of the tortilla and then wrap. You can leave one end open, but I find it much easier to manage with both ends folded shut and cut down the center. Repeat for the number of wraps you need and then happily enjoy! This Egg and Kale Breakfast Wrap is so healthy and delicious, and you'll love how easy it is to make! Happy wrapping!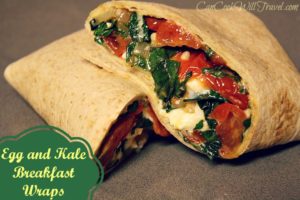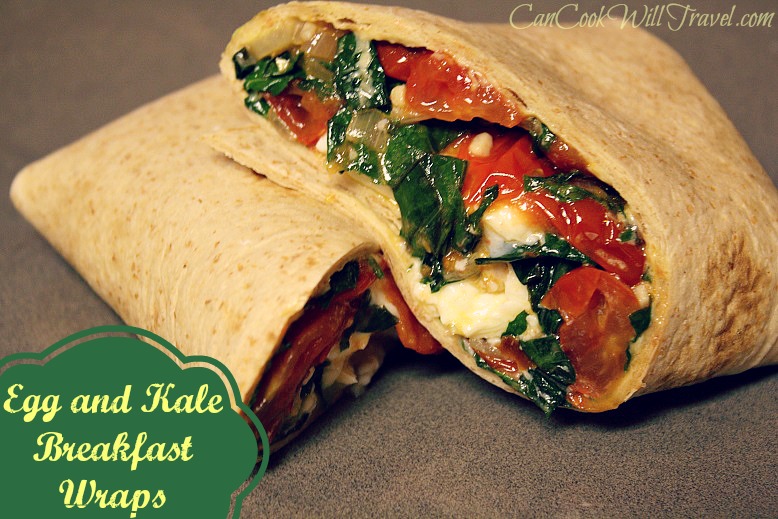 Print
Egg and Kale Breakfast Wrap
Yield 4 wraps
Oh wow does this breakfast suddenly make healthy eating insanely good!
Ingredients
Wrap Ingredients:
6 small kale leaves
2 tablespoons extra-virgin olive oil
1 1/4 cups grape tomatoes, halved
1 teaspoon chopped fresh thyme
2 cloves garlic, chopped
1 large shallot, chopped
1/8 teaspoon crushed red pepper flakes, optional
1/2 teaspoon kosher salt
1/4 cup chopped fresh basil
Four 10-inch whole wheat tortillas
1/4 cup store-bought plain hummus
1 teaspoon fresh lemon juice (from 1/2 small lemon)
4 large eggs, chilled
Instructions
Begin by prepping your veggies. Dice the shallots, slice the tomatoes in half and move onto the kale. For the kale, wash and dry the kale leaves. Then cut out the tough stem and cut the kale in half and slice into about 1-inch pieces. For the herbs, you'll chiffonade your basil (so it's in thin strips) and roughly chop the thyme.
In a large skillet heat the pan over medium heat and add the olive oil. To the heated oil, add the tomatoes, thyme, garlic, and shallots plus red pepper flakes if you'd like a kick. Stir the mixture until for about 4 minutes. You're looking for the tomatoes and shallots to be softened. Then add the kale and a dash of salt and toss it together so the kale wilts. This will take about 2 minutes. Finally stir in the basil and remove the mixture from the heat.
Time for poaching your eggs. If you have a solid egg poaching method, great! If not, this method feels a bit odd but still works great. Just get a large pot and fill at least halfway with water and bring it to a low boil.
While you wait on the water, you can heat a large skillet over medium heat. Then add your tortillas individually and flip just so you can warm them and make them more flexible.
Lay the tortilla on a work surface or plate and spread hummus over the center of the tortilla. Then spoon in the tomato and kale mixture.
Back to the eggs...once the water is at a low boil, squeeze in your fresh lemon juice to add some acid to the water. Then stir the water with a wooden spoon handle so that you create a vortex in the pot. Break the egg and drop it in the middle and gently continue stirring so the vortex continues. This allows the egg to wrap around itself and cook for about 2 to 3 minutes. Then carefully remove the egg from the water and let it drain on a paper towel.
Once the egg is drained, transfer it to the center of the wrap and slice the yolk to break it. Then fold up the sides of the tortilla and then roll one end towards the other to make a wrap. That's it! All that's left is to repeat for as many wraps as you are making and enjoy!
Nutrition Facts
Serving Size 1 Wrap
Amount Per Serving

Calories 403

% Daily Value

Total Fat 17 g

26%

Saturated Fat 4 g

20%

Sodium 377 mg

16%

Total Carbohydrates 50 g

17%

Dietary Fiber 5 g

20%

Sugars 4 g

Protein 19 g

38%
* Percent Daily Values are based on a 2,000 calorie diet. Your daily values may be higher or lower depending on your calorie needs.
0