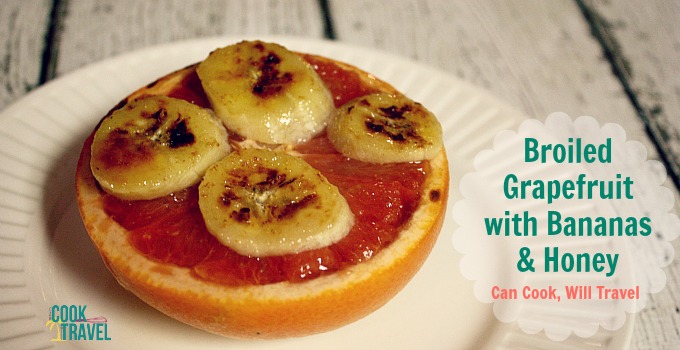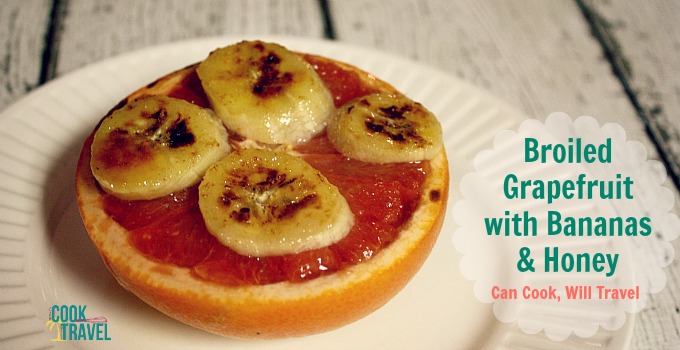 (Broiled Grapefruit with Bananas and Honey can be found on the site She Wears Many Hats here.)
Step by Step Instructions:

Say hello to a fabulous breakfast with this Broiled Grapefruit with Bananas and Honey. Here's all you'll need: 1 Banana, 1 Grapefruit, Honey, and Ground Ginger. (You could always try some fresh strawberries in place of the banana or ground cinnamon in place of the ginger if you'd prefer.) Note that I'm only making enough for 1 serving here (ie – half a grapefruit and a few banana slices.)

Start off by setting your oven to broil. Then you'll need a grapefruit knife. If you're not familiar with a grapefruit knife, here's an example. It's not super sharp but is slightly bent with both edges being sharp. Love this tool! If you don't have one, a paring knife will work.

Start by slicing a grapefruit in half.

Then remove the seeds and use your grapefruit knife to cut the segments so they separate from the membrane. This allows you to easily scoop out the fruit for easy eating.

Then slice up a banana. You'll want 3-5 slices per grapefruit half, depending on the size of the banana slices.

Then place the grapefruit on a cookie sheet and drizzle honey over the top … yummmm!

Place the banana slices on the grapefruit and then flip each slice so the bananas can be coated in honey on both sides.

Finally sprinkle with ground ginger. Broil on the top shelf of the oven (crack the oven door when broiling). Oh and don't put parchment paper in the oven when broiling. I'm not saying I did, but I'm not saying I didn't almost catch it on fire.

Keep an eye on the grapefruit. Remove it from the oven when it starts to caramelize like you see here. I broiled mine for about 5 minutes. Start watching it after 4 minutes ensuring it doesn't burn. That would be no bueno. Serve up the Broiled Grapefruit with Bananas and Honey while it's still warm and enjoy! Ahh it was so good and a perfect mix of sweet and tangy. Loved it 🙂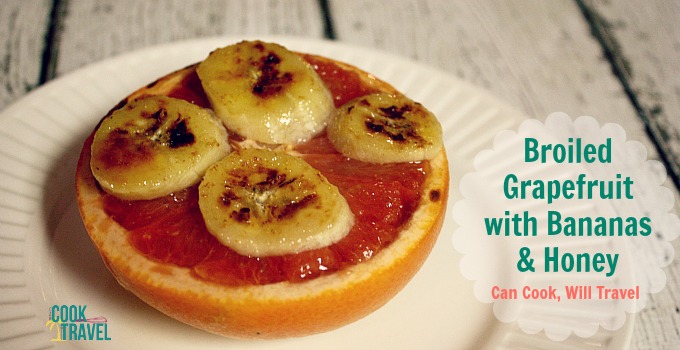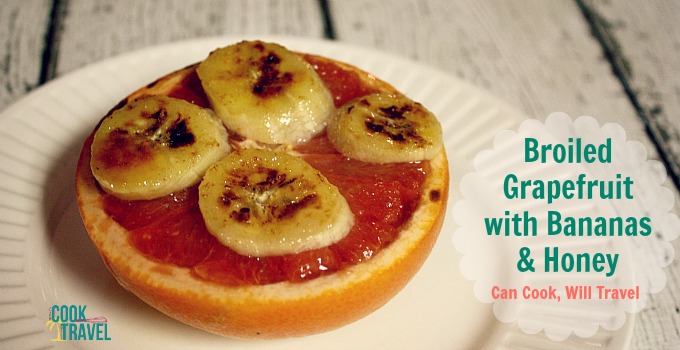 Broiled Grapefruit with Bananas and Honey
Grapefruit is typically a tart addition to your breakfasts and smoothies, but this broiled grapefruit method adds a little more sweetness and reduces the level of tartness so everyone can enjoy it.
Ingredients
Half a Grapefruit
Honey
Ground Ginger
4-5 Banana Slices (optional)
Preparation Instructions
Turn the oven up to Broil. Cut the grapefruit in half and use a grapefruit knife (or paring knife) to segment the grapefruit (separating the fruit from the membrane), making it easier to eat.
Place the grapefruit cut-side up on a small baking sheet. Drizzle some honey over the top.
Place 4-5 banana slices on the top of the grapefruit and flip them over so that each side is coated with honey.
Lightly sprinkle ground ginger (or ground cinnamon would work too) over the grapefruit half.
Broil for 4-6 minutes, watching the grapefruit so it doesn't burn. You want the honey to bubble a bit and the top of the grapefruit and bananas to brown just slightly. Be sure it doesn't burn.
Serve the grapefruit right away and enjoy while it's still warm. Yum!
0