Listen to your gut. It's great advice, and I've found myself calling on my gut a lot in several areas of my life recently. And Chicken Tikka Masala, believe it or not, is one tiny example. And by the way, my gut was SO right on this one!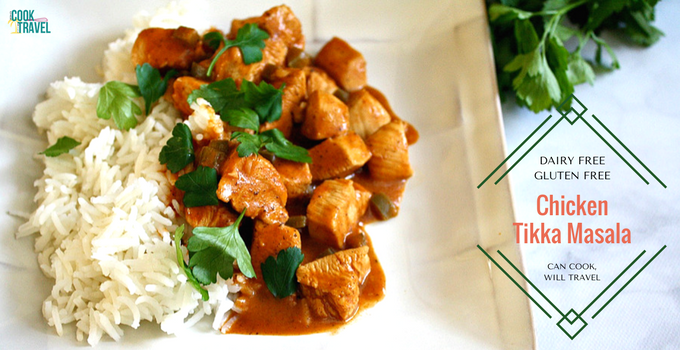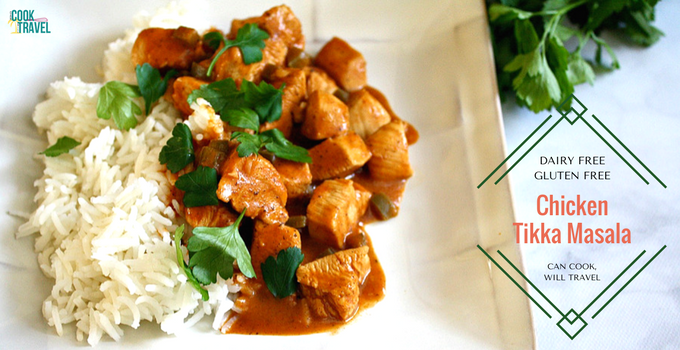 So here's the thing . . . I don't know much about Indian cuisine. Growing up it was never on my radar. And I've probably only made one or two things in the past 6 years of weekly cooking on my blog that would even resemble Indian food. So this Chicken Tikka Masala recipe was new territory for me. In fact, usually all I think about with Indian food is how the smells permeate everything, but that's only because over a decade ago I lived above my landlords who cooked Indian food all the time, and their kitchen was right below my bedroom. Haha!
I have probably eaten Indian food most way back in my days of living in the UK. There is SO much Indian food there that it's kinda amazing. London has a pub on every corner (at least), and I'd say Indian restaurants are nearly as common. In fact, almost 9 years ago I was traveling for work to England and found myself in an Indian restaurant on my birthday with a coworker. Neither of us had a clue what to order, so we let the owner take charge, and while I haven't the foggiest idea what he brought to our table, I can tell you it was stellar!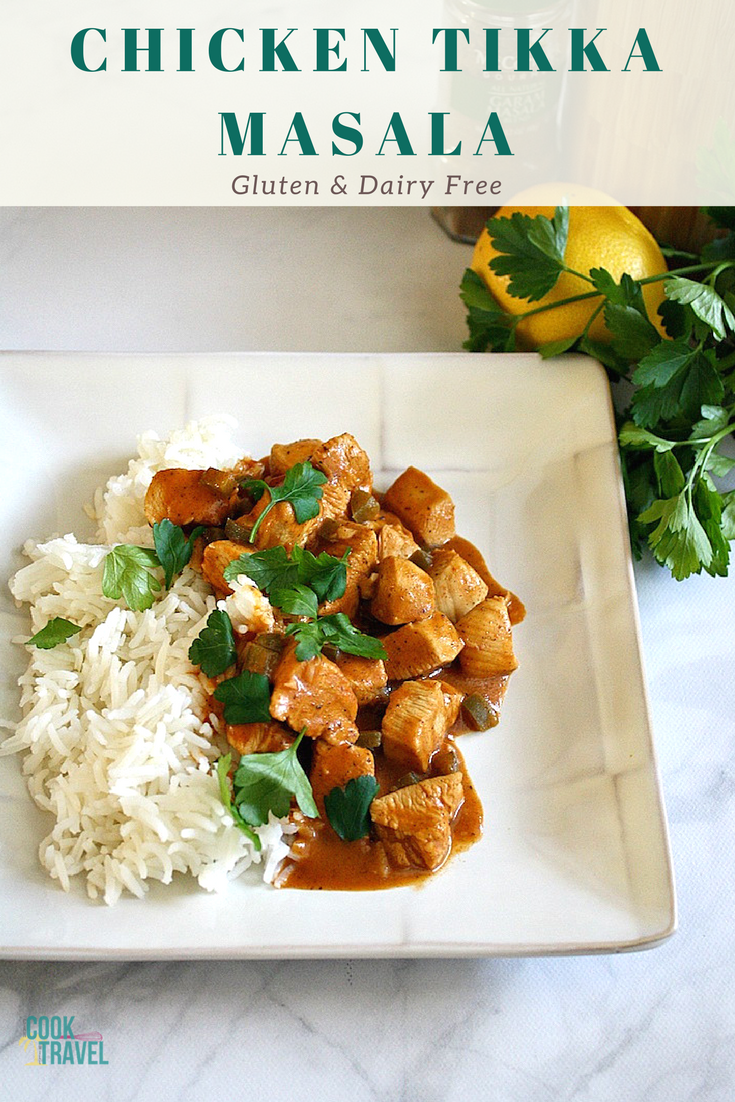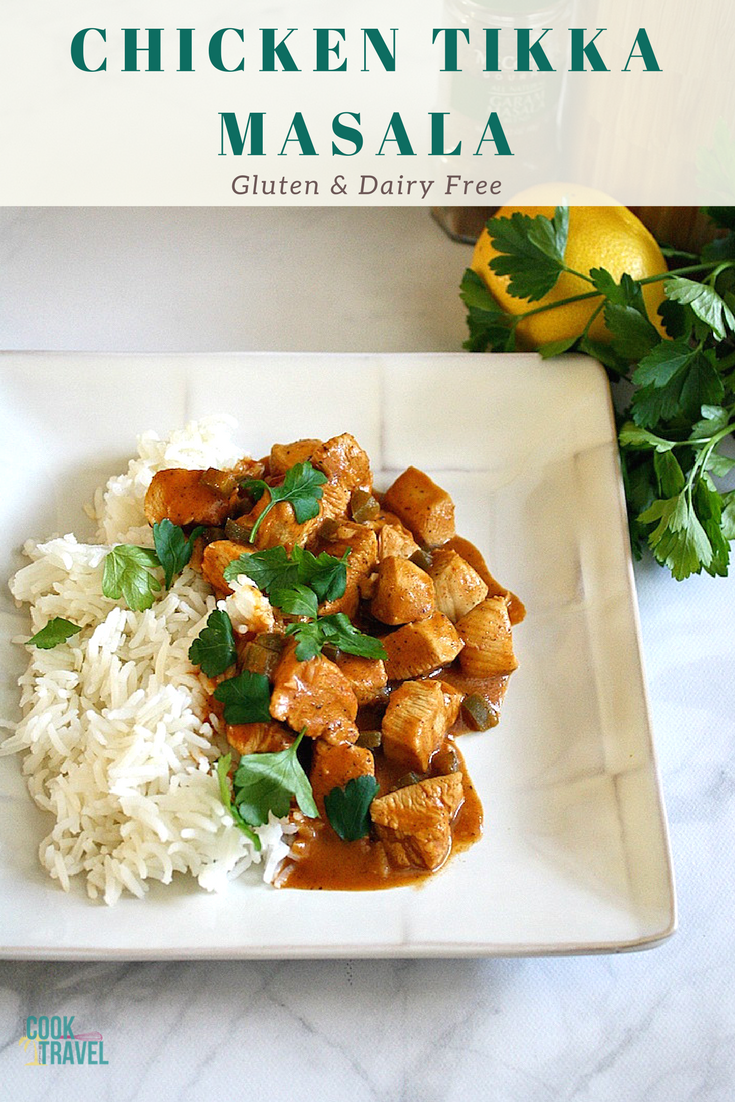 So this week I was drawn to a Chicken Tikka Masala dish. It looked so delicious, sounded great, and I knew I could pretty easily make it dairy free without sacrificing any flavor. So that's a huge win! The 3 changes I made were Earth Balance dairy free butter, So Delicious dairy free yogurt alternative, and swapping out heavy cream for coconut cream. I'd not worked with the yogurt or coconut cream before, but they both were great.
I found the So Delicious yogurt to be a little thinner than the Greek yogurt I was used to, but it was perfect in the marinade for the chicken. That marinade was so simple. Just mix together the yogurt, lemon juice, black pepper, ground ginger, and garam masala, and then coat the diced chicken with the marinade. Let it sit for at least an hour in the fridge, and you're good to go!
When it comes to putting together the sauce, you just cook the chicken along with the marinade. Once the chicken is cooked, add in some tomato sauce, coconut cream (or heavy cream), a jalapeño, garlic, butter (alternative), more garam masala, paprika, and salt. Let it simmer for about 20 minutes and then serve it over basmati rice.
The coconut cream comes in cans in the Asian food section of your grocery store. I found that if you open the can and give it a careful stir, it will up incorporate the cream a bit as it kind of separates in the can. Otherwise, it was a cinch to use, and you just refrigerate any leftover coconut cream. Now I need to figure out what to do with the rest of it!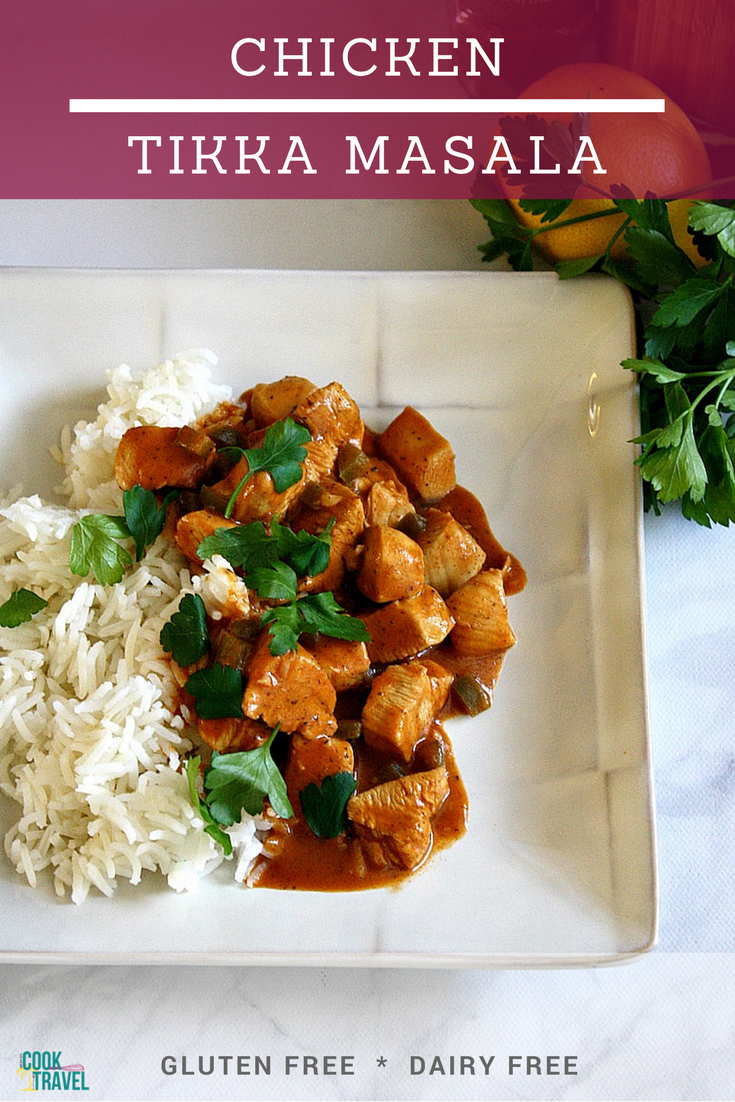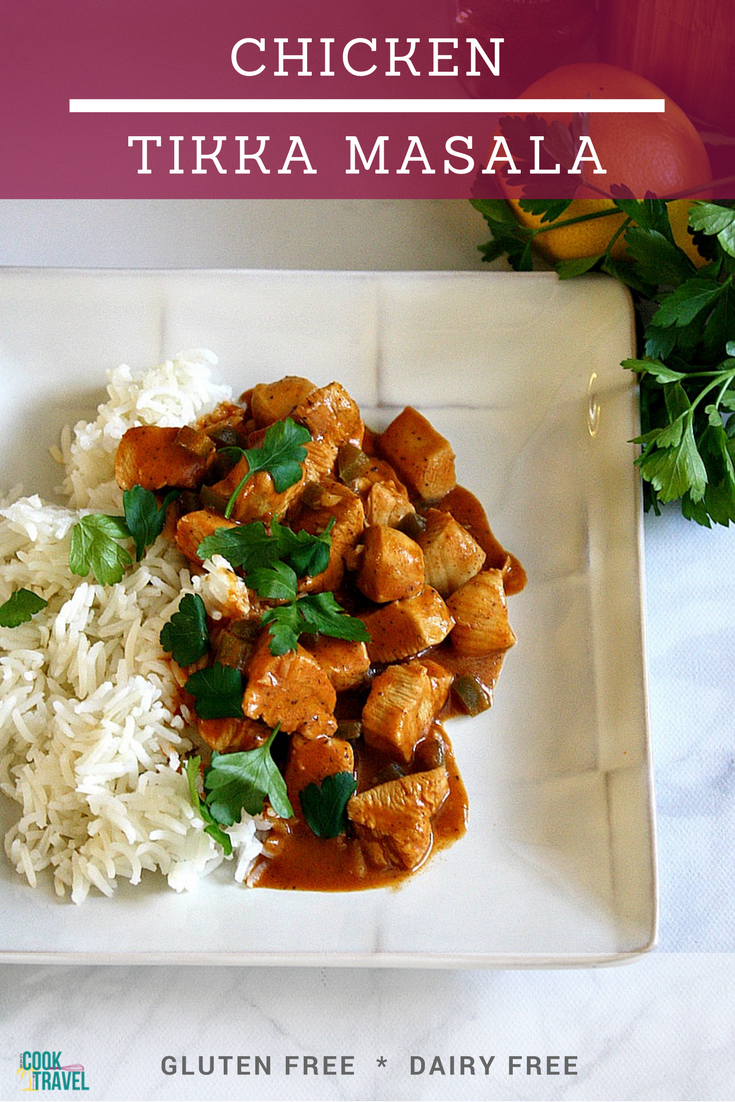 I'm seriously so happy I tried out this recipe and did something new. Indian food has this ability to almost make you feel taken care of, if that makes sense. It's gotta be the different spices they use that warm everything up. I have a feeling I'll be trying out more recipes just for an excuse to cook with garam masala more!
The tomato sauce is what gives an orange color to the dish, and adds a hint of sweetness. Although I didn't find it overly tomato-y, so that's good! And I loved how quick and easy this recipe was. You could even have the chicken marinating several hours which would make it even faster to make ahead. And it's a great excuse to eat basmati rice, because it's so tasty!
And if you've been on this blogging journey with me for a while, you know I'm a slight weirdo about chicken. Dealing with raw chicken and eating it leftover just isn't my thing. But I have to say that the leftover Chicken Tikka Masala was delicious!
So all that being said, you definitely need to check out this Chicken Tikka Masala recipe right away. Click that link for the recipe and step by step instructions! Happy eating!
A look back:
One year ago: Vanilla Nut Latte Protein Bites Make Snacking Delish!
Two years ago: Garlic Parmesan Cauliflower . . . It's the Right Thing to Do
Three years ago: Learning to Love Salads – Part 15: Kale Salad with Warm Cranberry Vinaigrette
Four years ago: Jalapeño Cream Cheese Poppers – An Appetizer I Can Get Behind
Five years ago: Chicken Enchiladas – Lightened Up Comfort Food
Six years ago: Granola Goodness


0