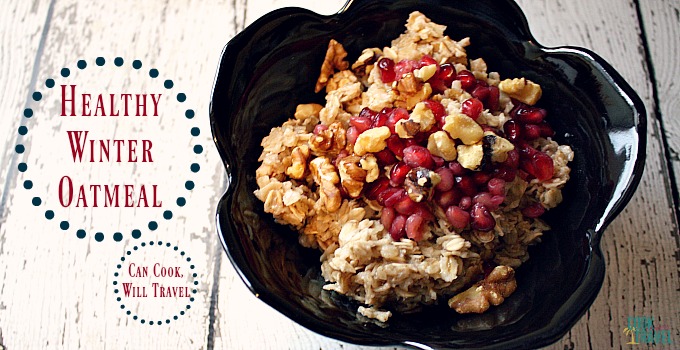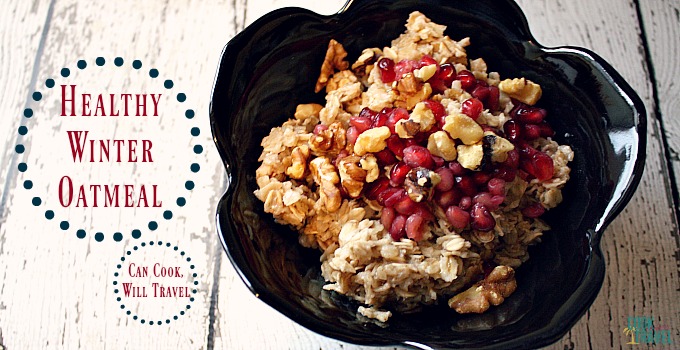 Winter Oatmeal Recipe – Step by Step Instructions:

This healthy Winter Oatmeal Recipe is simple, and it makes eating healthy at breakfast a total breeze. Here's what you'll need: Cane Sugar (I like it because it's not as processed but you can also use brown sugar), Almond Milk (or Milk of choice), Old-Fashioned Oats, Cinnamon, Salt, Vanilla Bean Paste (or vanilla extract), and Walnuts and Pomegranate Seeds for topping. Not pictured is all-spice, because it's optional and is a great way to add some extra warmth.

Grab a small, microwave-safe bowl and then add a cup of oats to the bowl.

Next you'll add 3/4 cup of milk to the oats, and I chose almond milk to be dairy free but you can choose your preferred milk.

Then add a about 1/4 teaspoon of cinnamon and vanilla bean paste plus 1 teaspoon of cane sugar and a pinch of salt.

Then stir the oats to combine all the ingredients. Your Winter Oatmeal Recipe is nearly ready, so you'll microwave the oats for 2-3 minutes or until the milk has absorbed and oats start to bubble.

Serve right away and top with a little milk for extra creaminess, sprinkle of cinnamon, 1-2 tablespoons of walnuts or almonds (my two favorite nuts), 1-2 tablespoons of pomegranate arils (if pomegranates aren't in season then dried cranberries are great), and a sprinkle of cane sugar or drizzle of maple syrup for extra sweetness. Enjoy this Winter Oatmeal Recipe right away! Happy healthy eating!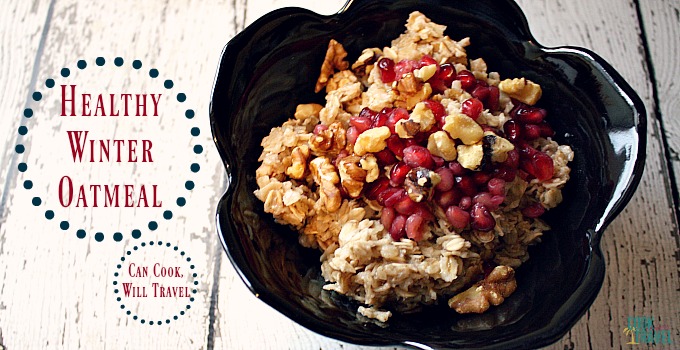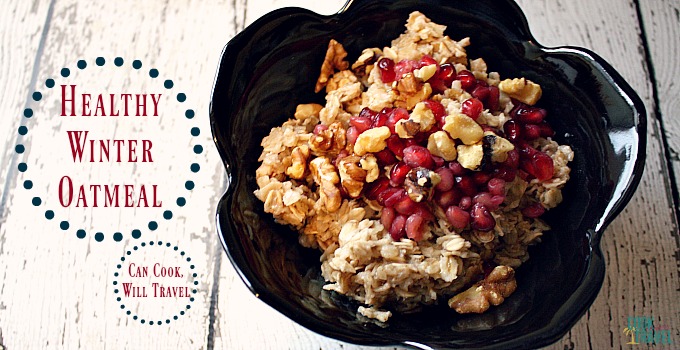 Healthy Winter Oatmeal Recipe
This oatmeal is versatile, super fast, and it couldn't be easier to make. While pomegranates tend to be found in the Winter, it's still the perfect breakfast any time of year if you substitute them for fresh berries or dried fruit.
Ingredients
1 cup Old-Fashioned Oats
¾ cup Almond Milk (or milk of choice)
1 teaspoon Cane Sugar (or Brown Sugar if you'd prefer)
¼ teaspoon Cinnamon
¼ teaspoon Vanilla Bean Paste (or pure vanilla extract)
Pinch of Salt
¼ teaspoon All Spice (optional)
Topping Options: Pomegranate Arils, Walnuts or Almonds, Maple Syrup, etc.
Preparation Instructions
Add the oats, milk, cane sugar, cinnamon, vanilla, and salt to a small microwave-safe bowl, and then stir to combine.
Heat the oat mixture in the microwave for 2-3 minutes, so that the milk is absorbed and the oatmeal starts to bubble.
Finally Serve right away and top with your favorite toppings.
Notes
In the winter I love pomegranate seeds, because they add a lovely crunch along with whatever nuts you have on hand. While you may love it as is, you can add a little sweetness in the form of a little sprinkle of cane sugar or brown sugar or pure maple syrup. I also like to add a splash of almond milk, because the milk helps cool the oatmeal down.
0