Happy July everybody, and welcome to another post in my Cookbook Love series! So every month I pick a cookbook and do a bit of a review on it, and it's been a great way for me to revisit what's on my bookshelf or buy one here or there that looks too good to miss. The latter reason brought the Love Real Food Cookbook by Kathryne Taylor into my life, and I'm pretty excited about it.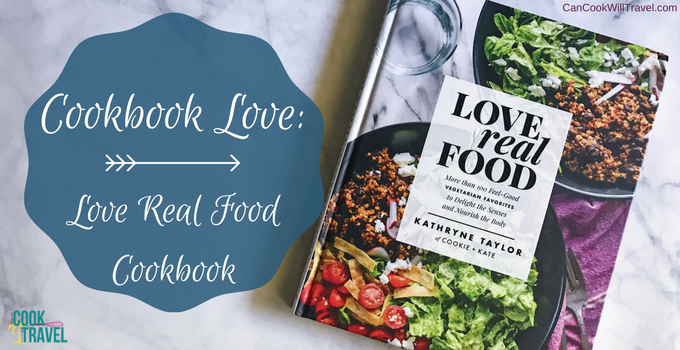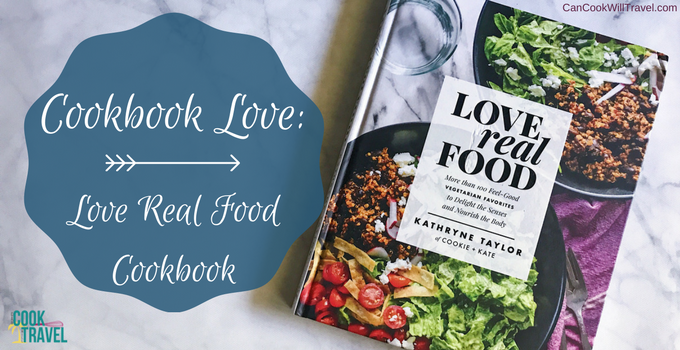 I actually found this cookbook in an Instagram story of all places thanks to the fab What's Gaby Cooking chef who happy to show it off. Flipping through the book made both Gaby and my mouths water I'm pretty sure, so I made a mental note!
When the cookbook arrived at my door, I wasn't totally sure what to expect when I flipped through it. Kathryne isn't someone I've followed honestly, so all I could really tell was that she was into whole food eating, which was enough to pique my curiosity.
But as I started flipping through this gorgeous book, I quickly realized that this book would be a perfect addition to my cookbook collection. And I have a feeling you'll agree!
Her recipes are not only stunning to look at, but are super healthy, which you know I've been focusing on a lot lately. While eating unhealthy food can seem like an easier option with our busy lives, it's actually just as easy to eat well. It's all about shifting your mindset to realizing that in the end your body does crave fruits and veggies.
I can attest that after my own healthy eating journey especially this year, I really don't crave fast food at all. (Okay maybe an occasional bean burrito at Taco Johns but that's truly it.) I have made some huge strides this year in my cooking and eating routine, and I'm excited to keep sharing that with you. And this Love Real Food cookbook naturally fits into what I've been doing.
Why Kathryne Taylor?
Well I didn't know, so I had to find out! Like I said, I was new to Kathryne and her blog called Cookie + Kate (named after herself and her dog). So off I went to explore her site, and her cookbook truly is an extension of her blog. It's clean, filled with gorgeous photos and recipes, and full of fun tidbits about the dishes and her life.
Kate is a vegetarian who celebrates eating fresh, whole foods and much like me, she's all about showing how fun cooking can be. Love that! She's had a food blog for many years and is lucky to do it full time, and is always keeping up on nutrition and healthy topics. Her healthy eating stems from health issues growing up that she took control of with a whole food, vegetarian diet.
So overall, I'd say Kate is a perfect person to feature, because she's just like us. Actually she also lives in Kansas City, which makes me excited to learn more. Also she's a self-trained cook like so many of us who enjoy our time in the kitchen. So she's completely relatable and shows us with her gorgeous cookbook that healthy eating can be flavorful and easy.
Love Real Food Cookbook Organization
When I say this cookbook is jam packed with stuff, that's no understatement! First off, it's huge with tons of content, so it's worth every penny you spend. You'll start off getting to know a bit about Kate's story (and Cookie's), and she really focuses on nutrition and helps you understand how to read nutrition labels. This section provides great content when the how's and why's of reading nutrition labels overwhelm you.
She provides info on what whole foods are, tips on cooking with them, and even includes info on feeding your dog. Then she walks you through how to read the cookbook, which I loved so as you flip through you know exactly what she means.
Then we dive into 7 chapters divided into meal categories. Breakfast, salads, and soups start off the book followed by happy hour worthy meals, main dishes to feast on and desserts of course! The seventh section named Extras talks about great sauces and dips that cover a wide range of cuisines that Kate loves to work with.
Finally the book ends with a Cooking Cheat Sheet that she encourages you to cut out and keep nearby. This section bursts with tips on cooking grains, conversions, tips on baking, and her go-to recipes from the book. I love the next section that is about menus and recipe lists to give you ideas of recipes to try for specific events like picnics, cookouts, parties, and game days. And as all respectable cookbooks should, this one ends with an index that will having you flipping from spot to spot with ease and inspiration!
What's to Love About the Love Real Food Cookbook (A Lot!)
Drool-worthy photography – Seriously this is so important since we eat with our eyes first, and her recipes are gorgeous!
Huge range of recipes – Over 100 recipes Kate heavily tested to ensure that the flavors are perfect for her readers.
Cooking Cheat Sheet – I love that she encourages cutting out the cheat sheet and it becomes a standalone resource.
Meal Plan Suggestions – How often have you been in desperate need of a dish to bring to an event/party? This is a great reference to find something fast!
Recipe Structure – Every recipe has a little intro to give some insight on the dish or tips. The ingredient list shows you just what you need and will include notes. So if there's specific ingredients you need like a full fat versus light version for the best end product. And the instructions are clear, easy to read, and have lots of detail so you know what to expect.
Dietary Info on Every Recipe – I adore this part as she lets you know if a recipe is gluten free, dairy free, vegan, egg free, nut free, or soy free. And when possible, she'll give you substitutes to make it gluten free, for ex, by using a different flour.
"Change It Up" Notes – Cooking should be fun and versatile. So Kate encourages you with these notes to try different ingredients or throw in something new to add your own flair.
Love the Ingredients – On my healthy eating journey I've adopted many of the ingredients that Kate features in this book. So you'll find coconut milk, oil, and sugar plus honey, pepitas (raw pumpkin seeds), almond butter, and so on.
Crave-Worthy Love Real Food Recipes:
Mango Lassi Smoothie Bowl with Toasted Coconut Muesli – It sounds too fascinating NOT to try!
Trail Mix Granola Bites – Talk about handy for a road trip or easy snacking.
Banana Coconut Pancakes – Everything about this sounds super yummy!
Creamy Cashew Chai Lattes – I am loving how versatile cashews are, so I can't wait to try this drink.
Kale, Sweet Potato, and Feta Scramble – She had me at "kale", really.
Fresh Taco Salad – Because the flavors and ingredients sound amazing!
Butternut Squash Chipotle Chili – This sounds like my kind of chili with tons of veggies and spices!
Roasted Summertime Salsa – I love making my own salsas and dips. So let's face it, roasting nearly any fruit or veggie makes it better!
Guacamole with Toasted Pepitas and Chipotle Sauce – Every foodie cell in my brain is curious about this one!
Spicy Cucumber Margarita – Yep, she had me at "spicy" this time!
Colorful Weeknight Burrito Bowls – I love a bowl filled with healthy foods, so this is a no brainer for me.
Beans and Greens Quesadillas – Quesadillas are a great meal for something light, and this one looks divine!
Roasted Cauliflower and Kale Spaghetti with Toasted Almonds – Any excuse to enjoy healthy pasta, and I'm in!
Peanut Butter Chocolate Chip Cookies – These aren't your mama's traditional chocolate chip cookies, and they look fab!!
Banana Pecan Shakes – Sounds like a great excuse to bust out my Vitamix and enjoy a sweet treat!
Honestly I could have probably tripled that list with the amount of delicious looking recipes here. So definitely do yourself and your waistline a favor, and go grab the Love Real Food book. You can grab it here at Amazon.com like I did, and soon you'll be ooh-ing and ahh-ing along with me.
When the day comes that I create a cookbook, and that day will come, I envision a similar setup. I love the tips, info, and dietary info Love Real Food includes. Plus it's such a great way to show how fun cooking can truly be with great ingredients.
Have I convinced you to grab the Love Real Food cookbook and check out the Cookie + Kate website yet? I'd love to know what you think and what recipes sound amazing to you! What kinds of foods are you wanting to cook more with this year and beyond? Comment below, and let's continue the convo!
Stay inspired & let's eat real food!
~Kelli
1