(This Maca Almond Protein Balls is inspired off of this recipe that's also delicious!)
Step by Step Instructions:

Maca Almond Protein Balls will be yours in a flash, so here's what you'll need: Coconut Oil, Maca Powder, Medjool Dates, Almond Butter, Chia Seeds, Collagen Peptides, & Protein Powder.

Start off by bringing a small pot of water to a simmer.

Then place the dates in a bowl.

Then pour enough water over the top to full cover the dates and let them soak for 5 minutes.

While the dates soak, put about a teaspoon of coconut oil in a microwave-safe dish.

Heat the oil for about 30 seconds or until the oil melts completely.

After 5 minutes, then remove the dates from the water and cut them in half to remove the seed. Quarter the dates so they process more easily and then discard the seeds.

Then add all of the Maca Almond Protein Balls ingredients to the food processor including the dates, 4 T. almond butter, 1 scoop each of protein powder & collagen peptides, 2 t. chia seeds, 1 t. maca powder, and the melted coconut oil.

Blend until the mixture is well combined and can be formed into a ball. I made my Maca Almond Protein Balls about 1 to 1 1/2 teaspoons in size, and I press the mixture together in my hands until they can easily be rolled into a ball. If you find that they're too dry, just add a little more coconut oil to them and process again until they are the desired consistency. Enjoy the Maca Almond Protein Balls right away or refrigerate for snacks throughout the week!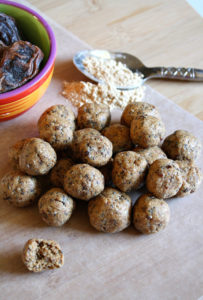 Print
Maca Almond Protein Balls
Yield 24 protein balls (approx)
These clean eating snacks come together in a snap and are the perfect way to curb your hunger throughout the day.
Ingredients
Protein Ball Ingredients:
Instructions
Begin by heating hot water and then pouring it over the dates to soften them. Let the dates soak, and then remove the seeds and stems and cut into quarters.

 

In a food processor add all of the ingredients, and then process until the mixture is well combined and can be formed into balls.

 

Use your hands to press 1 to 1 1/2 teaspoons of the mixture together until you can easily roll it into a ball. Enjoy immediately or refrigerate for later.
Courses Snacks
Cuisine Healthy
Nutrition Facts
Serving Size 3 protein balls
Amount Per Serving

Calories 128

% Daily Value

Total Fat 5 g

8%

Saturated Fat 1 g

5%

Unsaturated Fat 4 g

Sodium 42 mg

2%

Total Carbohydrates 14 g

5%

Dietary Fiber 2 g

8%

Sugars 11 g

Protein 8 g

16%
* Percent Daily Values are based on a 2,000 calorie diet. Your daily values may be higher or lower depending on your calorie needs.
0