So the past couple of weeks have been a bit crazy with work. And this week I was wanting to make something that was fun, different, a bit comfort food-y, and allowed me to get my hands dirty and play in the kitchen for a while. That's when I remembered this recipe I saw on Pinterest for Coconut Crusted Chicken Strips that I thought would be the perfect chance to zone out and cook.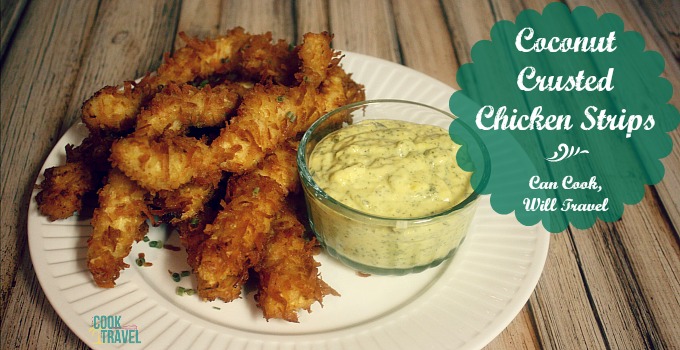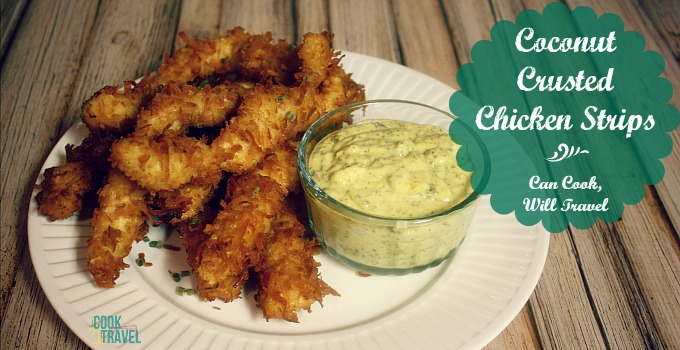 Oh. Holy. Coconut. These Coconut Crusted Chicken Strips were amazing!! They were this great combo of crunch, juicy chicken, plus a touch of sweetness, and were a total hit for dinner this week. And the honey mango dipping sauce was just icing on the cake.
If you have followed me long, then you know that for some reason I don't mind dealing with meat except for raw chicken. It really grosses me out, so the fact that this week I did just that must mean that this dish was stellar. So yes, I handled raw chicken just for you. Totally worth it, btw! This chicken dish ranks right up there with some of my favorite chicken recipes from my blog including Firecracker Chicken & Hummus Crusted Chicken.
This dish is pretty easy to throw together but it will take some time to fry it up. You'll trim and slice the chicken breasts into strips, and toss them with a mixture of salt, pepper, curry powder, and cayenne pepper. Then you'll start the breading process. First the chicken gets coated seasoned flour (seasoned with the same spices), then in egg, and finally in shredded coconut.
Once all of the chicken is well coated . . . into the 350 degree oil it goes. I used canola oil, which worked great. And you'll want to fry them for about 2-4 minutes turning once until the chicken is a lovely dark brown.
Let's chat about frying for a sec. I know it gets a bad rap, and eating fried food every day certainly isn't a great idea. But if you fry your food at the right temperature, you'll find that it doesn't soak up much oil at all. For example, with this dish I filled my pot half full with oil, and after all of the frying was done, nearly all of the oil remained in the pot. Meaning the chicken didn't absorb it but just cooked in it. So frying isn't always such a bad thing.
Once your chicken is cooked, whip up the sauce. I found it so easy to do by having all of the ingredients measured out and waiting for me. Just combine mayo, thawed mango, cilantro, honey, lemon juice, and curry powder in a food processor and blend until the sauce is pretty smooth. That's it. You can make the dipping sauce ahead of time too, if you'd like.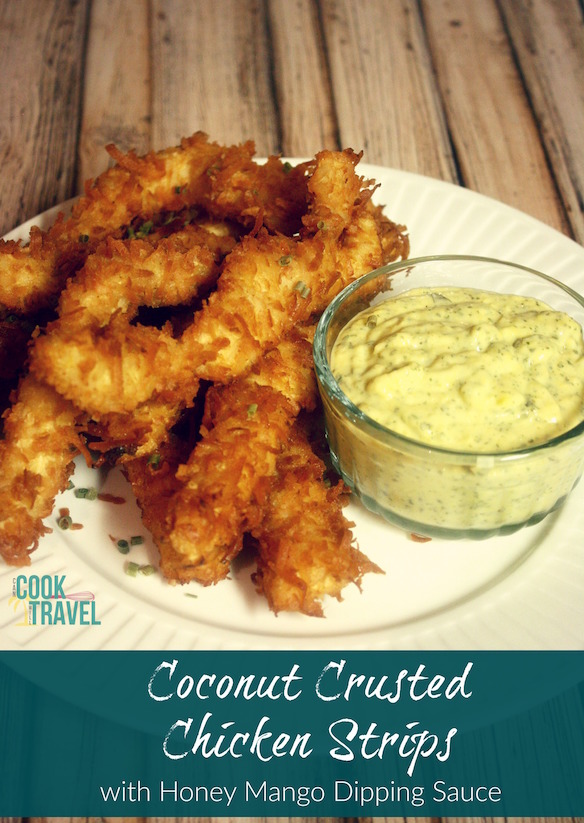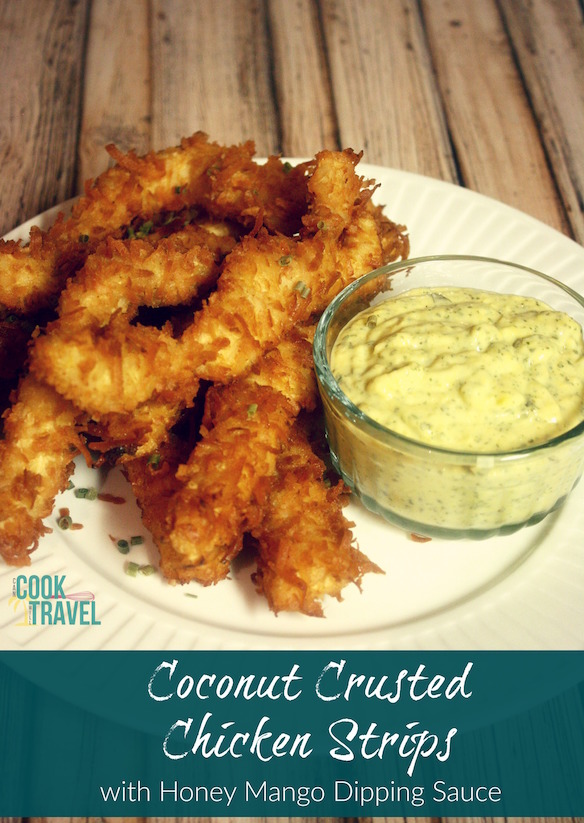 I could go on and on about how delightful these Coconut Crusted Chicken Strips are. First off, I knew it was going to be good just based on the ingredients. But when I smelled the chicken cooking, my thoughts were confirmed. You could smell the curry and the coconut flavors and I felt transported to an exotic restaurant. Suddenly I was missing civilization a bit more and wanting to go out for Indian food.
The chicken was so juicy and perfectly cooked and the crunch of the crust made for a great balance of textures. And then dipping it in the sauce, sent this dish over the edge. Honestly, the sauce isn't a must because the chicken is fab on its own, but the honey mango sauce is definitely a winner. Even my dad (who never cooks other than eggs and bacon) was curious what was in the dipping sauce.
So drop what you're doing, and go out and make this Coconut Crusted Chicken Strips recipe ASAP. You and your favorite carnivores will thank me! Click that link for the recipe and step by step instructions. Happy frying!!
A look back:
One year ago: Bacon and Brussels Sprouts Macaroni and Cheese = One Satisfying Dish
Two years ago: Warming Slimdown Soup = Guilt-free Soup for Me!
Three years ago: Shrimp & Grits . . . Why Not?!
Four years ago: Not Your Average Chicken Soup . . . Lemon-Tarragon Chicken Soup
Five years ago: Fish Tacos . . . Uh, Yes Please!
1