Brrr, it suddenly got chilly again in the Midwest, so soup was definitely in order. But what kind of soup? I was needing something light, loaded with veggies, and low on carbs (ie – no pasta or rice this time). With a big vacation coming up, it was time to be good and not cheat too much this week on bad food. I think I'll allow myself two "bad" meals, because honestly if I didn't indulge occasionally I'd go bananas. So that's when this Warming Slimdown Soup from Tone it Up found me.
Warming Slimdown Soup just sounds good for you, doesn't it? And Tone it Up is a great fitness and nutrition site that is always sharing great ideas, recipes, and workouts. Check it out if you're into that sort of thing.
But back to the soup. It's exactly what I needed…it was chock full of veggies and chicken in a chicken broth. Veggies included carrots, parsnips, chickpeas, scallions, and mushrooms. The chicken was one chicken breast from a rotisserie chicken. I removed the skin and shredded it with my fingers. It was super lean. I seasoned the broth with fresh thyme and rosemary, salt & pepper, garlic, and hot sauce.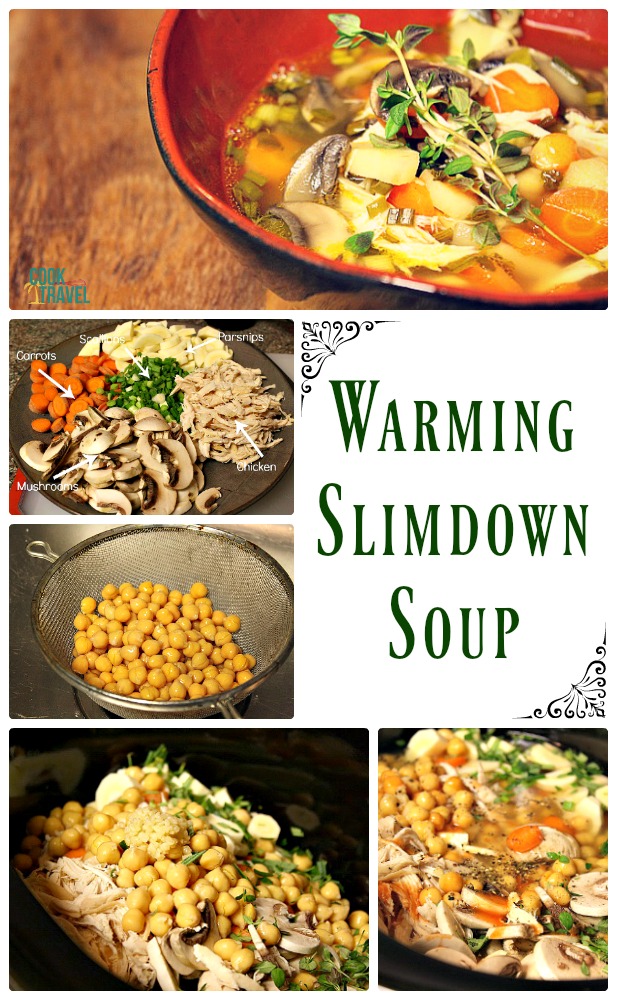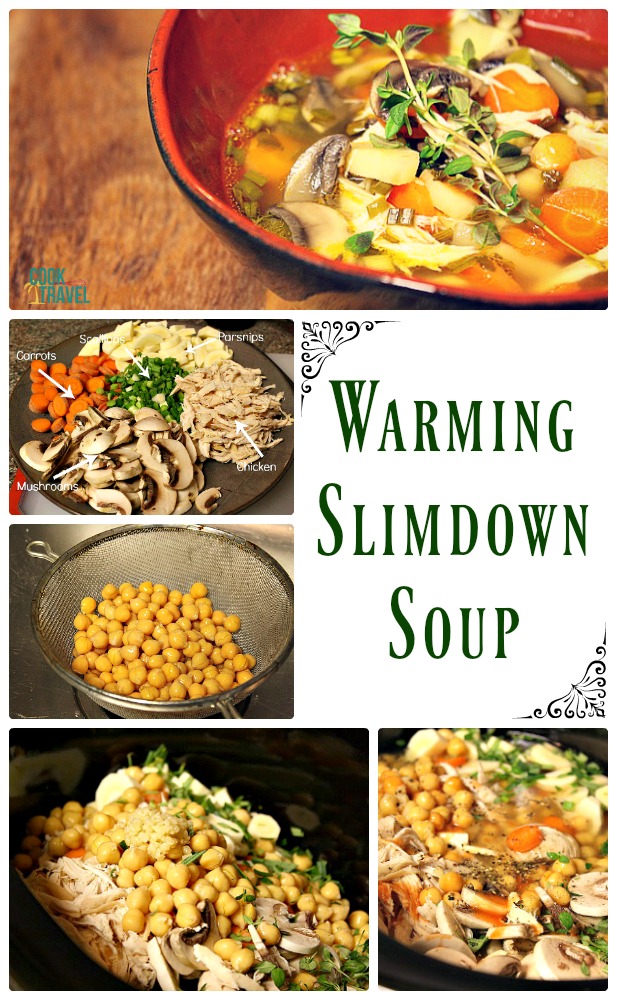 I have been eating on this soup for a couple of days now, and surprisingly I don't even notice the lack of pasta or rice. Honestly I prefer rice and pasta to add some extra body and texture to my soup, but the parsnips did a great job of taking the place of my favorite carbs. This was filling, flavorful, and totally crave-able.
Ooh I forgot the best part…it's made in the crock pot! So all you do is prep your veggies, chicken, and herbs, then add the olive oil (just a tablespoon) to the crock pot that is on high. Follow that with all of the other ingredients, and stir it up. Cover it and cook on high for 4 hours, and it's fabulous. Top the soup with a little extra fresh thyme and some more Frank's hot sauce. I also love Jalapeno Tabasco sauce, which would be equally as good for a slight kick.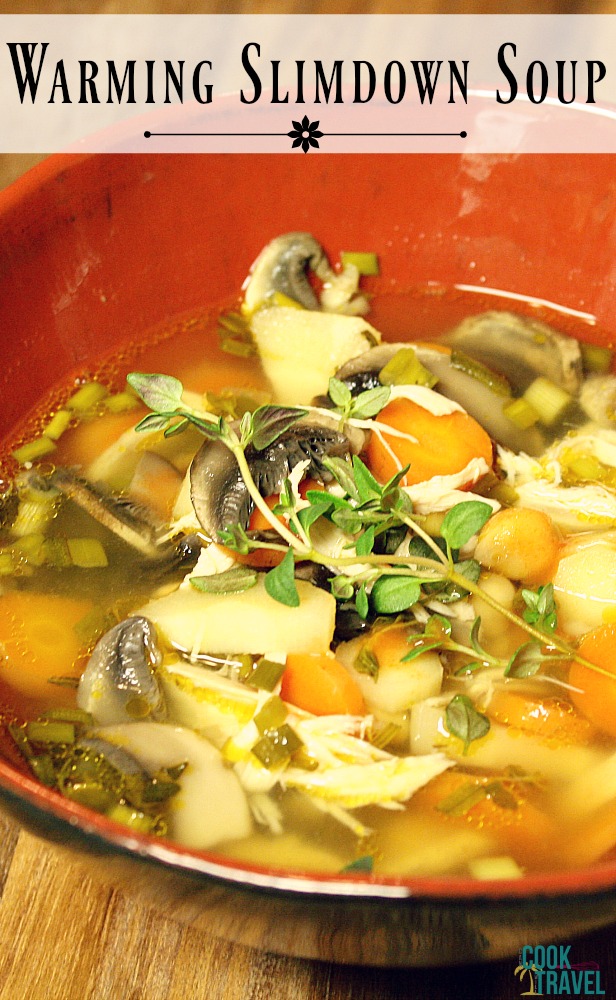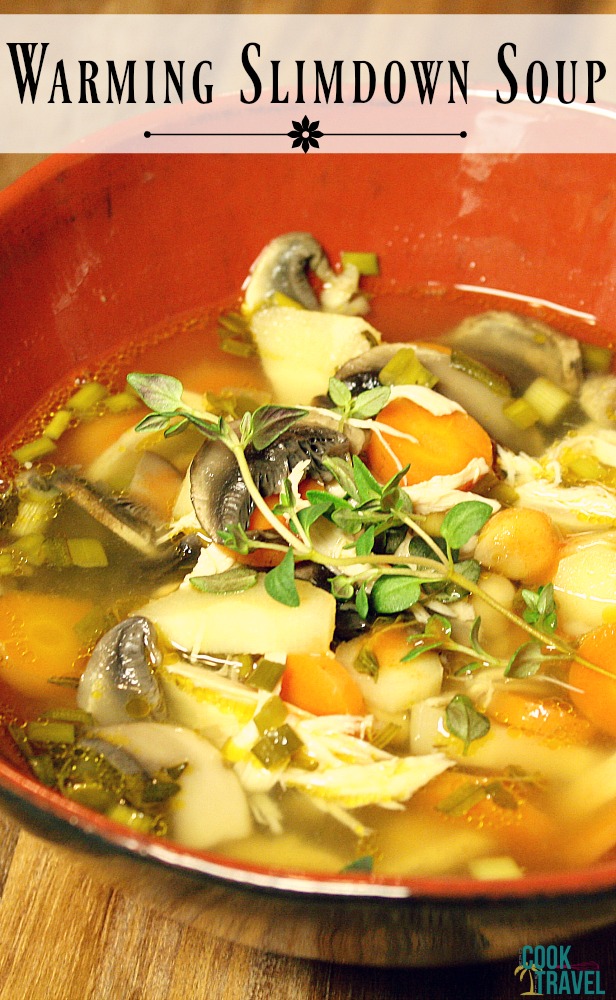 So since soup is really good year round, and eating healthy is one of those fads that will never really go out of style…well this recipe is definitely one to hold on to. Click here for the Warming Slimdown Soup recipe and step by step instructions.
A look back:
One year ago: Shrimp & Grits…Why Not?!
Two years ago: Not Your AverageChicken Soup…Lemon-Tarragon Chicken Soup
Three years ago: Fish Tacos…Uh, Yes Please!
1