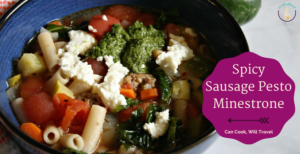 Spicy Sausage Pesto Minestrone
Yield 10 servings
This healthy and super flavorful soup is packed with veggies plus sausage for some spice, and I've added gluten free pasta as well.
Ingredients
Soup Ingredients
1 t. Grapeseed Oil (or olive oil)
Package of Sausage (your favorite kind)
1 T. Red Pepper Flakes (or your preferred level of heat)
1 cup Onion, diced
2 Carrots, diced
1 Celery Stalks, diced
1/2 cup cut Green Beans, frozen
1 medium Zucchini, diced
2 cloves of Garlic, minced
1 t. Dried Thyme
1 t. Dried Basil
4 cups low-sodium Chicken Broth (or vegetable broth)
2 cups Hot Water
28 oz. Canned Diced Tomatoes (do not drain)
1 can Cannellini Beans, drained and rinsed
1 can Red Kidney Beans, drained and rinsed
2 Bay Leaves
Favorite hot sauce, to taste
Jalapeño Tabasco sauce, to taste
Favorite Pasta (I used a gluten-free kind by Trader Joe's)
2 cups Kale, ribs removed and cut into bite-sized pieces
Pesto, garnish (this is optional and I found a yummy vegan one at Trader Joe's that I used)
Goat cheese, garnish (optional)
Instructions
Get your minestrone started by making sure all of your veggies are cut, so they're ready for you. Then heat a large pot over medium heat with 1 t. Grapeseed Oil. Add the sausage to the pan along with 1 T. red pepper flakes to make the sausage spicy, and then cook for about 8 minutes or until the sausage is brown. Then drain off any excess oil in the pot.

 

Add the onions, garlic, celery, carrots, green beans, and zucchini to the sausage, and then cook for 2-3 minutes. Once the onions start to become translucent, add about a teaspoon each of dried thyme and dried basil. Then stir and cook another minute.

 

Add the broth, water, diced tomatoes, bay leaves, plus the drained and rinsed beans to the pot and then stir. Bring the soup to a light boil and then reduce the heat to a simmer and cook for at least 20 minutes.

 

While the soup simmers, cook your pasta according to the package instructions. Then when the pasta is al dente, drain it in a colander, rinse it with cold water, and then toss with a little extra-virgin olive oil so that it keeps the pasta from sticking.

 

After the soup finishes simmering, add the 2 cups of kale to the pot and then stir and cook another 2 minutes.

 

To serve the soup, add 1/2 cup of pasta to a bowl, ladle in the soup over the pasta, and stir. Then top with 1 T. of pesto and a few crumbles of goat cheese and enjoy!
Notes
Quick Tip #1: Be sure to make the pasta in a separate bowl, and then store it separately in the refrigerator. If you leave it in the soup, it'll cause the soup to become really thick. I like to store my pasta in a plastic bag.
Quick Tip #2: Keep it dairy free by removing the goat cheese and using a vegan pesto (I picked up a great one at Trader Joe's). Keep it gluten free by using gluten free pasta and making sure your sausage is gluten free.
Courses Dinner
Cuisine Soup
Amount Per Serving

Calories 340

% Daily Value

Total Fat 11 g

17%

Saturated Fat 4 g

20%

Cholesterol 25 mg

8%

Sodium 923 mg

38%

Total Carbohydrates 43 g

14%

Dietary Fiber 7 g

28%

Sugars 6 g

Protein 15 g

30%
Recipe by Can Cook, Will Travel at https://cancookwilltravel.com/spicy-sausage-minestrone-heats-kitchen/