Oh holy f*ck! Sorry to start off that way, but hey I curse like a sailor and that was my first reaction after bite #1 of these Spicy Chicken Flautas. #SorryNotSorry Honestly as I devoured these spicy bites of goodness, I couldn't believe that I'd managed them without a speck of dairy.
You will find in the recipe post for these Spicy Chicken Flautas that I picture goat cheese, which is optional if you want some cheese in your life. Truthfully I totally forgot about the goat cheese, so it really doesn't need it. In fact I probably would have felt a little guilty if I'd added it, so go me!
Now I know that I cooked a lot of dairy free goodness last year (okay that's all I made last year). But I really thought in 2018 I'd be phasing dairy back into my life. However I'm still finding it something that I might indulge in when I eat out, but that's really it. I love cooking without milk products at home, because it's SO easy.
The past 5 months I've been STRESSED, and that has really played out on my face. So I finally prioritized my complexion, which I have never done, and went to see an aesthetician. In chatting with her, she validated my thoughts that while the products I use are extremely important, so is the stuff I put in my body. And dairy is on the list of foods that can cause break outs to become worse, so sticking with this dairy free eating style is still very much on my radar.
I hadn't made a main dish in a while, so I knew that was what I would make next. And these Chicken Flautas from Mission Taco here in KC keep popping into my brain. So off I went to make my own kickass version, and these Spicy Chicken Flautas came into being.
Making these flautas as healthy as possible and also dairy free were my main priorities. So I wanted to avoid frying them and also avoid cream sauces and chihuahua cheese like Mission Taco used.
Here's what I did to make these Spicy Chicken Flautas uber healthy:
Poached my chicken, which means no unnecessary oil.
Used Tortilla Land tortillas, which let me cook the tortillas and get color on them without oil of any kind.
I think Kite Hill jalapeño cream cheese (made dairy free thanks to almond milk) is my diary free spirit food. Dear GOD it's spicy and fabulous!
I made cashew cream with 2 varieties: Lime for brightness and Sriracha for heat.
What I particularly love when cooking is being able to make things in advance, which you can totally do here. I poached and shredded my chicken a la the method from this recipe the night before. The day before I made these Spicy Chicken Flautas, I made the cashew cream (using this recipe and stopping before adding lime) and divided it into two containers.
Then the day of all I had to do was add lime to one cashew cream and Sriracha to the other. Heat the chicken and veggies through, so that the Kite Hill cream cheese and lime cashew cream can mix in thoroughly. Then spoon the filling into the center of a tortilla, roll the tortilla, and heat it on all sides until they brown.
Literally one bite of these had me wishing that I'd waited to make them for dinner so I could invite my boyfriend over. They're THAT good that I think he would have loved them. Hey, I've got leftovers, so I still may do that! 😉
I'm doing everything I can to not go whip up another one, because they're so fabulous. So I can't wait for you to make these Spicy Chicken Flautas for yourself. They don't require a ton of stuff, so you'll be enjoying them in no time. Click that link for the step by step photos, so you can whip these up to perfection. Happy eating!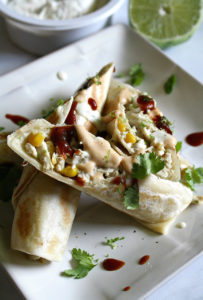 Print
Creamy Chicken Jalapeño Flautas
Yield 6 flautas
Holy healthy cooking - I'm obsessed with these flautas and I bet you will be too! They're dairy free, simple to make, and jam packed with flavor!
Ingredients
Flauta Ingredients
2 Chicken Breasts, cooked & shredded (I used the method in this recipe)
Avocado Oil (Or oil of choice)
1 Large Shallot, diced
1/2 cup of Frozen Corn
Salt & Pepper, to taste
1 t. Garlic Powder
1 t. Cumin
Recipe of Crema (Use this recipe stopping before adding the lime)
Juice and Zest of Half a Lemon
1 T. Sriracha
2 oz. Kite Hill Jalapeño Cream Cheese
6 Tortilla Land Flour Tortillas
Garnishes & Sauces:
Barbecue Sauce of choice
Sriracha Crema
Lime Crema
Cilantro, optional
Goat Cheese, optional
Instructions
Prep in advance: Go ahead and get your chicken poached and shredded and also the cashew cream made in advance, so you save time. A note on the cashew cream is that I used the Mexican Lime Crema recipe here, and stopped before adding the lime. Then I divided it into 2 containers.

 

Chopping: Begin by finely dicing the shallot and setting it to the side, so it's ready for you.

 

Two Cremas: Then move onto the cremas. In the first container add the zest and juice of half a lemon, and then stir until it's well combined. (Note that I zested the whole lime and used more zest for garnish.) Then in the second container add about a tablespoon of Sriracha and combine.

 

Cooking Filling: Spray a skillet over medium low heat with cooking oil (I used spray avocado oil), then add the shallots and 1/2 cup of corn to the pan and cook stirring regularly until the shallots are translucent. Then add salt & pepper along with 1 teaspoon each of cumin and garlic powder and stir. Finally add the chicken and combine to heat the chicken through, and add more seasonings if you'd like.

 

Assembling Filling: Transfer the chicken mixture to a bowl and let it cool for 2 minutes. Then add about 2 ounces of Kite Hill jalapeño cream cheese along with 2-3 tablespoons of the lime crema. Stir it really well and add more cream cheese and crema if it's not very creamy.

 

Assembling Flautas: Lay the tortilla flat and spoon about 1/4 cup of the filling along the center of the tortilla. Then carefully roll it tightly. You can make these to order or cook them all at once, so repeat and make as many flautas as you'd like. (Note that I'm using these amazing uncooked flour tortillas, but if you use regular ones then you'll want to spray them with a little cooking spray so they crisp up a bit when cooking.)

 

Cooking Flautas: For the raw tortillas, heat a pan over medium heat with NO oil. Then cook the tortilla on all sides so they are brown and crisp up. The first flauta will take the longest as the pan heats and may be about 30-90 seconds per side. You'll want to keep an eye on them as they cook, so they don't burn and brown just right.

 

Serving: Cut the finished flautas on a diagonal and serve with the 2 cremas along with your favorite BBQ sauce, fresh cilantro, and lime zest for garnish. Enjoy!
Notes
Quick Tip #1: Save time by poaching your chicken and shredding it in advance. And whip up the cremas in advance too, if you want. You can even mix in the lime and sriracha to the 2 containers of crema to save time.
Quick Tip #2: The Tortilla Land tortillas aren't in every store, so search their store finder to find them near you. I love working with this fresh ingredient, but regular flour tortillas are fine in a pinch. You'll just want to be sure to spray them with a little cooking spray when cooking them in the pan so they brown and crisp up on the outside.
Quick Tip #3: The Kite Hill cream cheese style spread is kinda life changing, so definitely find it if you can. Otherwise jazz up dairy free (or regular) cream cheese with some jalapeños you've sautéed to bring the heat.
Quick Tip #4: Leftovers heat up really well, so don't be afraid to double the recipe or just make what you want at the time if you're serving one. It's also great portion control that way, so you're welcome!
Courses Main Meal
Cuisine Mexican
Nutrition Facts
Serving Size 2 flautas
Amount Per Serving

Calories 459

% Daily Value

Total Fat 15 g

23%

Unsaturated Fat 7 g

Cholesterol 11 mg

4%

Sodium 625 mg

26%

Total Carbohydrates 58 g

19%

Dietary Fiber 3 g

12%

Sugars 2 g

Protein 26 g

52%
* Percent Daily Values are based on a 2,000 calorie diet. Your daily values may be higher or lower depending on your calorie needs.
A look back:
One year ago: Beef and Broccoli Ramen for the Win!
Two years ago: Baked Ravioli is Amazingly Easy & Delightful!
Three years ago: Chia Peanut Butter Protein Balls Make Clean Eating Oh So Good!
Four years ago: Quinoa Strikes Again with a Quinoa Berry Breakfast Bowl!
Five years ago: Sweet and Savory Appetizers
Six years ago: In the Name of Tuna
Seven years ago: Paella . . . A Gastronomic Delight
0