Fellow pasta lovers and busy people, this post is for you (and me)! Because nothing makes me happier than a seriously delicious pasta dish that is insanely easy to make. And this Baked Ravioli dish absolutely fits the bill.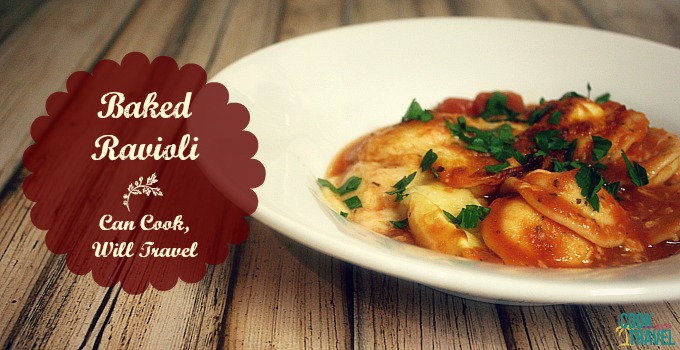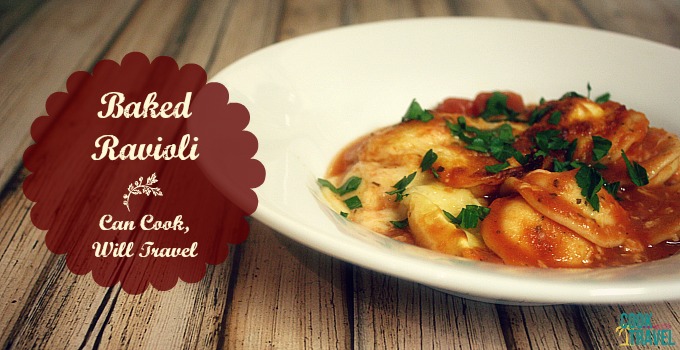 Here I was perusing Pinterest and looking for a new favorite pasta dish to add to my cooking arsenal, and the photo from Budget Savvy Diva for Baked Ravioli popped up and it looked pretty darned yummy. And it wasn't until I started looking at the recipe that I saw how crazy easy this was going to be.
But the recipe was a bit different than how I usually cook ravioli. I'm used to boiling water, cooking the ravioli, then doing "something" to it. But not this time.
In a 9×13 pan, you'll combine pasta sauce, a whole can of diced tomatoes, and water in the bottom. Then layer in frozen ravioli, mozzarella, another layer of frozen ravioli, more mozzarella and shredded Parmesan cheese. And bake it for 45 minutes.
That's it. Yep, it's really that easy.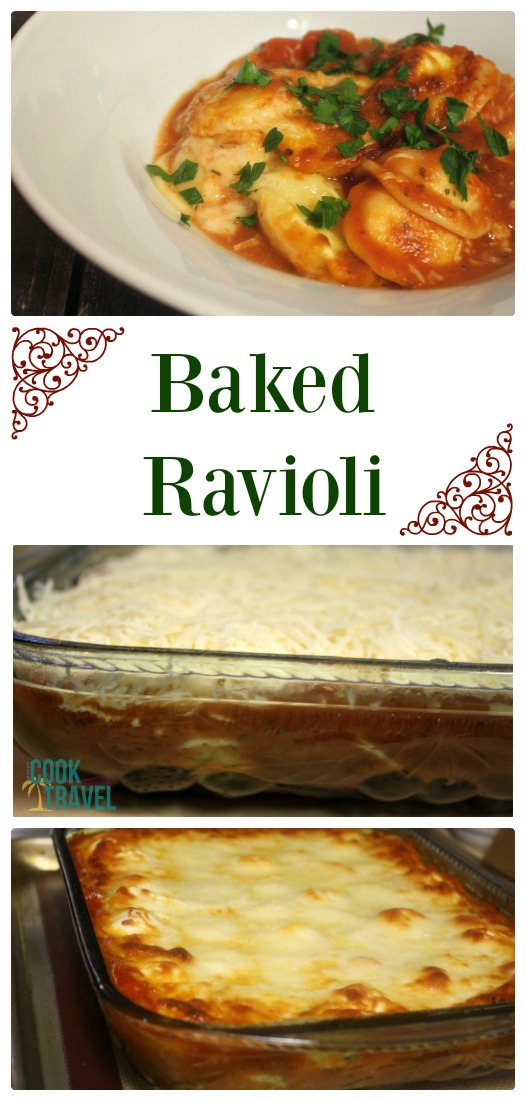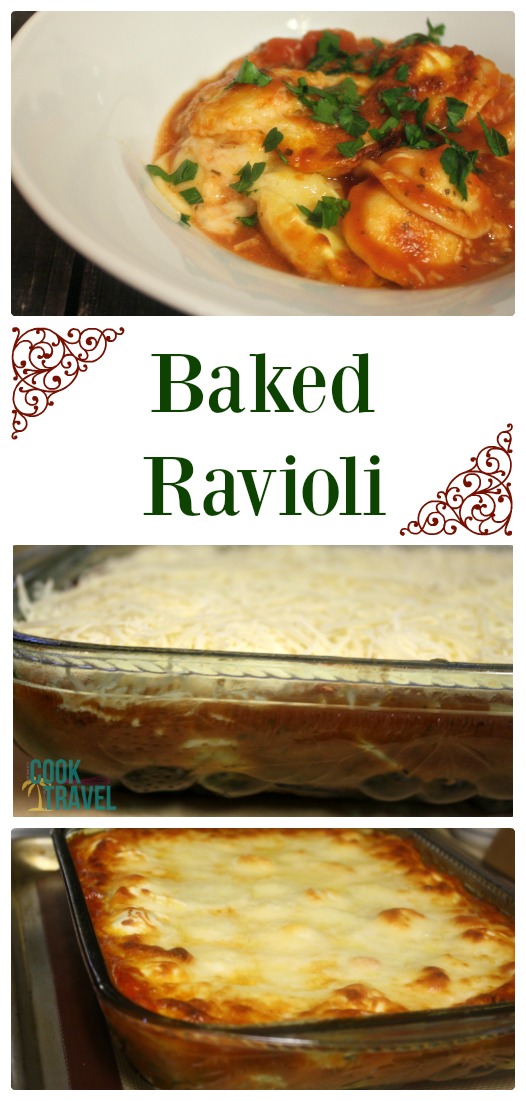 So there I sat waiting the 45 minutes wondering if this would work. I mean in theory it made sense. How many frozen meals have you and I eaten in our lives that are cooked similarly? A bunch for me! Sure enough the ravioli cooked like a charm and the Baked Ravioli was ready to dig into immediately.
Top it with some chopped parsley (or basil would be fabulous too) and grated Parmesan cheese, and enjoy. Oh and you will enjoy! My mom and I had this for dinner and I think we were both pleasantly surprised by how yummy it was.
First off the Baked Ravioli has a really nice crust from baking so long, which adds great flavor. The ravioli is perfectly cooked and isn't tough or chewy. And the addition of the can of diced tomatoes makes this feel like a homemade dish that you slaved away on for hours, when in fact you had this combined and in the oven in about 5 minutes.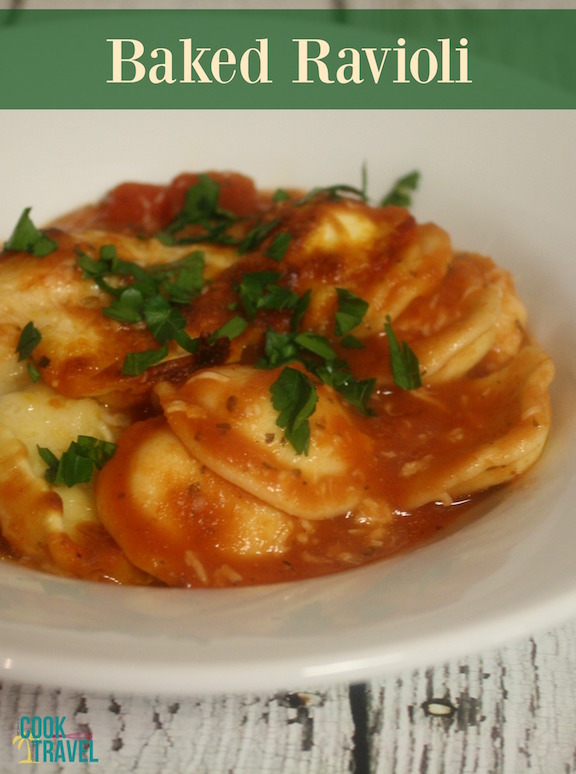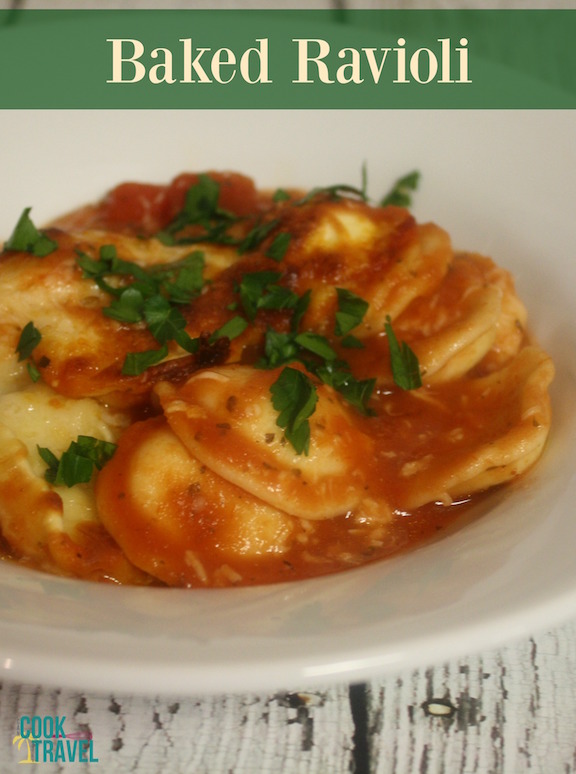 So not only is it really, really good, but it's literally the perfect weeknight meal when your week is feeling crazy. Serve it with a salad and dig in! And play around with what ravioli you want. These days you can buy lots of different varieties. I went with a cheese ravioli for my first attempt, but beef or mushroom ravioli would be a fun switch up too.
Go on now and click away for the Baked Ravioli recipe and step by step instructions and get this on your cooking to-make list ASAP. Trust me, you'll be thrilled you did! Happy ravioli baking!
A look back:
One year ago: Chia Peanut Butter Protein Balls Make Clean Eating Oh So Good!
Two years ago: Quinoa Strikes Again with a Quinoa Berry Breakfast Bowl!
Three years ago: Sweet and Savory Appetizers
Four years ago: In the Name of Tuna
Five years ago: Paella . . . A Gastronomic Delight
0