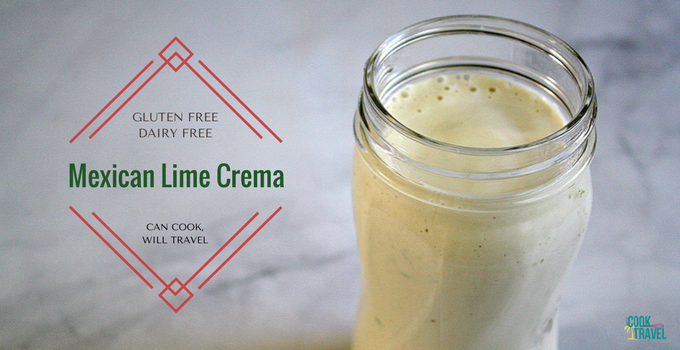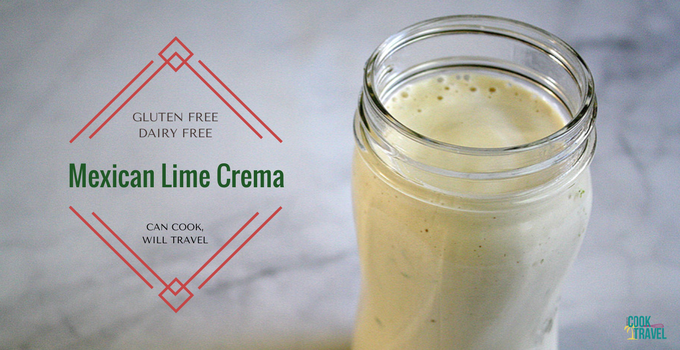 (This Mexican Lime Crema is inspired by this recipe, so click to learn more at the site Nurture My Gut here.)
Step by Step Instructions:

You will never look at a simple sauce the same way again thanks to this Mexican Lime Crema, so here's what you'll need: 1 Lemon, 1 Lime, 1 1/2 cups of Cashews, Coconut Water, 1 Garlic Clove, and Salt (I went with pink Himalayan sea salt). (And no, you don't need apple cider vinegar, but it was feeling lonely and wanted some camera time – LOL.)

Start off by adding 1 cup of coconut water to your high speed blender, and you can use a food processor as well if you'd rather.

Now add your cashews to the blender, and if you don't have a high speed blender you can soak your cashews in hot water for 20 minutes. Then rinse and drain them and you're good to use them as they're more softened.

Toss in 1 garlic clove that has been peeled with the step end cut off, and then add about 2 tablespoons of fresh lemon juice, which will be about 1 lemon juiced.

Flip on the blender and start processing, and turn up the speed until the cashews are totally combined.

You'll know you're done, because the Mexican Lime Crema sauce is completely smooth and thick and creamy.

Now we're going to add the lime to this Mexican Lime Crema recipe by adding the zest of half a lime.

Use a spoon or spatula to fold in the zest, and then enjoy it right away or else store the Mexican Lime Crema in a container, cover, and refrigerate. You'll be enjoying this Mexican Lime Crema on literally everything because it is SO good, so happy crema making!!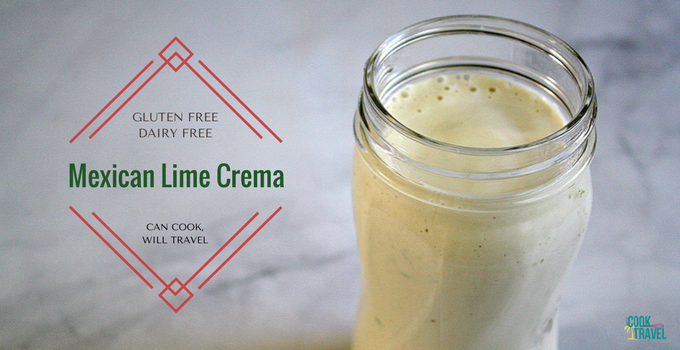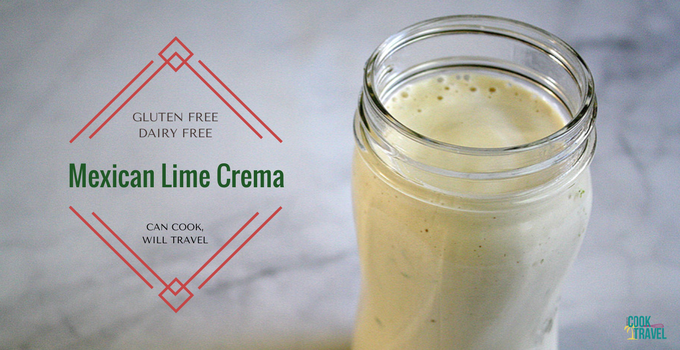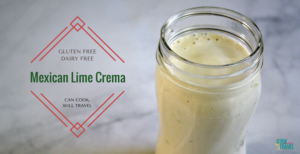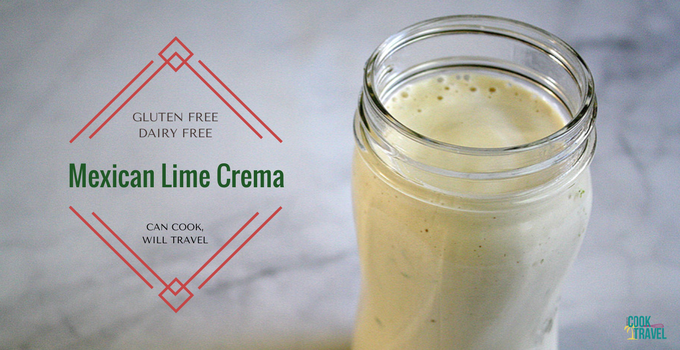 Print
Mexican Lime Crema
Yield 16 ounces
Dairy free and insanely yummy! This is my new favorite condiment!
Ingredients
Ingredients:
1 cup of Coconut Water
1 1/2 cups of Raw Cashews
Garlic Clove, peeled
Pinch of Salt
2 tablespoons Fresh Lemon Juice
Zest of half a Lime
Instructions
In a blender add the coconut water, cashews, garlic, salt, and lemon juice. Blend it until it's thick and creamy and totally smooth.

 

Add the zest of half a lime to the crema and fold it in.

 

Use it right away or pour into a container, cover, and refrigerate.
Notes
Quick Tip #1 from Ester at Nurture My Gut: If you have a high speed blender, you're good to use the cashews as is, but to help them break up more easily you can soak them in hot water for 20 minutes, rinse and drain them and you're good to go!
Quick Tip #2: This crema is perfect for saucing up your favorite Mexican meals, adding to roasted veggies, tossing with pasta, using as a salad dressing, and SO much more!
Courses Condiment
Cuisine Mexican
Nutrition Facts
Serving Size 1.3 oz
Amount Per Serving

Calories 87

% Daily Value

Total Fat 6 g

9%

Saturated Fat 1 g

5%

Unsaturated Fat 5 g

Sodium 28 mg

1%

Total Carbohydrates 5 g

2%

Dietary Fiber 1 g

4%

Sugars 2 g

Protein 3 g

6%
* Percent Daily Values are based on a 2,000 calorie diet. Your daily values may be higher or lower depending on your calorie needs.


1