Do you have a garden, and if so, is it finally producing TONS of veggies? If you do, I'm totally jealous by the way. But you can go to farmers' markets and stores and see the most beautiful produce right now, and I absolutely love it. And that's really where this Simple Summer Pasta idea came from.
I was up visiting my parents a couple of weeks ago, and my mom and I met up with my cousin. She has a stand at a farmers' market and wow did she have tons of produce! We loaded up on what was left, and before I headed back to KC, my mom lovingly gave me tons of produce.
I came away with purple peppers (like green peppers), poblano and anaheim peppers, banana peppers, heirloom tomatoes, and more. Yep, I totally scored! And all I could think of was creating a Simple Summer Pasta dish with them, so of course I did.
Now I needed a few more things so I picked up some eggplant and fresh green beans at my neighborhood Sprouts. I thought they would be a great base for the veggies in this dish. I wanted to keep this recipe light and fresh and let the veggies be the star of the show.
I'm totally obsessing at the moment over the Ancient Grains pasta line. The ones I've tried are made from a combo of corn and quinoa, and they are the closest to regular pasta texture that I've found. So I used the linguine they make in this recipe for a gluten free pasta. Yum!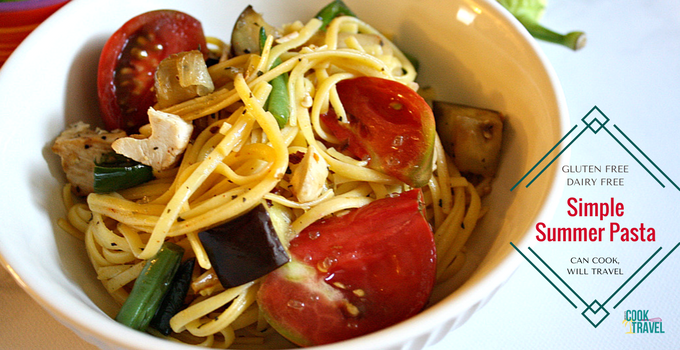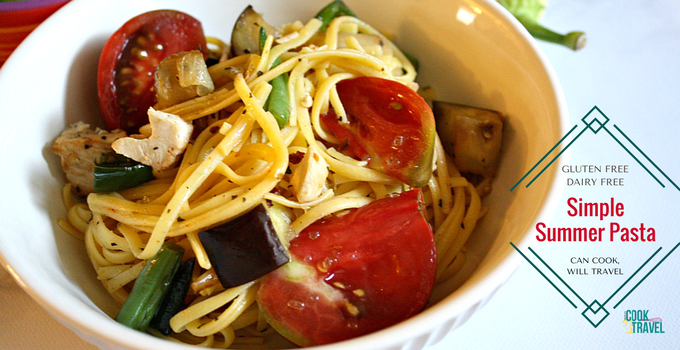 The day I made this, I realized I hadn't had any meat, so I cooked some chicken and added that to the pasta. The final step was to sauté the veggies which included cooking onions and garlic, then adding a poblano and banana pepper to that. Then I let the beans and eggplant cook for 2-3 minutes at a time so they could soften and start to get some caramelization on them. Yum!
My Simple Summer Pasta dinner was practically done at this point. All I had to do was to toss the pasta and chicken with the cooked veggies. I took up each serving, added some slices of heirloom tomato, and then added a drizzle of olive oil and a pinch of finishing salt and crushed red pepper and that was it! I thought about adding fresh basil but honestly, I didn't want to go outside to get it. It had been a long day, what can I say?
So many great flavors and textures are happening in this Simple Summer Pasta dish. You have a nice spice from the cooked peppers and pinch of red pepper flakes. The crunch of the green beans and diced chicken helped make the pasta more substantial. And the caramelized flavors from the onions and eggplant made it a little rich and special. Oh and the bites of fresh tomato brightened up the whole meal. The olive oil keeps it light and the bit of seasoning and heat adds tons of flavor.
This Simple Summer Pasta allows you to throw together a healthy meal with what you have on hand. If you like tuna, then use that instead of chicken, or skip the meat entirely if that's not your thing. Look at the fresh vegetables you have on hand and play with different textures and colors so it is something you love and uses what you already have.
So go check out your counter and fridge, see what sounds great with pasta, and go whip up this Simple Summer Pasta ASAP! I can't wait for you to try it, so click that link for the recipe and step by step instructions!
A look back:
One year ago: This Buddha Bowl is Mega Good!
Two years ago: Garlic and Ginger Edamame is Simply Fabulous
Three years ago: Chocolate Zucchini Cake…Making Life a Bit Sweeter
Four years ago: Cheesy Zucchini Rice Couldn't Be Easier
Five years ago: Appetizers with a Side of Bling
Six years ago: Breakfast for dinner – Cinnamon Pancakes
1