Oh edamame, what makes you taste so darned good?! It could be that I associate edamame with sushi, and I LOVE me some sushi. But it's also super healthy and fun to eat too. And as soon as I saw this Garlic and Ginger Edamame recipe on Pinterest, I couldn't wait to try it out!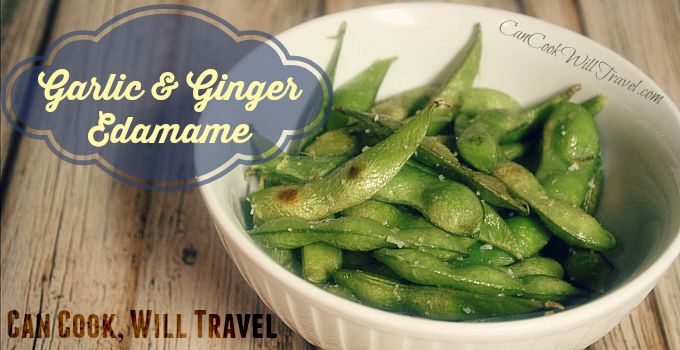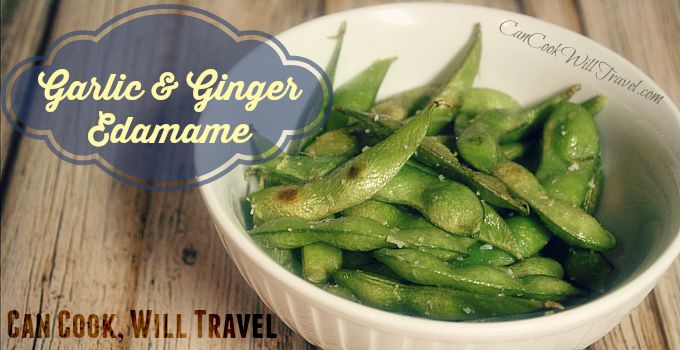 I'm finding lately that I'm low on time, and sometimes I accidentally skip meals or miss a light snack that I could use. So starting now I'm making an effort to put myself first. That may sound selfish, but if I'm not functioning at my best, then everything in my life will slide. And healthy snacking is important for fueling our bodies throughout the day, and this Garlic and Ginger Edamame makes for a perfect snack!
Edamame is actually soybeans…did you know that?! And a fun fact about me is that I grew up on a farm and my dad plants corn and soybeans every year. So our home is actually surrounded by soybeans (and thus edamame) half of the year.
My mom and I keep saying we'd love to research the optimal time in the planting process that soybeans would be picked to be at the edamame stage, but quite honestly it's a lot easier to just pick up a bag in the store…haha!
So just grab some edamame (in the shell) in the freezer section at your grocery store, along with some fresh ginger, a clove or two of garlic, olive oil, and coarse sea salt and this recipe will be a breeze! A note on the salt…you could do a less coarse sea salt, but I love the coarse grind as it feels more authentic to a sushi restaurant.
You'll steam or cook the edamame as the package instructs. Then heat up a skillet with some olive oil and toss the cooked edamame in it over medium-high heat, tossing every couple of minutes so that the edamame starts to brown a bit. Add the fresh ginger and garlic and toss that for a couple of minutes. Then let the edamame cool a bit before tossing with the salt. And enjoy. They're best eaten while still warm.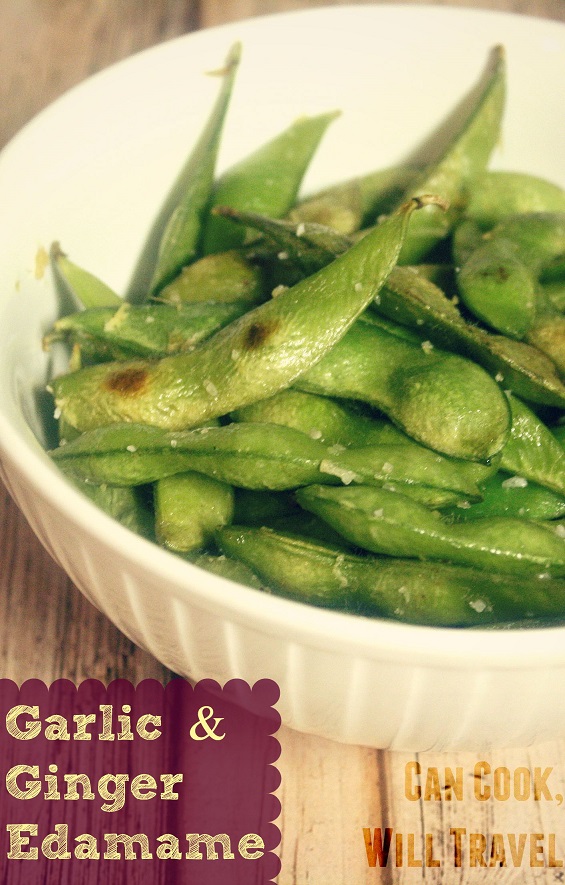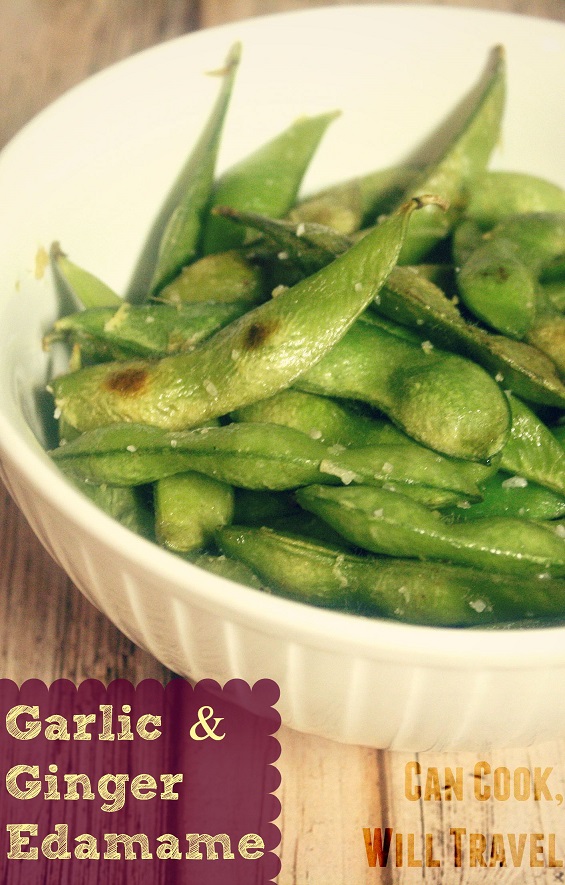 I'm happy to report these were AMAZING!! I had some pretty serious garlic breath afterwards, so have some mints or gum on hand. (Sorry to my friend Jordan, who I went golfing with right after eating these, for putting up with my garlic-y breath!) This dish is great because it's healthy, and you don't really get that much salt as a lot of it falls off. And the bits of garlic and ginger added such a great flavor that was bright and delicious.
If you're thinking…I've never had edamame, please tell me I don't eat that whole pod thing! No, you don't. That's the fun of edamame. You kinda squeeze the pod in your mouth and let the beans pop right into your mouth and only eat the beans and you can still taste the flavors from the garlic, ginger, and salt through this process. Beware, there will be a stray bean that will try to shoot across the room (she types from experience). Fun, healthy, and super good. I was having a hard time making myself stop eating these as a snack yesterday.
I cannot wait for you to try out this Garlic & Ginger Edamame recipe, so be sure to click the link for the recipe and step by step instructions. Happy edamame eating!!
A look back:
One year ago: Chocolate Zucchini Cake…Making Life a Bit Sweeter
Two years ago: Cheesy Zucchini Rice Couldn't Be Easier
Three years ago: Appetizers with a Side of Bling
Four years ago: Breakfast for dinner – Cinnamon Pancakes
0