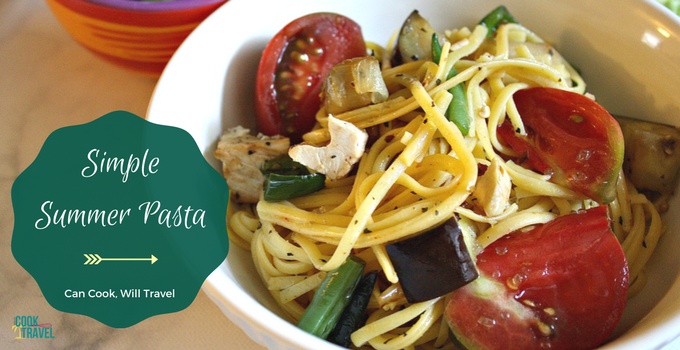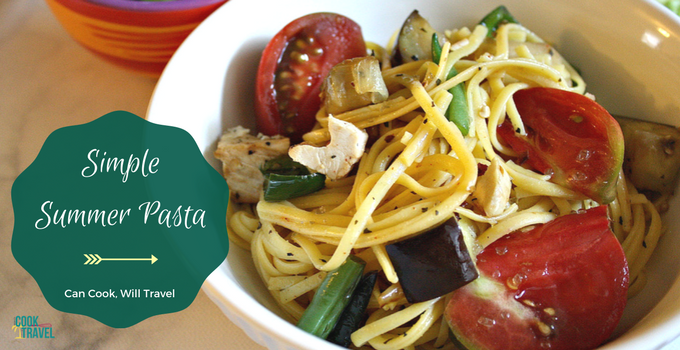 (To keep this Summer Veggie Pasta gluten free, use a gluten free pasta like Ancient Grains, which is my new favorite.)
Step by Step Instructions:

Summer Veggie Pasta is easy to make, so here's what you'll need: Salt & Pepper to Taste, Crushed Red Pepper Flakes for a little heat, 1/2 an Onion, 1 Banana Pepper, Dried Basil, 1 Poblano Pepper, 1 Heirloom Tomato, 1/2 an Eggplant, Ancient Grains Linguine (or favorite gluten free or regular pasta noodle), EVOO (extra-virgin olive oil), Fresh Green Beans (you'll only need about a cup total), and Chicken Breasts (or protein of choice like tuna). Not pictured is garlic, because I forgot about it – but totally worth it!

Begin by bringing a large pot of water to a boil, so you can cook your pasta. Then heat a non-stick skillet over medium heat with a little olive oil (about a tablespoon) and cook the chicken until it's brown. I like to flip mine every 2-3 minutes until the crust is brown and it's cooked through, so pick your favorite method.

While the chicken cooks, dice up half of an onion.

Then peel and roughly chop 1 garlic clove.

Now it's time to cut up the eggplant, so I find it easy to lay it on its side.

Then use a sharp knife to remove the ends.

Then slice the eggplant into about 1/2-inch thick slices and dice it up. You don't need to worry about removing the seeds, and my eggplant was pretty good sized, so I just used half of it.

At this point the pasta was ready to cook, so I cooked it according to the package instructions.

Once the pasta is cool, then drain it and rinse it with cold water.

Add a tiny drizzle of olive oil and use your hands to gently toss the pasta so it's coated in the oil. This will prevent it from sticking, so that will help a lot as you toss the Summer Veggie Pasta at the end.

To clean the beans, first wash and then dry them. Then remove the stem end.

Then cut the beans into bite-sized pieces.

Heat a large non-stick pan over medium heat and then add about a tablespoon of olive oil to the pan. Once the oil is hot, add the onions and garlic stirring regularly for a couple of minutes so the onions begin to turn translucent.

As the onions cook, cut the poblano and remove the seeds and stem, so it's less spicy.

Then dice the poblano into bite-sized pieces.

You'll then do the same with the banana pepper removing as many seeds and the stem.

Then roughly dice the banana pepper.

Add the peppers to the pan and then cook for about 2 minutes, stirring regularly.

Once the peppers have softened, then add the beans and eggplant to the pan. Give it a stir, and let the veggies cook without stirring them for 2-3 minutes, then stir and repeat until they begin to caramelize.

I used 1 chicken breast, because I didn't want a ton in the pasta, so you can use as much chicken as you like and dice it up.

As the veggies get close to being cooked, then add some salt and pepper to taste. You want to wait especially on adding the salt because it will draw out the moisture from the onions and eggplant, which we don't want as they first begin to cook.

Here you can see the veggies are beginning to caramelize by getting some color on them, so the Summer Veggie Pasta is nearly ready.

Remove the pan from the heat, and then add the pasta to the veggies.

Then add the chopped chicken and about 1/4 teaspoon of crushed red pepper lakes and 1 teaspoon of basil.

Toss to combine and taste, so you can adjust the seasonings as you like. Serve the Summer Veggie Pasta right away and drizzle a little EVOO over the top and then add a sprinkle of finishing salt to tie it together and enjoy!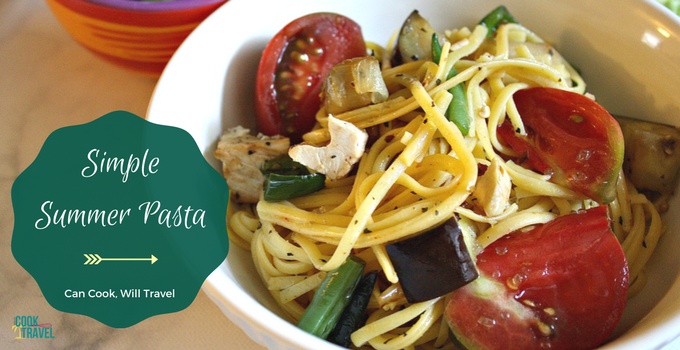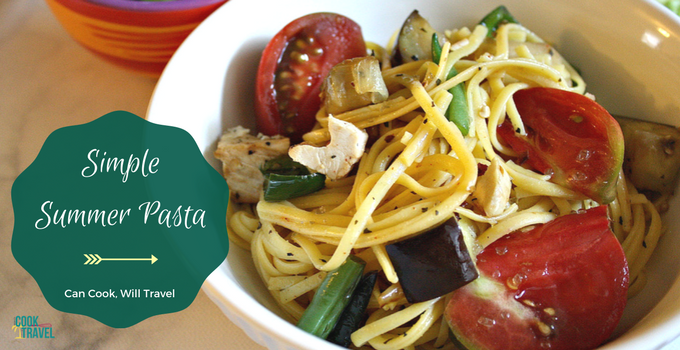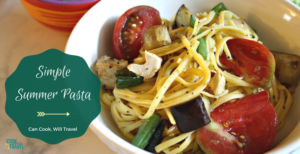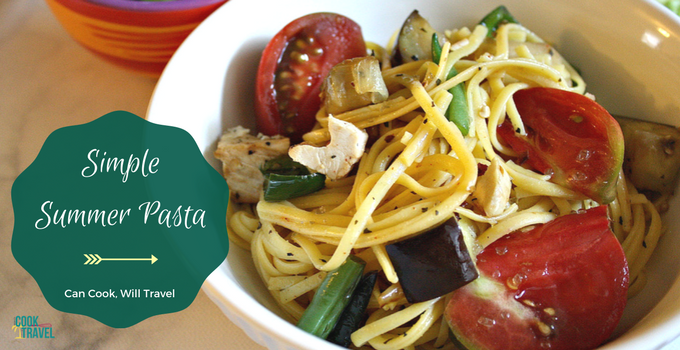 Print
Summer Veggie Pasta
Yield 4 servings
This pasta is versatile, so use your favorite protein and veggies that you have on hand that are in season.
Ingredients
Pasta Ingredients:
1 package Linguine (to keep this gluten free, use your favorite brand - I'm loving the Ancient Harvest brand)
3 T. Extra-Vigin Olive Oil, divided
Chicken Breasts, however many you like - I ended up using 1 (or you could use a can of drained tuna or skip the meat if you prefer)
1 Garlic Clove, roughly chopped
1/2 Onion, diced
1 Banana Pepper, seeds and stem removed, diced
1 Poblano Pepper, seeds and stem removed, diced
1/2 Eggplant, diced
About 1 cup Green Beans, trimmed and cut into bite-sized pieces
1 Tomato
1/4 teaspoon Red Pepper Flakes
1 teaspoon Dried Basil (or Fresh)
Salt & Pepper, to taste
Instructions
Begin by bringing a large pot of water to a boil and then cooking the pasta according to the package instructions. Then drain the cooked pasta, rinse with cold water, and after a couple of minutes toss it with a little EVOO, because it'll keep it from sticking.

 

As the water boils, cook your chicken however you'd prefer. My favorite method is to heat a non-stick pan over medium heat and add a tablespoon of olive oil to it. Then cook the chicken flipping every 2-3 minutes until the crust is light brown and the chicken is cooked through. Then transfer the chicken to a plate and once cool enough to handle, dice however much chicken you'd like. I went with 1 large chicken breast for the whole dish.

 

As the chicken cooks, prep your veggies. Once prepped, heat a tablespoon of olive oil over medium heat and add the chopped onion and garlic to the pan. Stir regularly and once the onions are starting to become translucent, add the banana pepper and poblano to the pan. Cook for 2 minutes, and then add the eggplant and green beans to the pan and stir. Let the veggies cook for 2-3 minutes without stirring, then stir and repeat until they begin to caramelize.

 

Remove the veggies from the heat and add the pasta, chopped chicken, a drizzle of olive oil, 1/4 teaspoon of red pepper flakes and about a teaspoon of dried basil. Toss with tongs to combine and serve right away. I added a tiny drizzle of olive oil to the bowl along with finishing salt. Enjoy!
Courses Dinner
Cuisine Healthy
Nutrition Facts
Serving Size 1/4 of recipe
Amount Per Serving

Calories 355

% Daily Value

Total Fat 8 g

12%

Saturated Fat 1 g

5%

Unsaturated Fat 5 g

Cholesterol 35 mg

12%

Sodium 219 mg

9%

Total Carbohydrates 54 g

18%

Dietary Fiber 8 g

32%

Sugars 4 g

Protein 17 g

34%
* Percent Daily Values are based on a 2,000 calorie diet. Your daily values may be higher or lower depending on your calorie needs.
0