Do you ever find yourself scrambling around in the morning and breakfast seems to be the thing you cut out? Sooo many times this was the story of my life when I worked in cubicle world. Working from home, I don't have this happen as much, but on occasion my morning is so packed with meetings that breakfast and even coffee (gasp!) get forgotten. That's where this Pumpkin Pie Overnight Oats recipe comes in.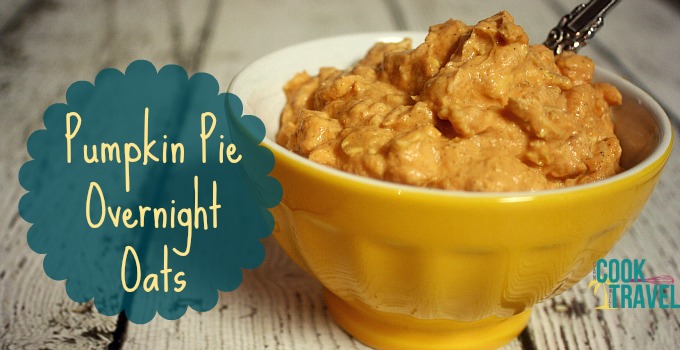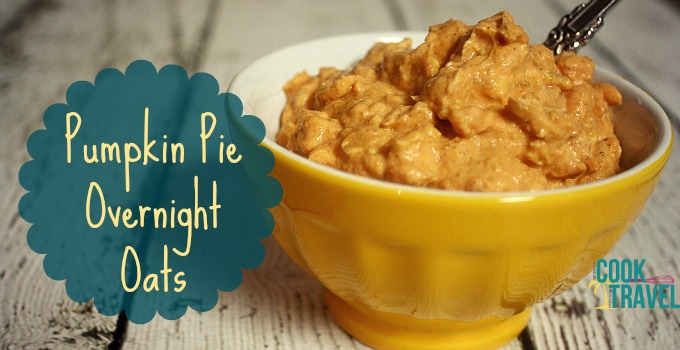 This was my first attempt at overnight oats. I've seen them all over Pinterest before, but I totally got sucked in this time by this recipe over at Amy's Healthy Baking. (Definitely looking forward to what else she's featuring on her blog!) I mean breakfast that tastes like pumpkin pie … how in the WORLD could that be a bad thing?! It can't!
What makes this breakfast a breeze is that these pumpkin pie overnight oats take 5 to 10 minutes to measure out the ingredients and throw together at night. Then in the morning, breakfast is ready to go. So whether you eat it while getting ready, actually have a moment to enjoy it with your morning tea or coffee, or take it to go and eat it at your desk … it's a no-brainer!
I had everything on hand for this, which is a huge win in my book. All you do is mix plain Greek yogurt, pumpkin purée, old-fashioned oats, cinnamon, and your sweetener of choice (Truvia or Stevia or Splenda or Sugar … you get the idea) in a mason jar or plastic container. Once it's mixed well, cover and chill in the fridge for at least 8 hours or overnight. Ta da! That's it!
I really appreciated this breakfast for a quick way to eat and work today. Plus I kinda like knowing that the breakfast I'm eating is healthy. Like I can give myself a bit of a pat on the back because I know what's in it and it's good-for-me stuff!
This is not a super sweet dish, as there is a good bit of natural tang from the yogurt. So if you aren't a fan of Greek yogurt or are just starting to get used to the taste, you can always add a bit more sweetener to it or top with a little honey. (I LOVE honey & Greek yogurt!) Plus the pumpkin purée is just pumpkin, so it's not sweet. But like I said, I liked knowing that it was good for me AND the pumpkin & cinnamon combo was perfect for reminding me that it's Fall, which I love!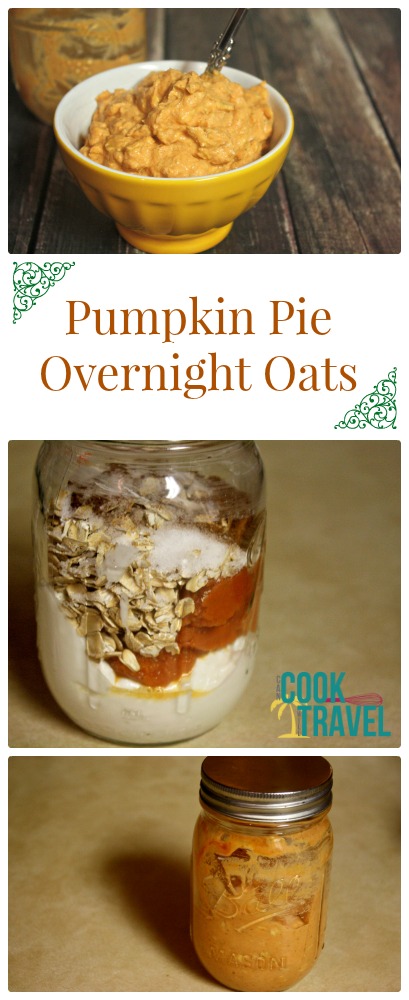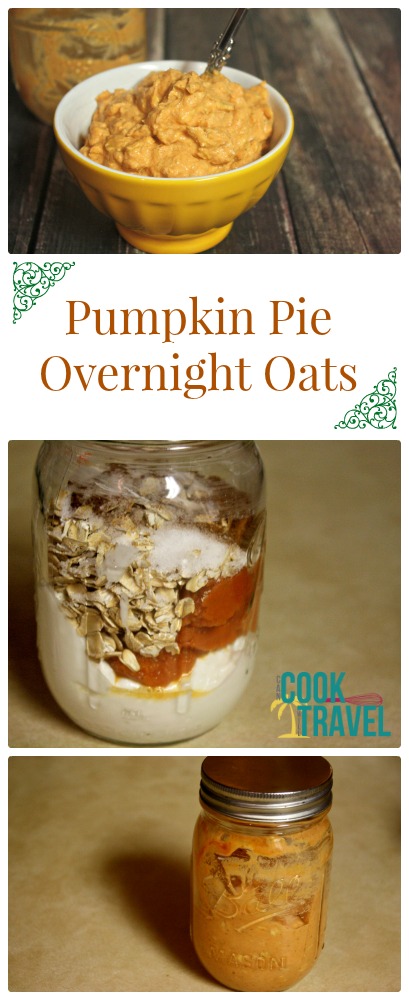 You can eat this right in the mason jar, so that it's super quick and convenient. Or if you have more time at home, serve it in a small bowl. It's really filling, and a cup of your favorite Fall coffee is the perfect compliment to it.
So next time you're looking for a way to pump up your yogurt or oats and ensure that you're enjoying a healthy, tasty breakfast … then definitely check out this Pumpkin Pie Overnight Oats recipe! Click that link for the recipe and step by step instructions! Happy breakfast-ing!
A look back:
One year ago: Chia Seed Blueberry Muffins = Healthy Comfort Food!
Two years ago: Smashed Sweet Potatoes Never Tasted So Good
Three years ago: Ka Pow! It's Kung Pao Chicken!
Four years ago: Monkey Bread!
0