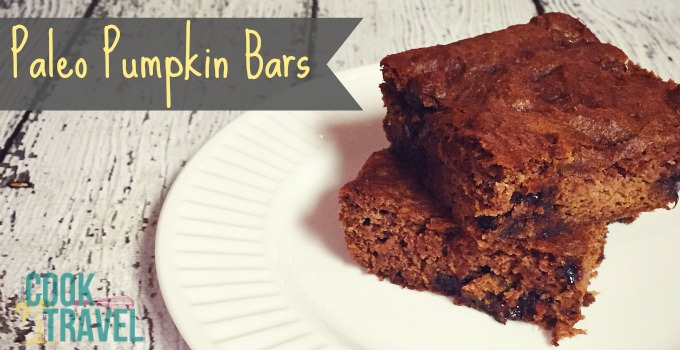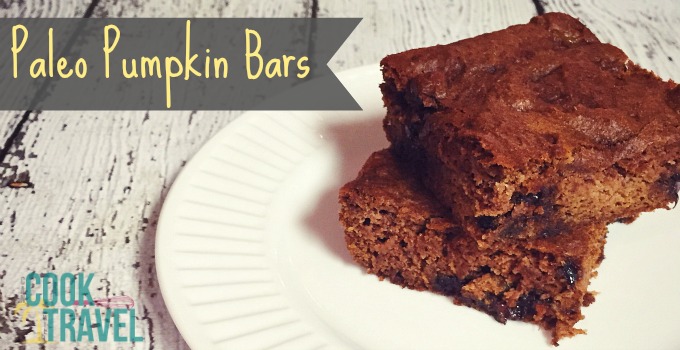 (Recipe can be found on the site Hummusapien here.)
Step by Step Instructions:

Paleo Pumpkin Bars are super good and crazy easy. Here's what you'll need: Coconut Flour, Baking Soda, Pumpkin Puree, Pure Maple Syrup, Almond Butter (here's the recipe I used), Chocolate Chips (I used semi-sweet and these are optional as are nuts that you can add as well), 1 Overripe Banana, Vanilla Bean Extract (or vanilla extract if you prefer), Salt, Ground Cinnamon, and Pumpkin Pie Spice.

Start off by preheating your oven to 350 degrees. Then in a medium-sized bowl, add in 3/4 cup of almond butter, 1/2 cup of pumpkin puree, 1 overripe banana, 1/4 cup of maple syrup, and a teaspoon of vanilla bean paste.

Mash up the bananas and stir all of the ingredients together until it's well combined.

Now add in the remaining ingredients including 1 tablespoon of coconut flour, a teaspoon each of pumpkin pie spice, cinnamon, and baking soda, plus 1/4 teaspoon of salt and if you want to add any chocolate chips or nuts, now is the time. I added 1/3 cup of semi-sweet chocolate chips to mine.

Then stir until all of the ingredients are mixed in really well. You'll see mine isn't completely smooth from the chocolate chips and also little bits of banana.

Grab an 8×8-inch baking dish and spray it well with cooking spray.

Pour in your pumpkin bar batter and use a spatula to smooth the top. Then bake it in the preheated oven for 30 minutes or until a toothpick is inserted in the center and comes out clean. A good tip here is that when you can start to smell the pumpkin bars, it's probably time to test them.

Remove the finished bars from the oven and let them cool on a wire rack for a bit. You don't have to cool them completely to enjoy them, but it will make them easier to cut. Cut them into 9 or 12 bars, serve them up, and enjoy!!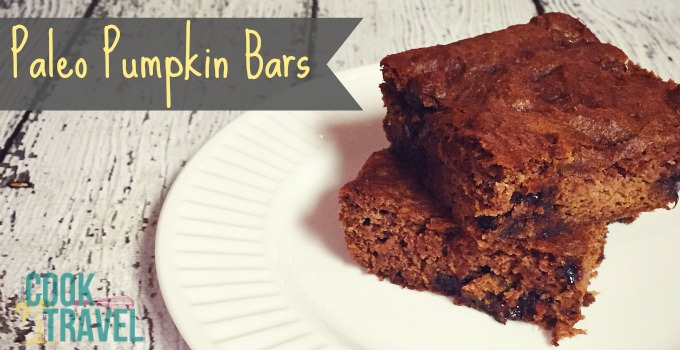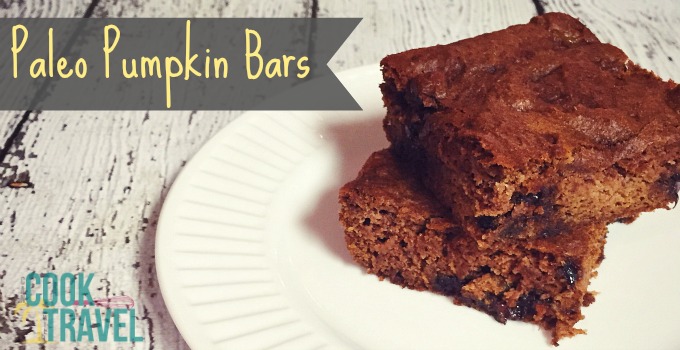 Paleo Pumpkin Bars
These bars are packed with good-for-you ingredients that make these a no-guilt dessert that you're sure to love!
Ingredients
¾ cup creamy Almond Butter
½ cup Pumpkin Puree
1 overripe medium Banana
¼ cup pure Maple Syrup
1 tsp Vanilla Extract
1 tbsp Coconut Flour
1 tsp Pumpkin Pie Spice
1 tsp Cinnamon
1 tsp Baking Soda
¼ tsp Salt
⅓ cup Chocolate Chips and/or Walnuts, optional
Preparation Instructions
Begin by preheating your oven to 350 degrees.
In a medium-sized bowl, add the almond butter, pumpkin, banana, maple syrup and vanilla and stir together until the mixture is well-combined.
Add the dry ingredients (coconut flour, pumpkin pie spice, cinnamon, baking soda, salt, and chocolate chips or nuts if you'd like) to the bowl and continue to stir until the mixture is smooth.
Spray an 8x8 inch baking dish with cooking spray and pour the pumpkin bar mixture into the dish. Use a spatula to smooth the top. Bake the bars for 30 minutes or until a toothpick comes out clean when inserted into the center of the bars.
0