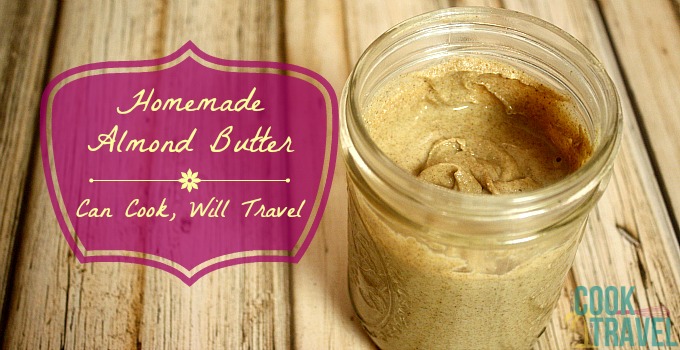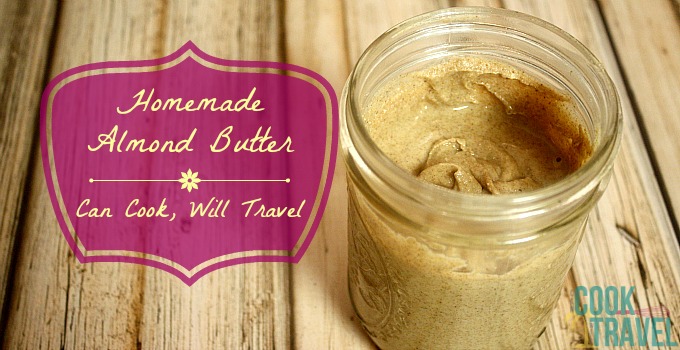 Step by Step Instructions:

Homemade Almond Butter literally couldn't be any easier. All you'll need is about 2-3 cups of Almonds. You can also add canola oil (about 1/8 cup for 2 cups of almonds) to make it even creamier. Flavor it up with additional ingredients and experiment too.

Begin by preheating your oven to 350 degrees. Then pour your almonds on a baking sheet and spread them in a single layer. Place them in the preheated oven and roast for 8-10 minutes. Roasting the almonds helps bring out more of the oils when blending them. Otherwise you'll need to plan on adding oil when you blend them.

Here are the roasted almonds. You can stir them about as they bake, and once you can smell the almonds (checking every 2-4 minutes), then you're ready to take them up. Test one out as well by biting it and make sure it's got a nice crunch to it and isn't too chewy.

After an hour or two the almonds were cooled. Time to work with them!

Here's our handy dandy Vitamix. Notice the grey plastic tamper as well, which we'll be using a lot in this process.

Pour the cooled almonds into the container. If you decide to add some canola oil, pour it over the top of the almonds at this point.

Turn on the Vitamix. Start it at level 1 and slowly turn it up to the 8 to 10 speed range.

Then you'll start working the tamper up and down a bit and side to side to help push the almonds towards the blades. You can see we're about halfway through the blending in this photo. It should take about a minute or so to get a pretty creamy almond butter.

You can use the end of the tamper to get a good idea of how creamy your butter is so you know if you need to keep blending or if you're good. I was happy with the texture here. Transfer the finished almond butter to a bowl (if you're eating it right away) or a storage container. Enjoy & happy almond butter making!!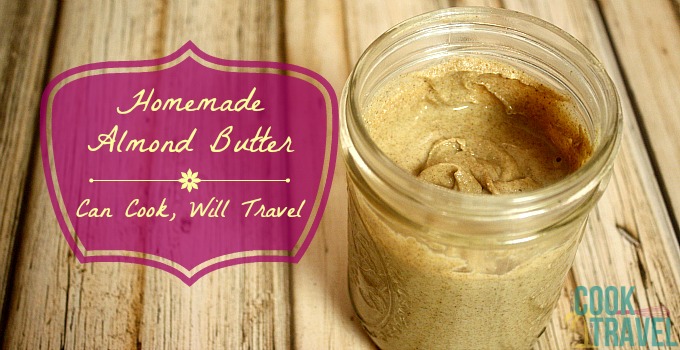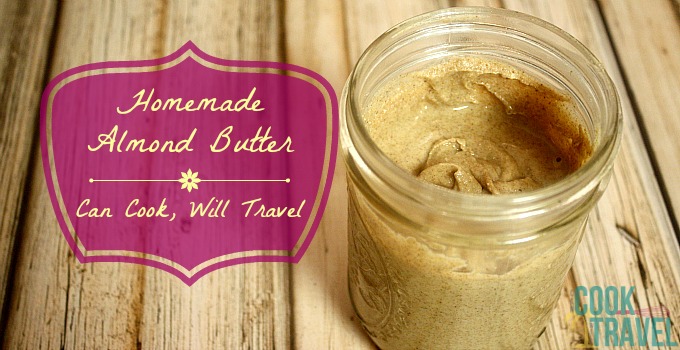 Homemade Almond Butter
All you need are almonds and a Vitamix (or food processor) to make fresh, homemade almond butter ... easy, inexpensive, and healthy!
Ingredients
2-3 cups of whole Almonds
Canola Oil (optional)
Preparation Instructions
Preaheat the oven to 350 degrees. Spread the almonds on a large cookie sheet and roast in the oven for 8-10 minutes. (Once you can smell the almonds, they are probably done.)
Remove from the oven and let the almonds cool completely.
Once the almonds are cool, add them to the Vitamix (or food processor). Gradually increase the speed to a speed between 8 and 10. Use the tamper (large plastic plunger that comes with the Vitamix) to work the almonds around so that they get pushed towards the blades. This will help them turn to butter more quickly and evenly.
After about a minute, the almonds should have turned into a smooth butter. Transfer to a bowl and serve or use for baking. (You can also add flavors to the almonds like cinnamon, honey, or use a coconut oil to make it great for dipping apples, for example.)
0