Paleo Pumpkin Bars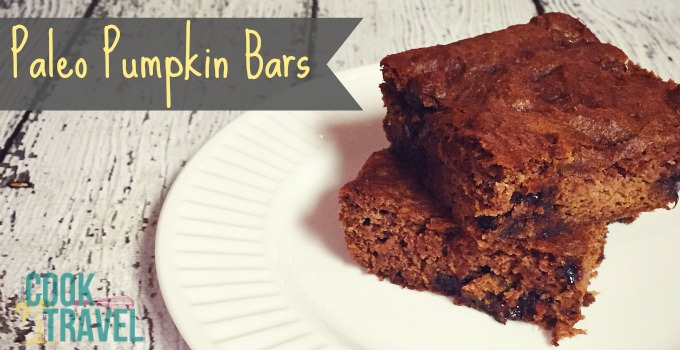 ¾ cup creamy Almond Butter
½ cup Pumpkin Puree
1 overripe medium Banana
¼ cup pure Maple Syrup
1 tsp Vanilla Extract
1 tbsp Coconut Flour
1 tsp Pumpkin Pie Spice
1 tsp Cinnamon
1 tsp Baking Soda
¼ tsp Salt
⅓ cup Chocolate Chips and/or Walnuts, optional
Begin by preheating your oven to 350 degrees.
In a medium-sized bowl, add the almond butter, pumpkin, banana, maple syrup and vanilla and stir together until the mixture is well-combined.
Add the dry ingredients (coconut flour, pumpkin pie spice, cinnamon, baking soda, salt, and chocolate chips or nuts if you'd like) to the bowl and continue to stir until the mixture is smooth.
Spray an 8x8 inch baking dish with cooking spray and pour the pumpkin bar mixture into the dish. Use a spatula to smooth the top. Bake the bars for 30 minutes or until a toothpick comes out clean when inserted into the center of the bars.