With a fun trip ahead of me, I'm getting really excited. And every time I think of traveling, my mind starts counting every place I still want to visit (or re-visit). And that got me thinking that while I have a virtual Bucket List growing in my brain, I've never written down my Bucket List before.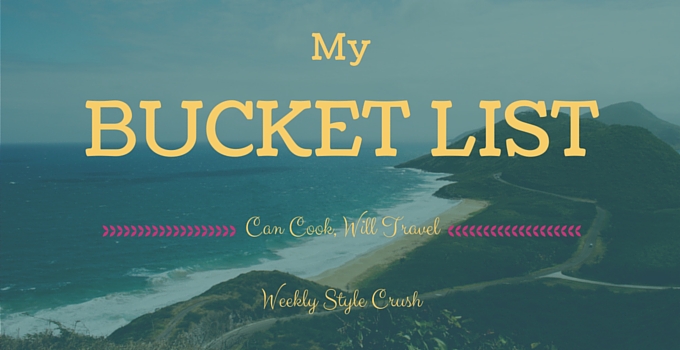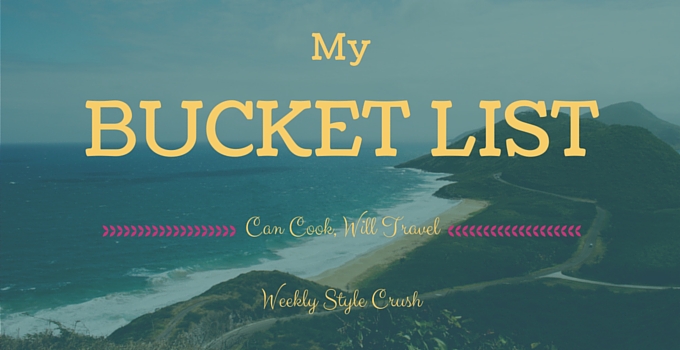 So I thought it'd be really fun to dream a bit about all of the spots I want to visit in my lifetime and I encourage you to do the same!
So here's my Bucket List (a top 10 for now and in no particular order):
Macchu Picchu – With my art background, this spot has always fascinated me. I keep seeing pictures lately of people standing there taking in the view of an ancient civilization and I so want to experience that.

Paris – I've been here many years ago, and I really want to go back with wiser eyes. Yes, my French is quite rusty but I don't care. This one, I'm definitely going to see in the next 12 months.
Greece – The juxtaposition of the white buildings and deep blues of the sea look so relaxing and gorgeous. And I just have to go to Athens and the Parthenon sometime too. HAVE TO!
Egypt – While there is a lot of unrest there, perhaps one day we will all learn to get along, so it's less dangerous to go visit this magnificent country. Egypt has always been a huge fascination of mine as well and was one of my favorite art history courses in college.
Barcelona – My aunt and uncle traveled so much over the years, and I will never forget my aunt telling me that I must go to Barcelona sometime. So in her memory, I will fit in a trip here one day. (Twist my arm!)
Bora Bora – Does anything look more relaxing than the huts hovering above the ocean? I think not! This is the Four Seasons at Bora Bora … count me in!

Italy – I feel like I belong in Italy. Last time I went, my friend, Amie, and I hit Venice and Florence and we were crazy poor. We even got a few of our meals at a grocery store. So sad and I vowed that I would go back when I could afford the finer things. Next time I want to go for at least a month and spend time in Positano and Tuscany, and get to live out my Under the Tuscan Sun fantasies. Warning: I may not come back from this trip.
Norway & Sweden & the Netherlands – Okay I'm squeezing all 3 of these into 1, because they'd have to all be on the same trip. How could you go to just one? This spot of the world looks so kind, peaceful, and scenic. I think I'd do a lot of reflection and meditating here.
British Columbia – Believe it or not, I've never been to Canada. My dad goes ever year on fishing trips, but what really interests me is British Columbia. I think the landscapes are gorgeous and that I'd just love Vancouver (although it might be a tad cold for my liking). The Vancouver Olympics definitely confirmed for me that I had to go visit one day.
The Caribbean – I'm not feeling too particular about where, although with more research I am sure I would. It just looks so beautiful and relaxing down there. Anywhere near the ocean brings a calm to me. Love it!
I could have kept going and going but for now a top 10 list is a great start.
Do you have the travel bug too? I'd love to know, so comment below and let me know! Have you made your bucket list yet? What are the spots you know you need to go see and experience in your lifetime?
Stay inspired & dream away!
~Kelli
0