Hello, my name is Kelli, and I have a sweet tooth. I can't help it … I love dessert time. I enjoy taking a moment in the afternoon for a sweet treat or anxiously awaiting dessert at the end of a meal.
And it can be a problem when all you have on hand is bad-for-you stuff. So I was on a mission to find something this Fall to whip up that is guilt-free, and thankfully these Paleo Pumpkin Bars popped up in my Pinterest feed and they looked like a perfect place to start. Hooray!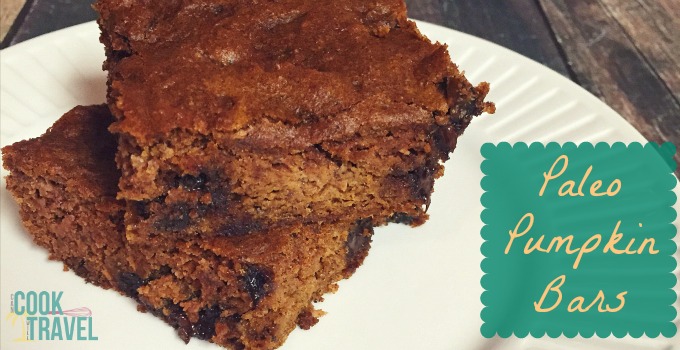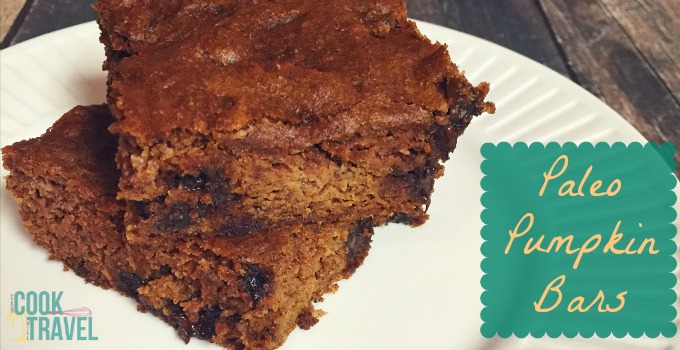 Let's talk Paleo for a second. I'm by no means someone who strictly eats a Paleo diet as you can tell looking across my recipes. But I'm not opposed to sprinkling it into my eating habits here and there so that healthier food becomes more of what I crave.
So what does Paleo mean, for those of you who are like I was and just don't know? Well I did a little research and found the Paleo Magazine where you can also read up a bit. In a tiny nutshell, think of it more as a way of life rather than a diet, where you eat natural foods that aren't manufactured and are helpful (not harmful) to your body, unplug from technology more, stay active, enjoy the sun and nature, and socialize in person (gasp!). Hey, that all sounds pretty darned good to me!
But I digress … back to this week's dish! Think of these pumpkin bars as a great way to unplug from the sugar and butter-filled desserts we love that don't always love us back. (I'm talking to you cavities and stomachaches!)
The base of these Paleo pumpkin bars consist of pumpkin puree, one overripe banana, and almond butter. Pumpkin is so readily available this time of year and overripe bananas seem to happen overnight in our house, so they're easy to find. And you can purchase almond butter at the store in the health foods section, or I used this recipe here to make my own Homemade Almond Butter.
Here's what I LOVED about these bars from the blog Hummusapien (great name, btw!):
First off, no sugar needed. It's sweetened with some pure maple syrup, which helps it not be overly sweet, plus it's a natural sweetener like honey.
Second, no stick of butter required. The almond butter does the legwork here. And if you checked out the recipe I used it's strictly made of almonds only, although you could add some coconut oil or canola oil to the almonds when making the butter to make it even more creamy. I just wanted to see how it did on its own, and I'm amazed at the end result and how perfect it worked for these bars.
Third, the only flour used is coconut flour, and only a tablespoon of it, so it's even better for us.
It was easy AND delicious! I loved the mix of pumpkin and banana flavor with bits of chocolate sprinkled in. With such pure ingredients, the pumpkin really stood out so much more than I expected, which makes it perfect for Fall.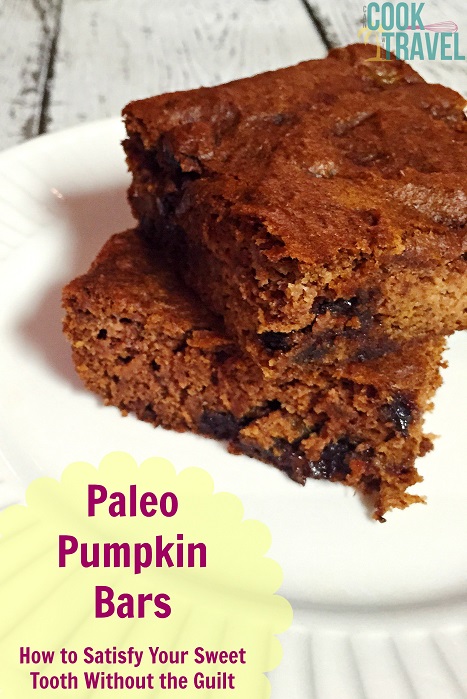 There is no sugar high from these bars. The maple syrup adds a touch of sweetness without the usual hyper sweet dessert we're used to. This is a way to enjoy dessert without the guilt, and before you know it, super sugar-y desserts will no longer be what you crave. I can personally attest that yes, a chocolate cake is amazing, but these bars or a piece of dark chocolate satisfy my cravings just as much and are SO MUCH BETTER FOR ME.
I literally cannot WAIT for you to try out this recipe too! It's so easy to make, and the end result are Paleo Pumpkin Bars that make dessert time a moment to enjoy rather than regret. Be sure to click the link for the recipe and step by step directions. Enjoy and happy healthy eating!!
A look back:
One year ago: Skinny Pumpkin Spice Latte Hits the Spot
Two years ago: Apple and Bacon Stuffed Acorn Squash Pretty Much Equals Fall
Three years ago: Broccoli Cheese Soup Becomes Fancy!
Four years ago: Officially a Fan of Meringue!
0